SILOLONA
Silolona is an exquisitely built phinisi sailing yacht constructed by the legendary Konjo Boat Builders to German Lloyds specifications. Using the finest tropical hardwoods, this beautiful vessel was hand built in the jungle, just as her phinisi cargo ancestors were.
Based on the ships that historically traded along the spice routes in the region, Silolona embodies the essence of Indonesia's past together with the contemporary luxuries expected of a modern-day superyacht. The result is an opulent vessel that evokes the spirit and heritage of Indonesia's magnificent islands.
Silolona is an ideal choice for families or groups of friends looking to sail in truly authentic style, and her crew of 17 includes an expedition leader, chef and dive instructor. Her team is known for an in-depth knowledge of the culture and customs of Indonesia.
Onboard Experience
Silolona has five classically decorated, romantic guest cabins; three have king-size beds with additional lounge areas, while two have double beds. Adorned with traditional woven textiles and Indonesian artefacts, these cabins combine the warmth of solid wood with neutral cream tones, creating an elegant, relaxed ambiance. All cabins feature air-conditioning and ensuite bathrooms.
An indoor lounge and dining area is naturally lit with large windows, carrying through the theme of wood combined with cream linens and printed textiles. Outside, there's a beautifully lit lounge area with daybeds, sun loungers and ample space for alfresco meals at the dining table.
Two additional lounge spaces are fitted on the bowsprit and the aft deck, providing room for relaxing in the shade and taking a moment to appreciate the exquisite landscapes that Indonesia has to offer.
The dedicated chef prepares menus according to guests' preferences, with culinary creations including traditional South East Asian specialties as well as classic Western fare. Onboard, Silolona is equipped with a PADI dive centre, water skis, wakeboards, kayaks and fishing gear.
Number of Guests: 10
Number of Cabins: 5
Cabin Configuration: 5 Double
Bed Configuration: 3 King, 2 Queen
Engines: Yanmar 680hp Turbo
Cruising Speed: 12 knots
Fuel Consumption: null Litres/Hr
Tender: 3 x 16ft/5m RIB 85hp
Toys:
- Kayaks multiple
- Kneeboard
- Tube - towable
- Wakeboard
- Water skis - adult
- Water skis - child
Diving:
- Insured for diving
- Crew can instruct
- Diving if accompanied
- Diving if certified
- 12 Scuba tanks
- 12 Bouyancy compensators
- 12 Regulators
- 2 Compressors
- Diving lights
- Snorkelling gear
One of the first yachts to truly pioneer luxury cruising adventures in the Indonesian archipelago.
A keen focus on cultural excursions
Stunning authentic design both inside and out
The perfect base for an inspired Indonesian escape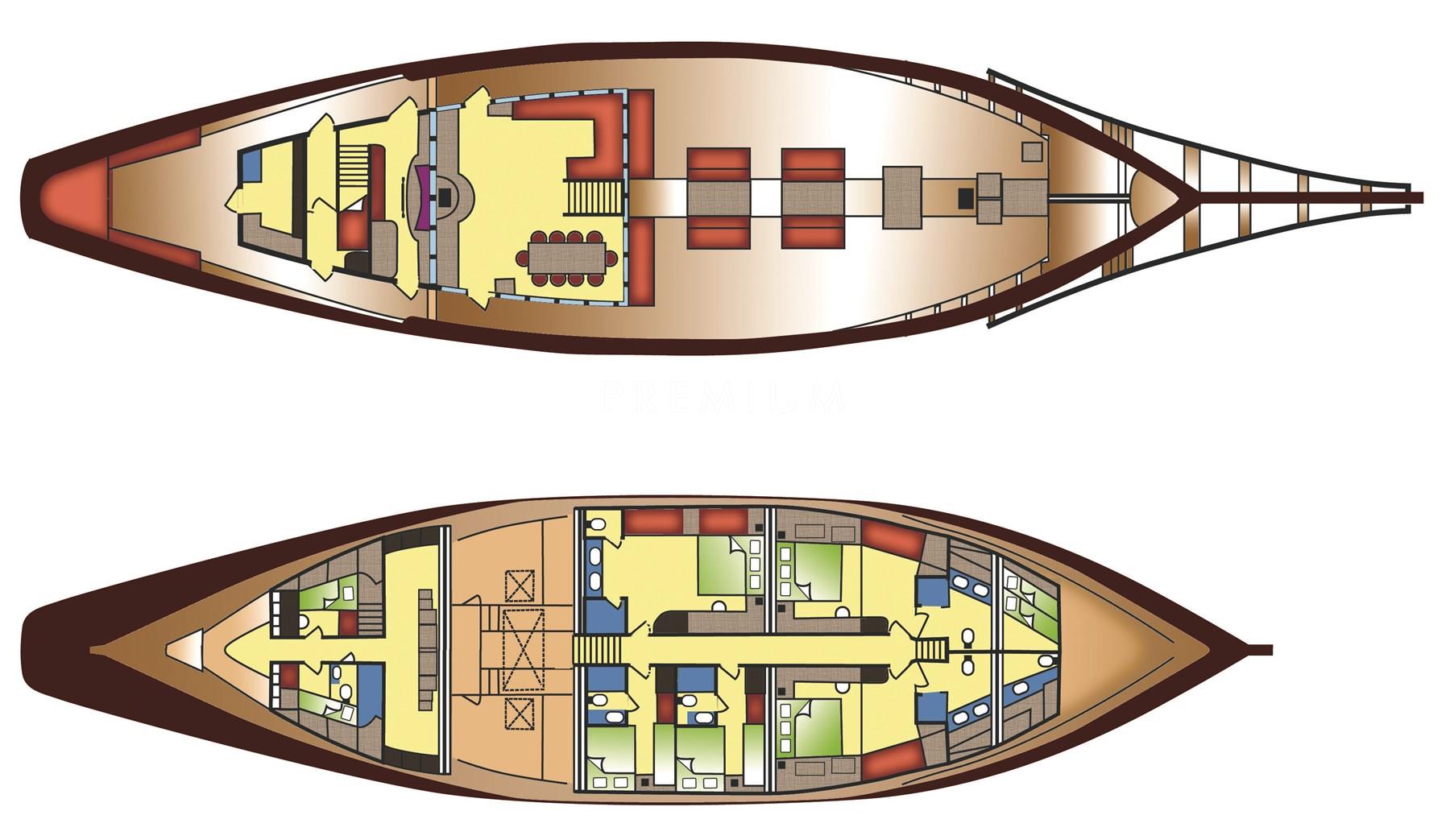 Summer 2023
May to September
---

From:

119,000$

/week

---

To:

119,000$

/week
locations:
All-inclusive Terms: The Charter Fee includes the hire of the yacht, the crew's salaries, the insurance of the yacht, all food, fuel for up to five hours cruising per day (averaged throughout the charter), harbour dues and pilotage fees, water & ship's laundry and all food except special requests. The arrangements about fuel charges sometimes vary. Extra to the charterer's account are bar, special requests and crew gratuities. Inclusive terms and port taxes & harbour dues can vary with some yachts and locations. Prices exclude VAT (if applicable). VAT calculation depends on the embarkation port' country and on the cruising area. Charters shorter than a week are also available, depending on the date.
Please enquire to check availabilities
---