Corsica
The French Island of Corsica boasts rugged coastlines, sublime sandy beaches and majestic mountains. The influences of both French and Italian cultures can be found in the cuisine, architecture and dialect making for a unique blend of class and charm which, coupled with its natural splendour, is best discovered on a Corsica yacht charter.
Located to the south of mainland France and to the west of mainland Italy, Corsica is the fourth biggest island in the Mediterranean and, despite its popularity, remains largely undiscovered by tourism. Steeped in rich history and culture, this unspoiled gem is famed for being the birthplace of Napolean. Charming and alluring, this stunning island is adored by sailors and hikers alike, who are drawn here by the unparalleled natural beauty. Corsica is an excellent destination for yacht charters and with deep secluded bays, golden sands and miles upon miles of spectacular coastline, there is no better way to explore the hidden jewels of this remarkable island than from your superyacht.
For beach lovers, the Gulf of Valinco is an unmissable highlight, boasting some of the most beautiful beaches and bays the island has to offer in addition to the vast arcs of sugar white sands which can be found in Portigliolo. Cruise from one beach to the next with Palombaggia, Santa Giulia and Rondinara each offering breathtaking stretches of golden sand. Venture along the turquoise waters of Campomoro before taking to the charming and wonderful community of Bonifacio on Corsica's southern tip. With the old town teetering atop a cliff and untamed rustic shorelines, Bonifacio offers one of the most unforgettable harbour entrances.
Anchor in glittering bays, sail between quaint fishing villages or trek to the mountain pass at Col de Bavella and admire the awe-inspiring scenery of the Alta Rocca peaks. With easy access from the water and numerous treks varying in difficulty, ramble at your own pace before stopping to picnic amongst the spectacular views of crystal clear waters below. For those looking to take their love of adventure to the water, Corsica offers some of the best spots for diving and snorkelling where you can admire sea sponges, anemones and corals plus a whole party of other marine life.
Corsica is full of character and charisma. Meander around vineyards and olive groves, explore the glittering coastal cities and gaze in awe at the enigmatic hilltop villages. Whether you're looking to hike, dive and beach hop or delve into the rich and fascinating history there is something for every visitor on this remarkable miniature continent.
Corsica and Sardinia: The Deluxe Island Duo (8 days)
This pair of Mediterranean islands are replete with natural beauty, upscale restaurants, and must-see attractions. Get the best out of both of them with our 7-day yacht charter itinerary around Corsica and Sardinia.
Embark in Calvi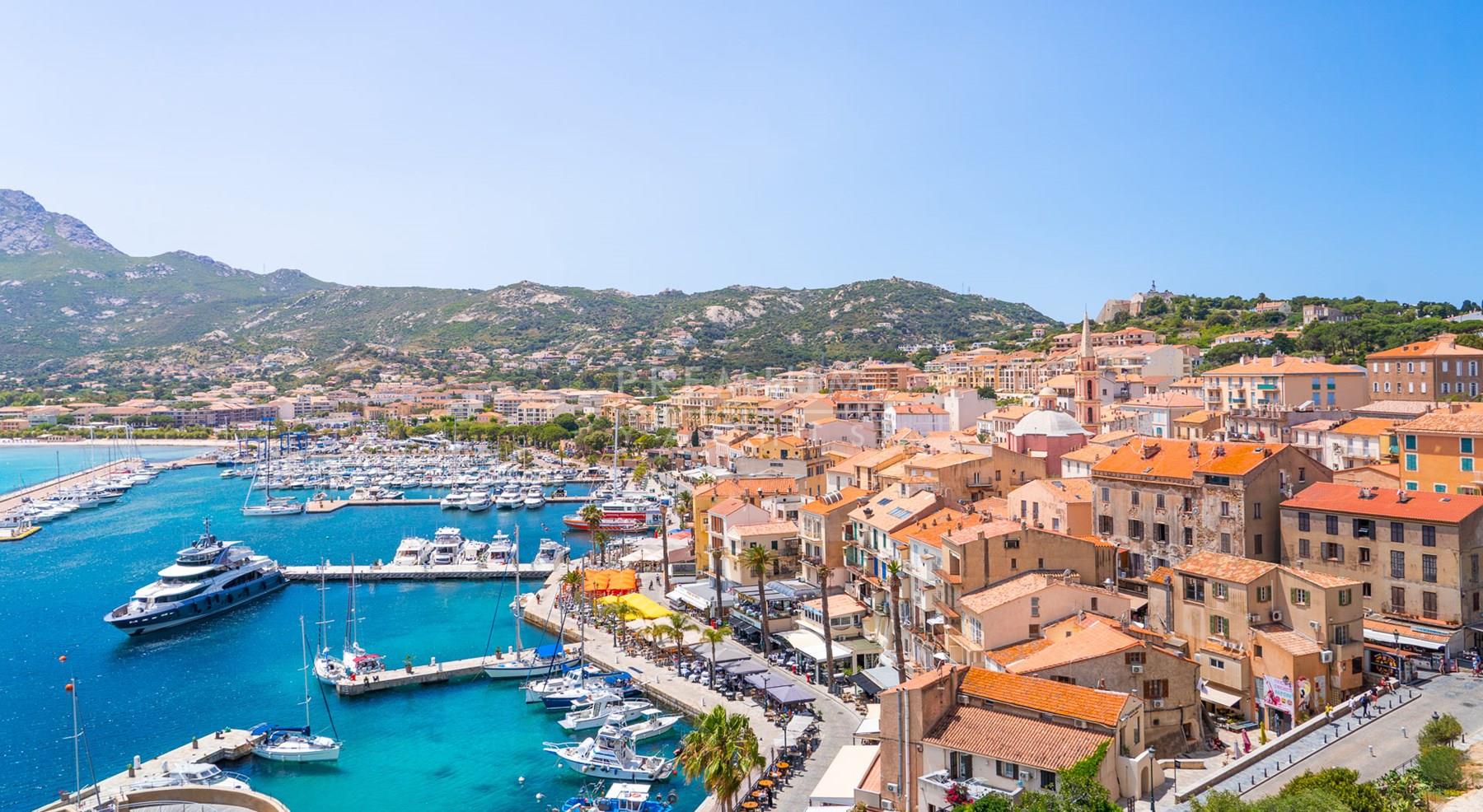 Begin your Mediterranean yacht charter vacation from the pretty Corsican town of Calvi. Famous for its five-mile shore of golden sands, Calvi's lost citadel sits above the marina to a backdrop of snow-topped mountains in the distance - the perfect way to start your vacation. You'll then cruise through the beautiful Golfe of Girolata, enjoying the spectacular views of the Scandola Nature reserve from the comfort of your luxury charter yacht before spending a tranquil evening in the village of Girolata.
Ajaccio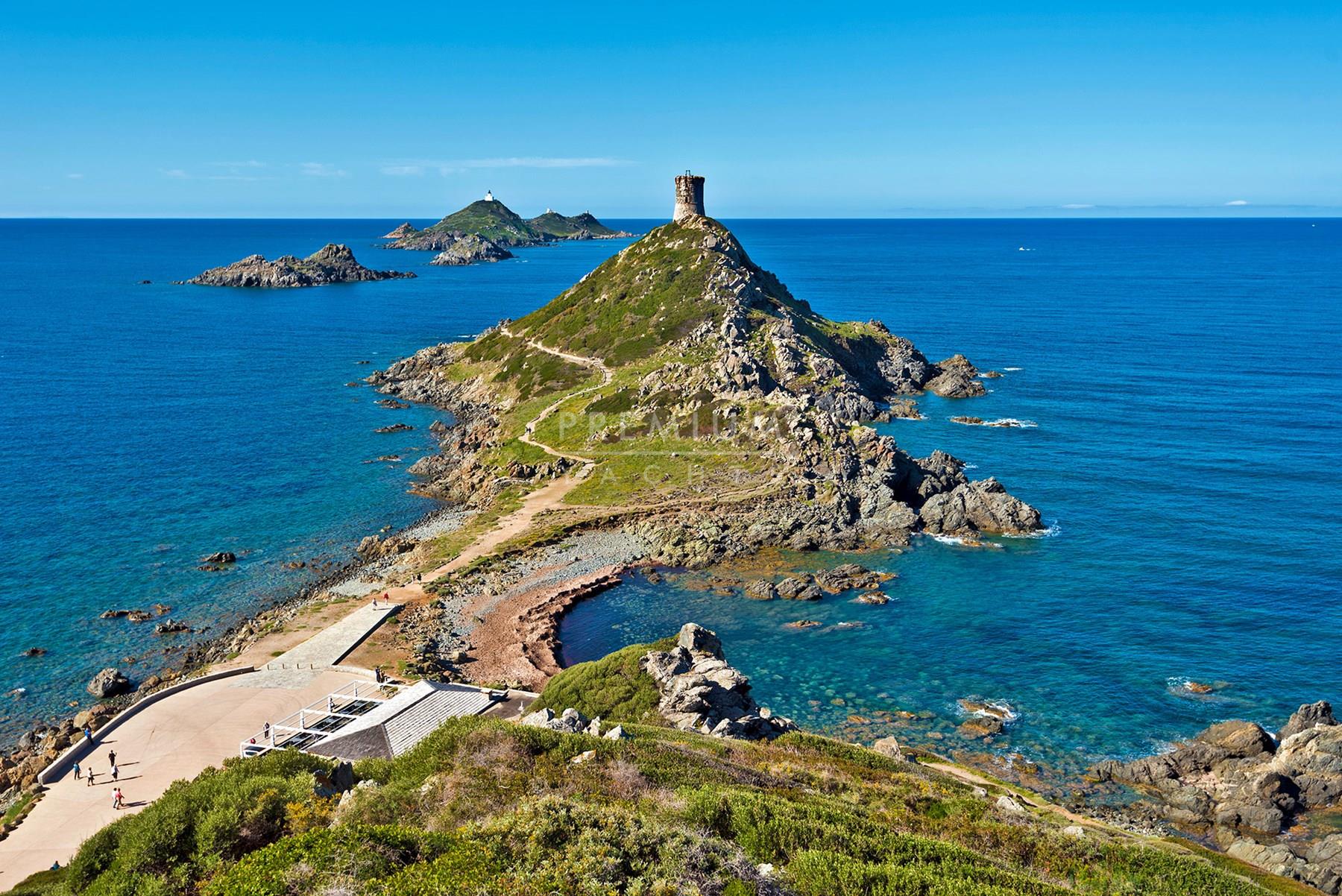 After breakfast on board your motor yacht, head off to the Gulf of Sagone where you can anchor and enjoy an alfresco lunch surrounded by the blue expanse of the sea. Following your lunch, take advantage of your yacht's scuba diving gear and explore one of the many fantastic dive sites in the area. Your afternoon will be spent in Corsica's capital, Ajaccio, on the island's west coast. This charming city is a hive of activity and the perfect place to enjoy Mediterranean cuisine and hospitality. Wander the narrow cobblestone streets and pay a visit to the house where Napoléon was born. Alternatively, explore the markets and boutiques that fill the center for a spot of souvenir shopping.
Bonifacio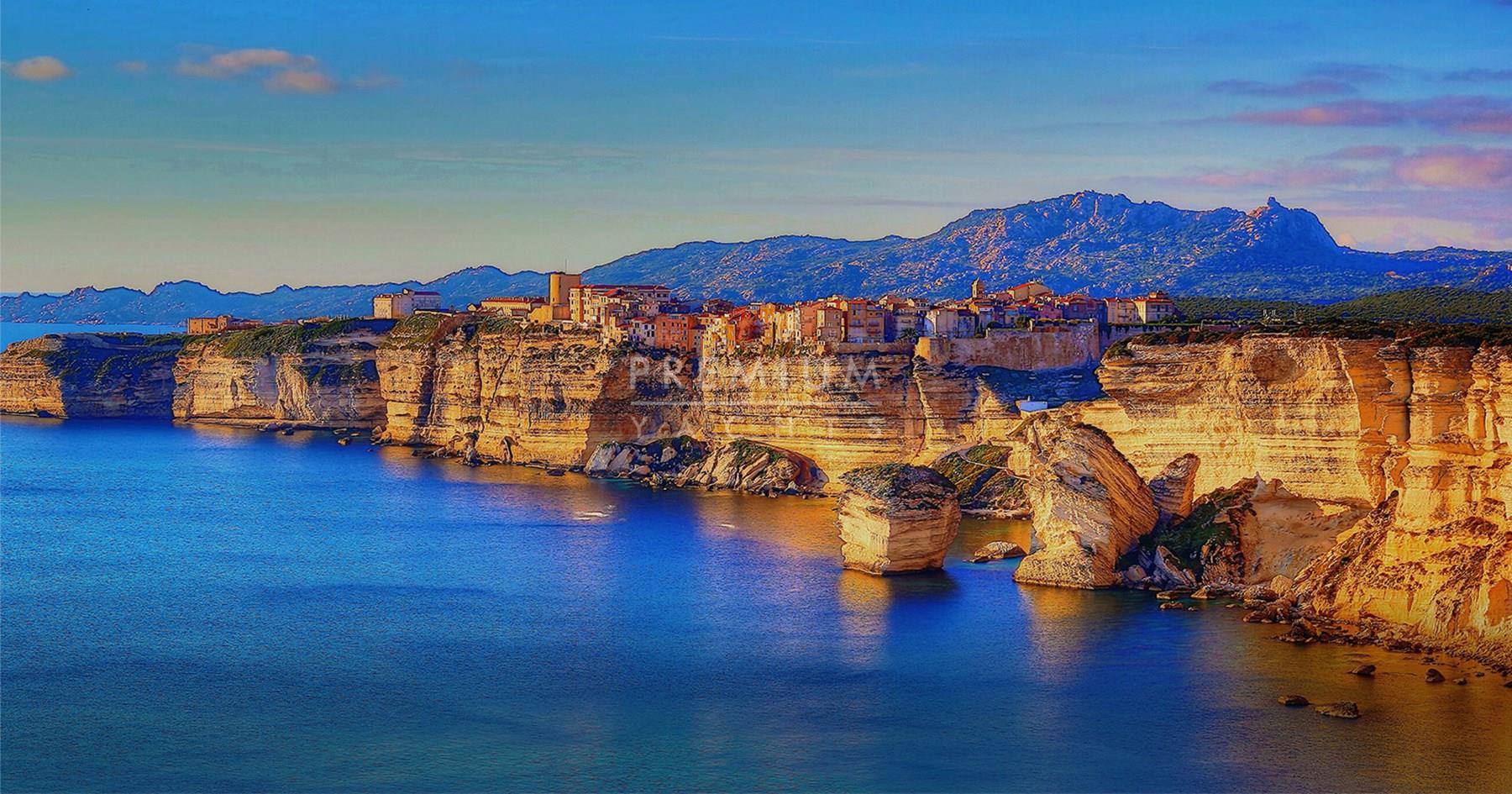 On this day of your charter, you and your guests will cruise towards the ancient town of Bonifacio. Spend the morning dolphin-spotting and playing some water sports before cruising down to the southern tip of Corsica to the port of Bonifacio. The first thing you will see before you berth the marina is the awe-inspiring citadel that rests on the top of the impressive limestone cliffs. This medieval town is one of France's best-kept secrets and, at just 11 km from the coast of Sardinia, has a distinctly Italian feel. Spend the rest of the day exploring its myriad of monasteries, chapels, prehistoric sites, and Roman cisterns, then find a local restaurant to sample the taste of the region. Alternatively, you could barter with the local fishermen for the fresh catch of the day and have your chef prepare you something delicious for supper.
Relax in Porto Vecchio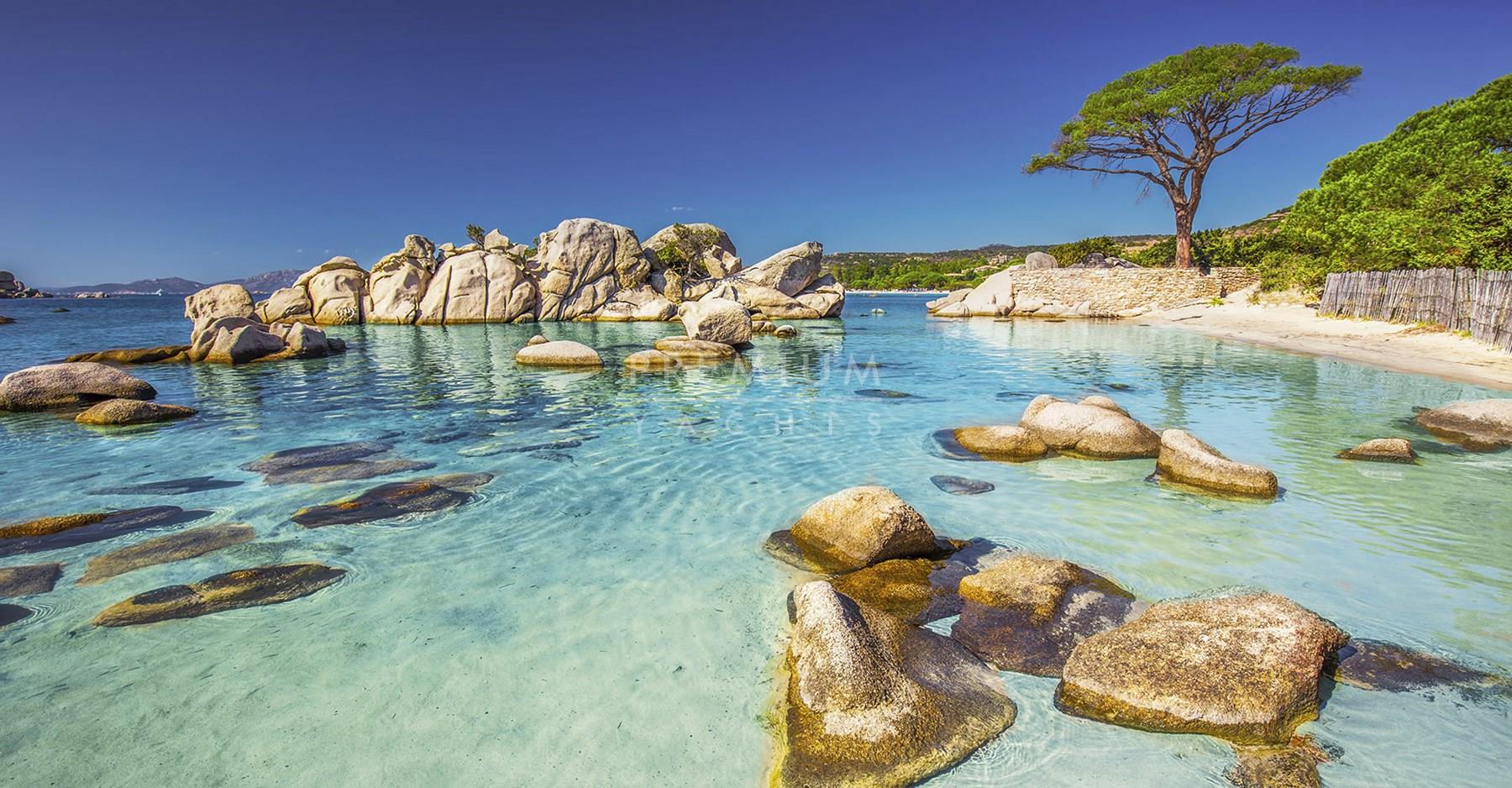 After a leisurely breakfast on board, cruise up the south-east coast to Porto Vecchio. Stop for lunch at one of the gorgeous bays, such as Golfe de Rondinara or Golfe de Santa Giulia. There are many eateries to choose from to peak the pallets of any guests. Whether you're looking for traditional cuisine to gourmet restaurants, Porto Vecchio has something for you. If you're interested in unwinding in privacy, you may want to take your tender to Hotel Mariosa and relax on their private beach. Port Vecchio is an interesting port to explore. Similar to Bonifacio, this town has many ancient medieval remnants. Their old town is also perched atop a hill overlooking the port and provides a breathtaking view of the Mediterranean as well as the eastern face of Corsica.
La Maddalena Archipelago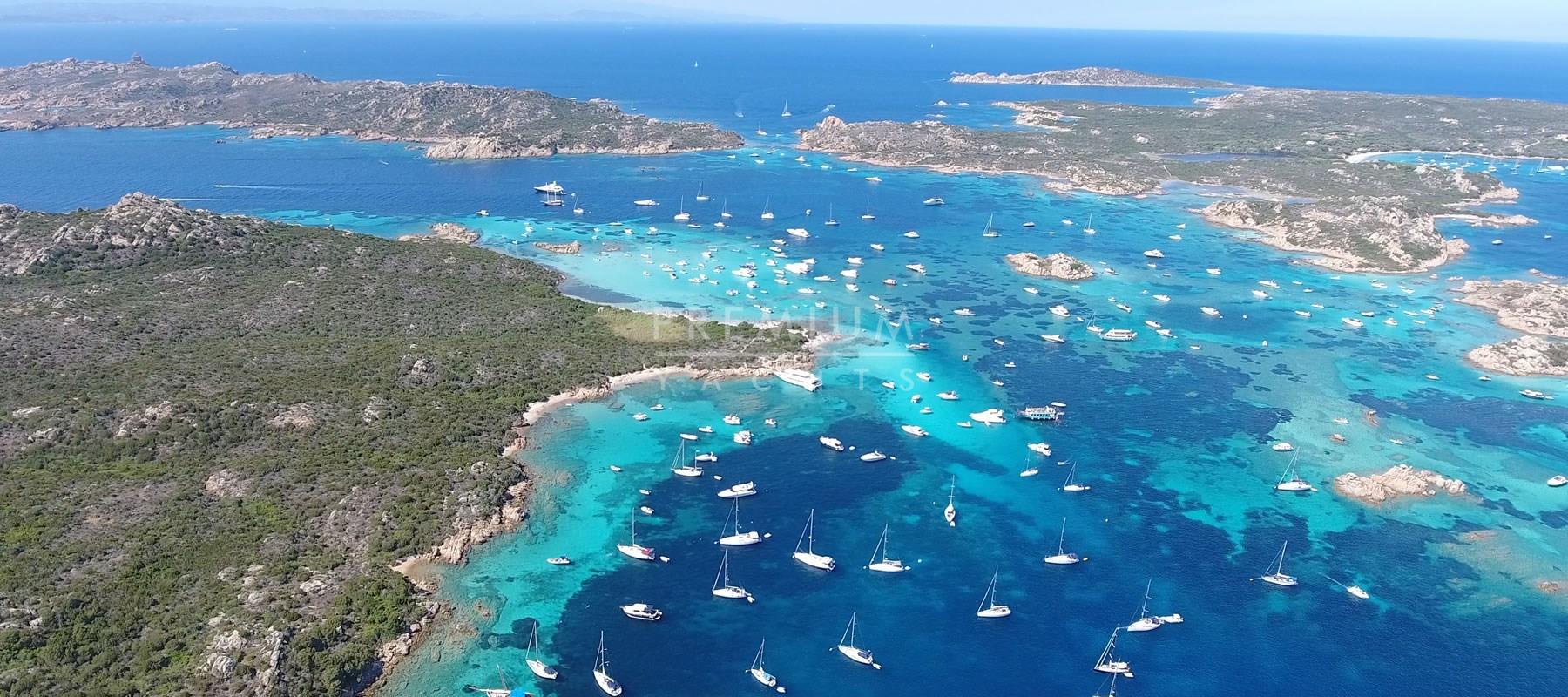 At the half-way point of your charter itinerary, you'll be introduced to the beautiful coast of Sardinia, starting with its unspoiled Maddalena Islands. The archipelago is made up of seven large islands and 55 islets, which remain largely uninhabited and untouched by tourism development. Here you can get your first feel for the Sardinian lifestyle by socializing with the locals - what better way is there to find out where the best hotspots are? Spend your afternoon cruising the crystal clear waters and discovering secluded coves to anchor and unwind. When you've had enough of swimming and snorkeling, your crew will be waiting for you with a tray of cocktails on the sundeck. There you can sink into your loungers as the sun sets behind Sardinia.
Maddalena Islands to Porto Cervo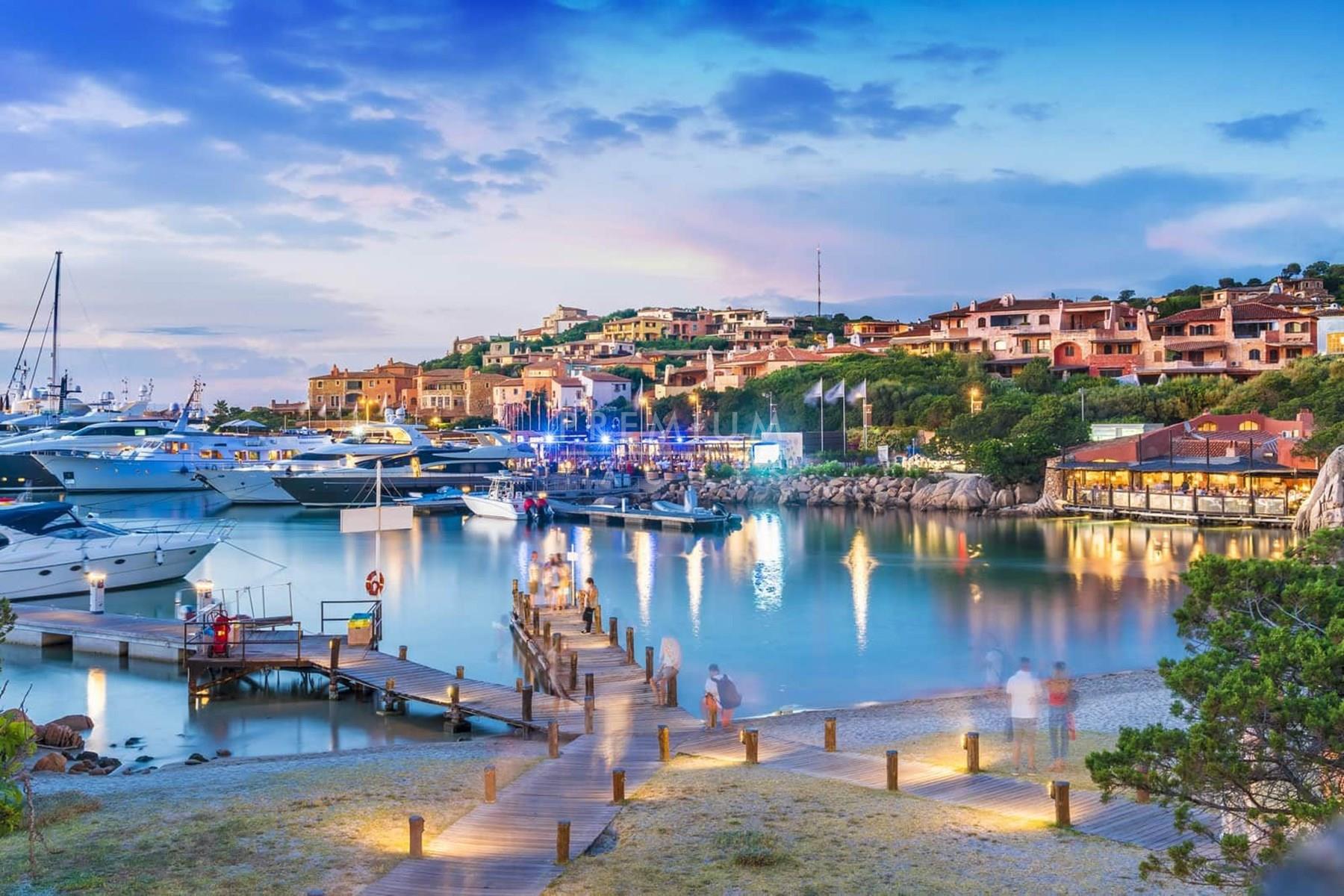 After and idle breakfast in La Maddalena, you will make your way to the exciting and glamorous bay of Porto Cervo. As the capital of the Smeralda Coast, Porto Cervo lives up to its glamorous reputation. You will instantly feel the luxury of this port from the moment you lay eyes on it, and you will be in good company amongst a marina full of superyachts. Step ashore and enjoy a relaxed day exploring the designer boutiques, sipping coffee in the piazza, or enjoying a round of golf at the top-class Pevero Golf Club. If all you want to do is unwind, pay a visit to Petra Segreta where you will be pampered with a variety of luxurious spa treatments. As the sun goes down, you'll find a fantastic selection of upscale bars, restaurants, and nightclubs to party the night away in style. Visit Quattro Passi Al Pescatore for a sensational seafood experience, or if you want something more exclusive reserve a table at Blu. However, guests looking to end the night with a bang should pay a visit to Billionaire Club.
Porto Cervo to Cala Di Volpe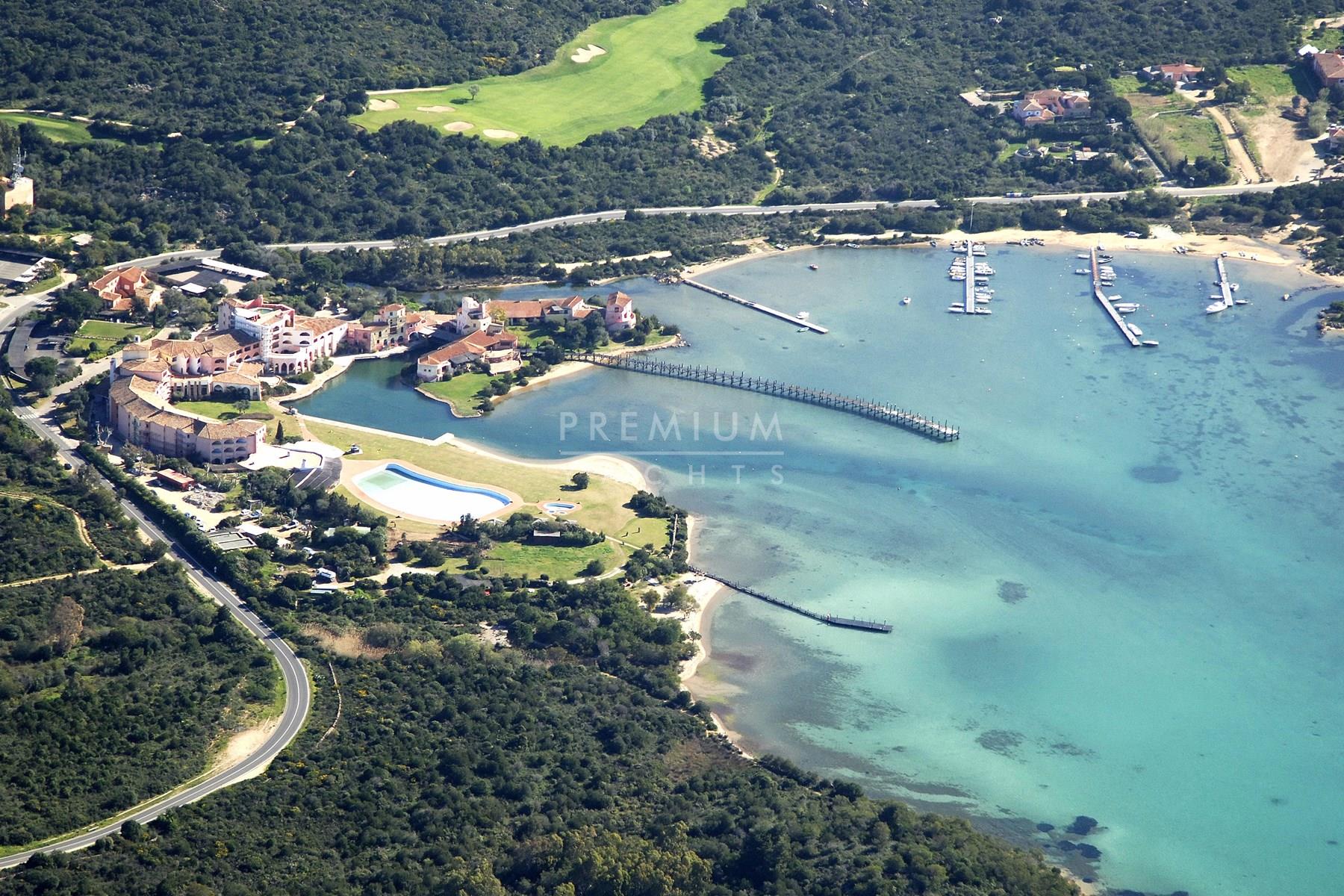 he tranquil shores of Cala Di Volpe are the perfect antidote to a hedonistic evening in Porto Cervo. The town's hotel of the same name is one of the most luxurious on Costa Smeralda, and perfect for a late lunch. Your yacht's tender can take you directly to the jetty of the hotel where you can enjoy the famous poolside barbecues, followed by an afternoon exploring the resort. Cala Beach Club is only a short ride away also and is the ideal setting for guests who want to relax in peace. If you feel like a change of scenery, head to the hillside village of San Pantaleo where you can explore its charming local markets and even make a stop at wineries such as the increasingly popular Vigne Surrau.
Disembark in Porto Rotondo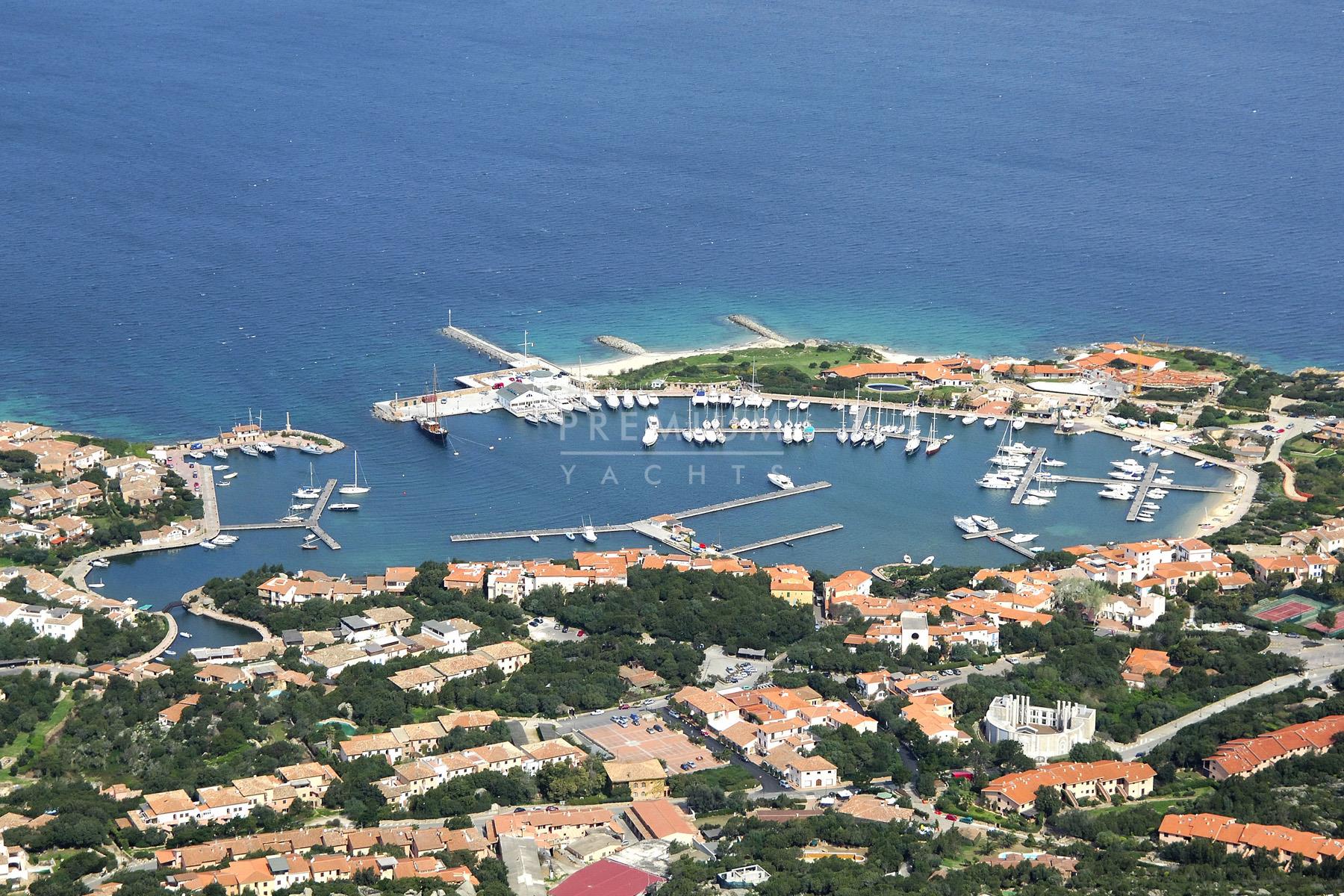 On this day, you will bring an end to your luxury yacht charter in Porto Rotondo, an elegant Mediterranean fishing village turned summer hotspot. Enjoy lunch on board prepared by your private chef and spend the rest of the day exploring the historic sites such as the Church of San Lorenzo. Alternatively, you can take in some sun rays on the crescent-shaped beach as you bury your toes in the soft sand. Supper in one of the local restaurants where you can enjoy the final authentic Italian meal of your vacation as you reflect on the experiences you have had on your trip between Corsica and Sardinia.