Galapagos
Replete with nature and surrounded by inviting waters, the Galapagos Islands have remained a source of continued interest amongst intrepid and discerning travellers. A true paradise, the Galapagos Islands offer visitors the experience of enjoying an undisturbed myriad of destinations with only the signature wildlife populating the awe-inspiring scenery. With thirteen main islands and six smaller ones to explore, the islands are also home to over a hundred islets.
With a remarkable variety of islands to choose from, visitors to the archipelago are truly spoilt for choice. For fans of sequestered bays and marine life, Isabela Island, the largest and third most populous of the Galapagos Islands is sure to impress. Likewise, for those more inclined towards gentle repose will find a veritable sanctuary over at Genovesa Island located towards the north east.
Charter vacations in the Galapagos Islands typically undertake passages which ensure visitors get a true sense of the nature and landscapes which abound around the archipelago. As well as unwinding on a series of picturesque beaches, charterers are also welcome to make use of their diving and scuba gear to explore a number of highly regarded dive sites.
Historically fascinating as well as visually outstanding, the Galapagos Islands featured heavily in Charles Darwin's studies on the nature of evolution. Keen to preserve such a distinguished heritage, the authorities in this region have allocated a number of conservation points to ensure visitors are able to appreciate the natural beauty in the same way the iconic scientist once did.
Bringing together beauty, history and crystalline waters, the Galapagos Island offer a dynamic range of delights to be enjoyed, from the quiet repose of far-flung bays to the marine life populating the highly acclaimed dive spots. With a superyacht providing no doubt the best means of accessing such delights, the Galapagos Islands are no doubt a necessary destination for any and all kinds of charterers.
8 days into the wild of Galapagos (8 days)
Get closer to local wildlife than you ever thought possible in the Galapagos Islands. One of the few locations in the world that does not have an indigenous population, these islands have been completely preserved from human development, offering unique adventures in pristine conditions.
Giant tortoises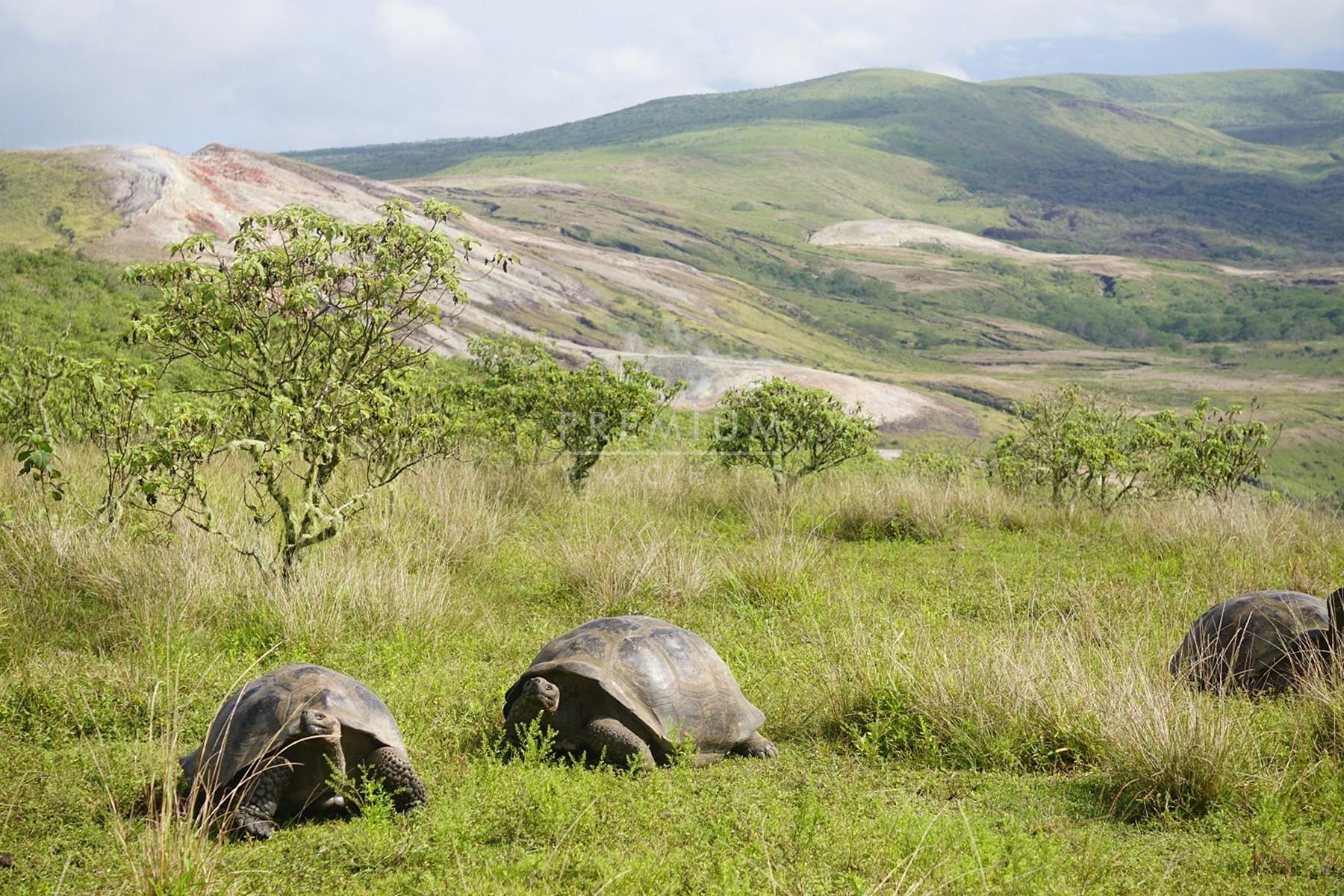 Transfer from Baltra airport to your charter yacht on Santa Cruz Island. Take a trip into the Highlands, home of the iconic Galapagos giant tortoise, stopping en route to explore Los Gemelos, hardened lava sink holes. Later, visit the Charles Darwin Research Station and Galapagos National Park HQ to learn of the conservation, research and repatriation programmes that are saving tortoises and iguanas from extinction. Enjoy dinner onboard as the yacht sets off for Punta Cormorant.
Flamingos and sea turtles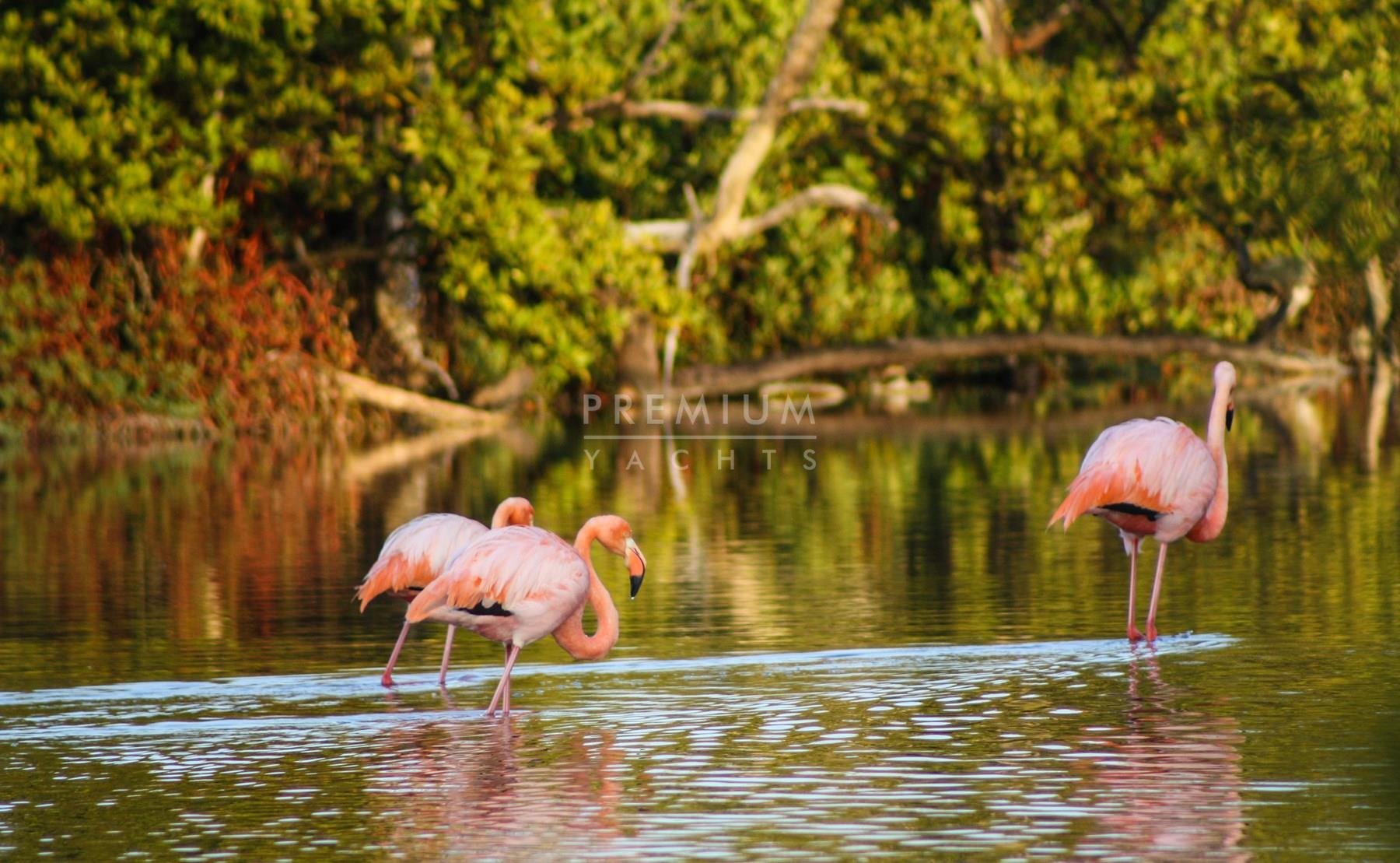 Mail your holiday postcards in the wooden barrel which has been the mariners' 'post office' since 1793. See the green beach, made so by the presence of olivine crystals, next to Flamingo Lagoon. Pintail ducks, large-billed flycatchers, and many other shorebirds can also be spotted here. Visit Flour Beach, where Green Sea Turtles nest, or snorkel with playful sea lions at Champion Island. You may also spot the nearly-extinct Floreana Mockingbird here. Stroll along Black Beach before dinner onboard. Overnight cruise.
Cormorants, penguins and pelicans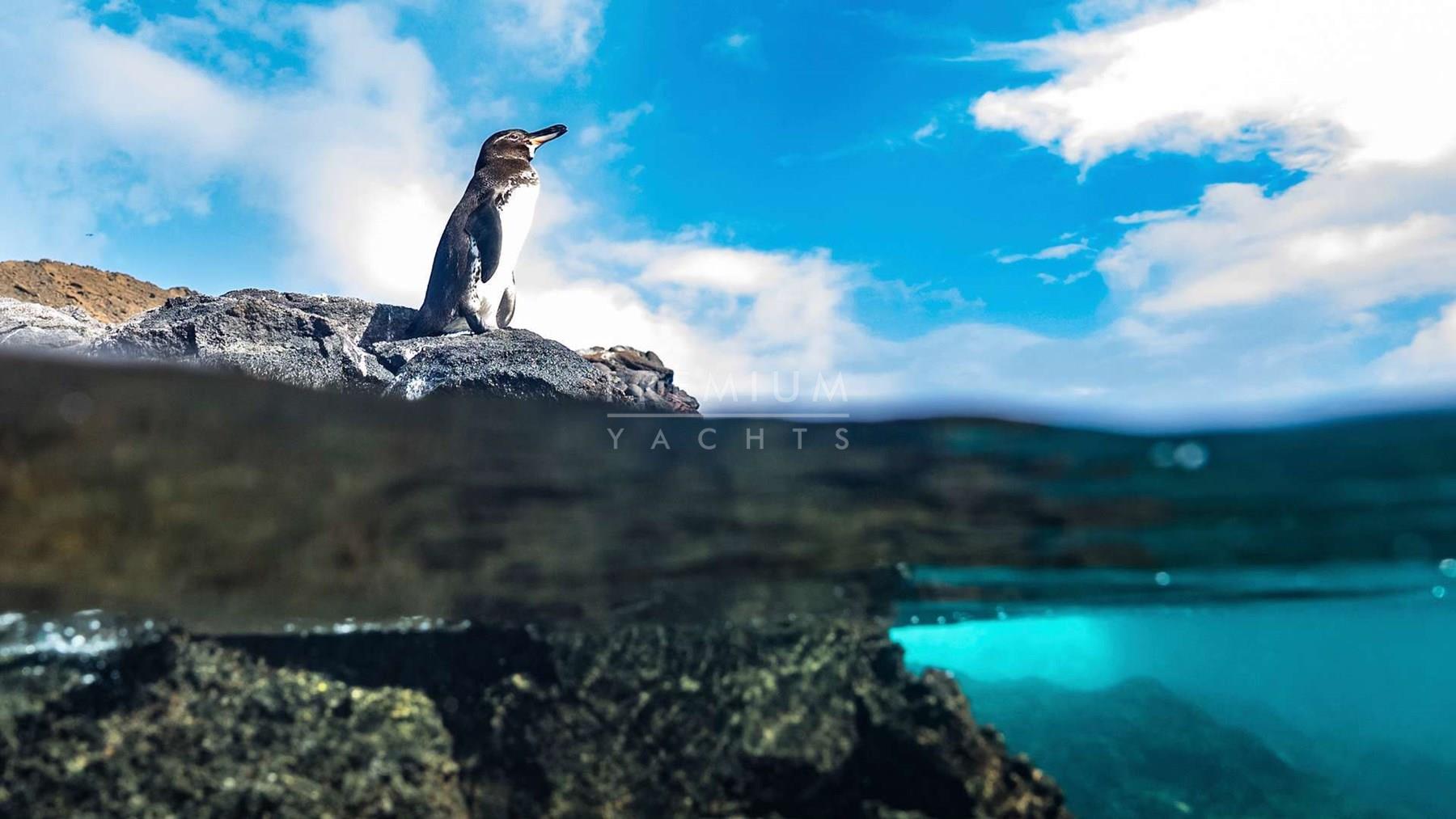 Wake up at Moreno Point on Isla Isabela and walk through lava fields at the base of the Cero Azul volcano. This dramatic landscape is dotted with lagoons alive with flamingos, paint-billed crakes, white-cheeked pintails and common gallinules. After lunch onboard, float silently in a panga (a small, shallow skiff) through the narrow channels of Elizabeth Bay's mangrove lagoon to see rays, cormorants, penguins, pelicans, lava herons, sea turtles, sea lions and blue-footed boobies.
Alcedo tortoises and iguanas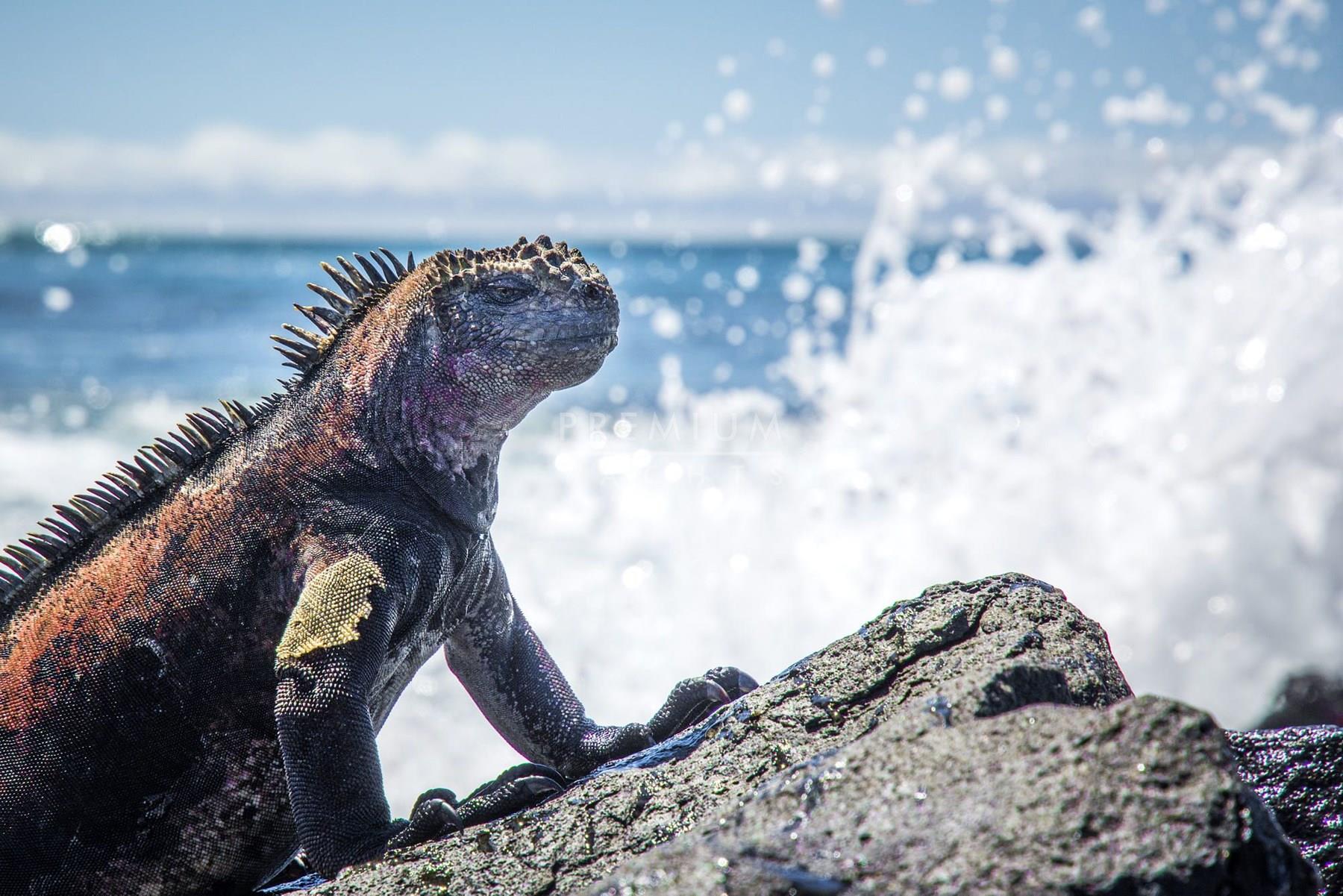 In 1954, volcanic activity lifted a 6km stretch of Urbina Bay's coastline, exposing coral heads and other marine fossils. Today, visitors can wander the remains of the seabed through a skeletal coral garden, now home to lizards and mockingbirds, and encounter iguanas and Alcedo tortoises. Later, move on to Tagus Cove. A short, steep hike passes Darwin Lake, where tree finches, Galapagos hawks and yellow warblers gather. Kayak along the cliffs to spot penguins and look out for Urbina Bay's colourful land iguanas.
Sea life, volcanoes and sunsets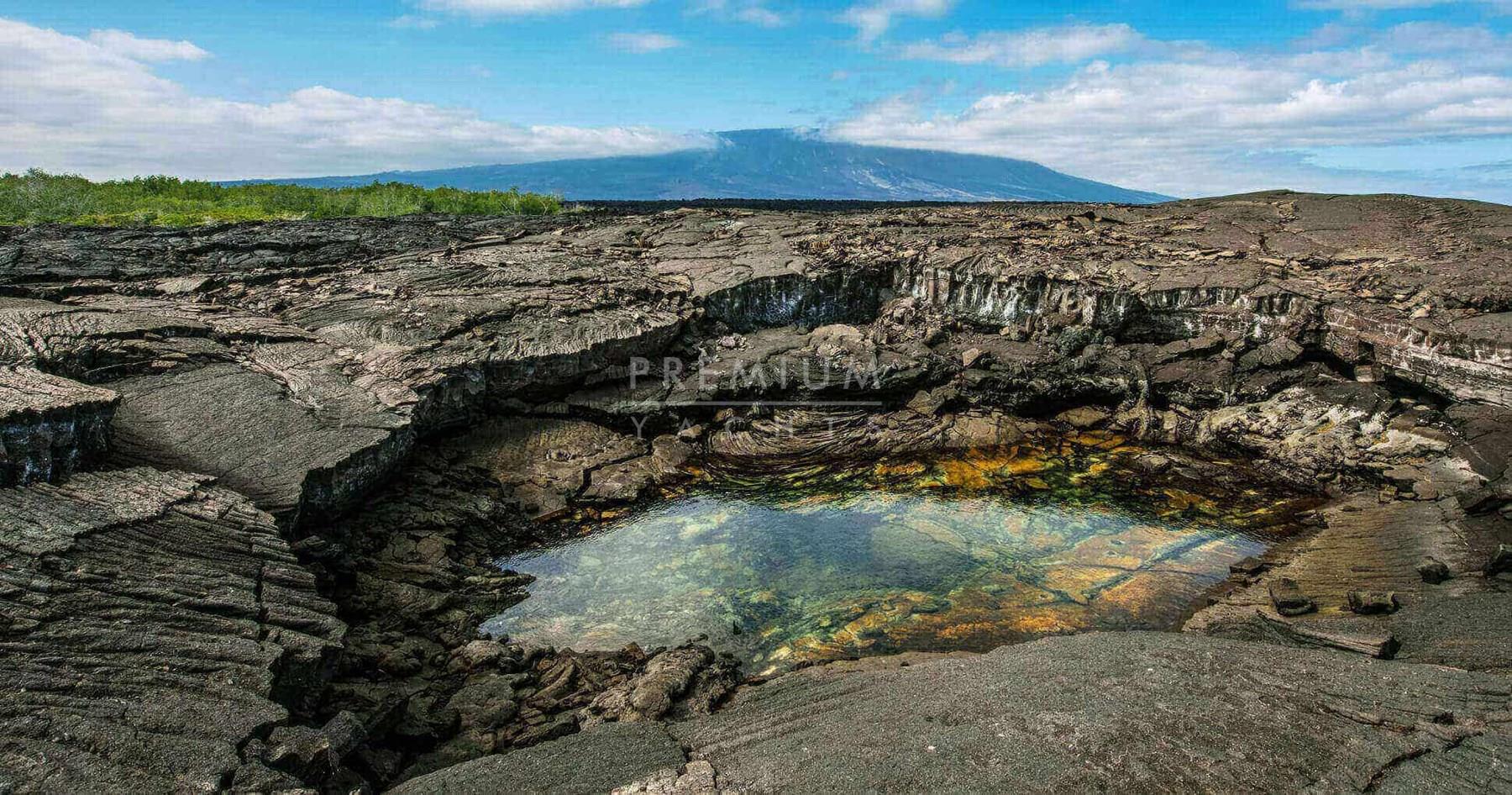 Fernandina, the most pristine island of the Galapagos, is highly volcanically active with frequent eruptions, the latest in September 2017. A young and uninhabited island of high ecological value, its ecosystems harbour unique species such as terrestrial and marine iguanas, snakes, flightless cormorants and penguins. Walk out onto the lava flow through an abundance of small, dark marine iguanas and brightly coloured Sally Lightfoot crabs and later, enjoy a stunning sunset from the decks of your yacht.
Nesting birds, whales and dolphins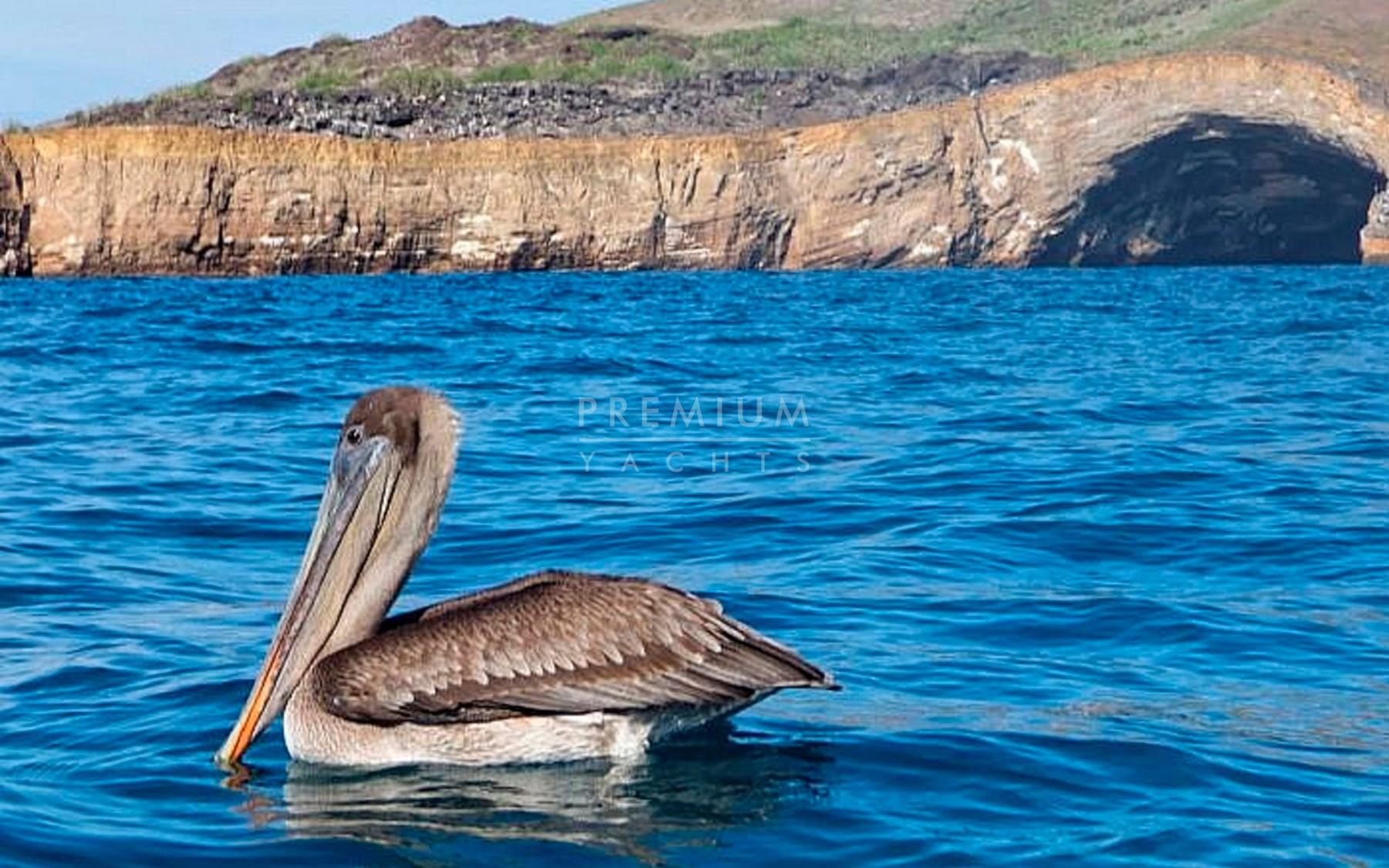 Back on Isla Isabela, Punta Vicente Roca can be seen only from the water. The geological formations provide a beautiful backdrop for numerous nesting birds, including blue-footed and Nazca boobies, gulls, storm petrels, and brown noddy terns. The water here is cold and it is common to observe "feeding frenzies", with groups of whales, dolphins, sea lions, tunas, and marine birds feeding simultaneously. To the south of the cove, there is a small colony of fur seals. Overnight cruise.
Fur seals and sharks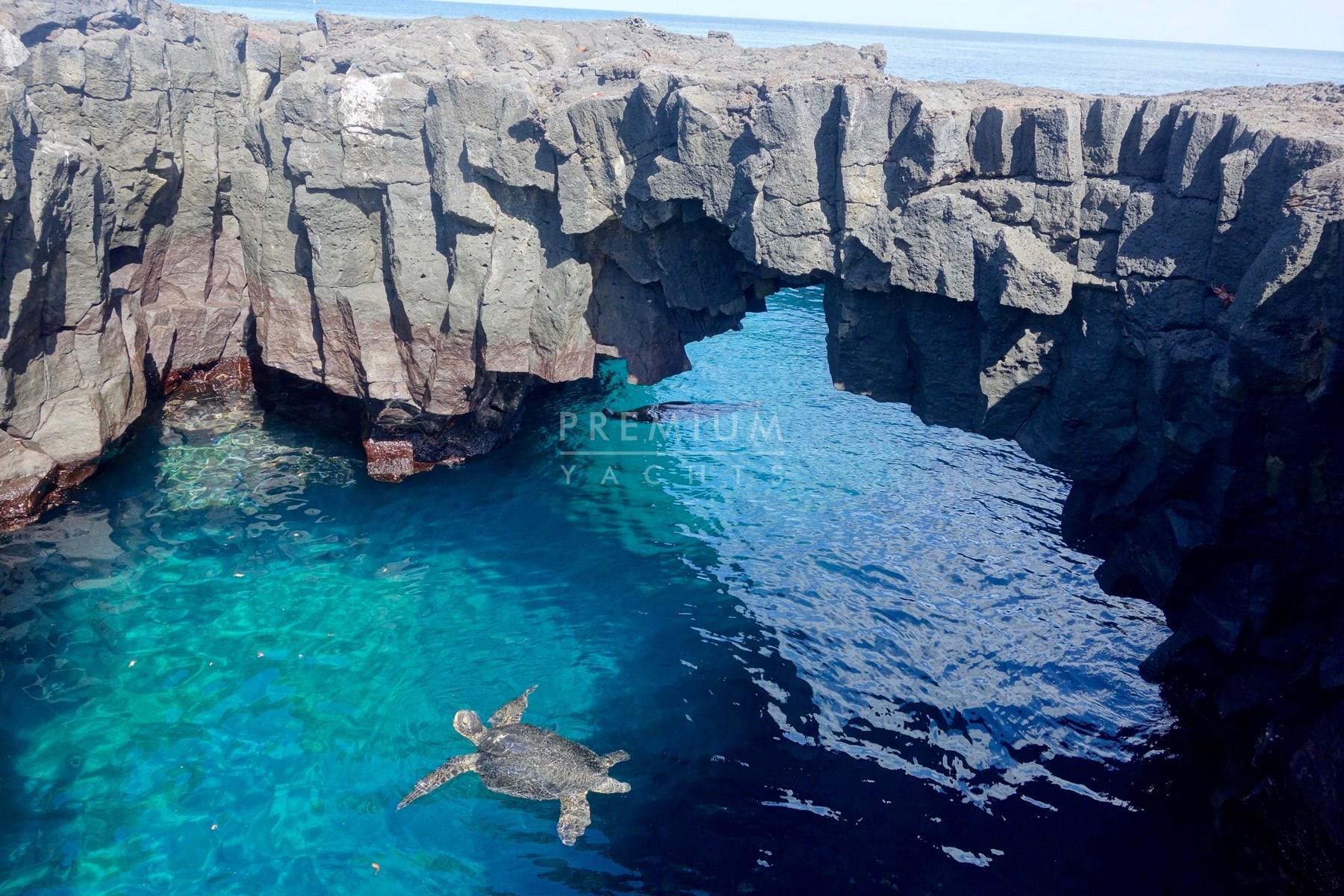 Wake up on Isla Santiago in Puerto Egas and follow a trail to see fur seal grottoes, American oystercatchers, marine iguanas and sea lions. Alternatively, take the route to the Salt Mine Volcano to watch the flamingos that gather here, and take in a panoramic view of the famous Pinnacle Rock on Bartolemé Island. Head to Espumilla, a red-sand beach and sea turtle nesting site, then snorkel Buccaneer Cove spotting sea lions, sea turtles, rays, sharks, pelagic fishes and rock formations. Enjoy a final sunset onboard.
Blue-footed boobies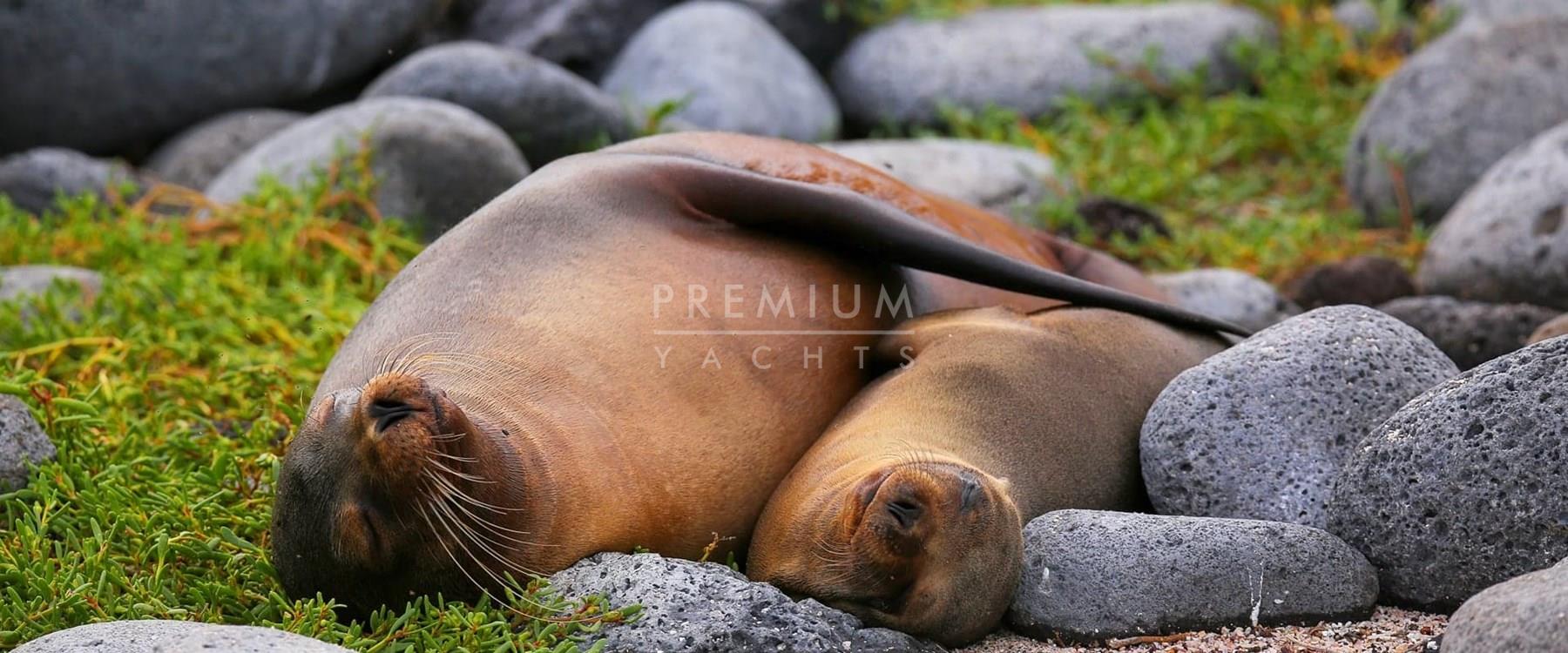 Dock on North Seymour, where trails lead to the largest colony of magnificent frigate birds in Galapagos, with blue-footed boobies and occasional land iguanas. Head along the coast to observe sea lions and marine iguanas before transferring to Baltra for your trip home.