Norway
Home to some of the best scenery to be found the world over, Norway treats her visitors to truly awe-inspiring views as they make their passage through her coastlines and fjords. Flanked by steep, dramatic mountains, the mainland also serves as a source of endless inspiration.
With an island count comfortably in the tens of thousands, and a distinctly vibrant city life, Norway presents a wealth of opportunities when it comes to compiling a uniquely memorable charter itinerary. Indeed, as a firmly established yachting hub with a centuries-old marine tradition, Norway offers visitors the chance to enjoy the most sublime sights of Scandinavia both when underway and at anchor. A favoured destination amongst expedition yachts, Norway also benefits from a number of quiet bays which offer charterers the opportunity to vacation in total peace.
Providing something of a bustling alternative to the rolling rural landscapes surrounding the fjords, the city of Bergen is defined by the cosmopolitan vibe which pervades its historic streets. Located on the west coast of Norway, the city is populated by a number of boutique stores and restaurants as well as a number of quaint buildings preserved as part of a World Heritage Site. Due to being one of the smallest cities in Europe, visitors are able to easily take in Bergen's various charms in a relatively short period of time.
Getting out of Bergen and back into the iconic fjords is nicely straightforward, and it is here that the sheer tranquility of Norway can be felt. With over fifteen thousand miles of coastline being inhabited by less than five million, visitors are afforded a vast amount of space to enjoy their company and surroundings in a totally uninterrupted fashion. Expertly maintained, the Geiranger and Nærøy fjords are UNESCO-protected and boast an assortment of cascading waterfalls, mountain peaks, and even glaciers.
Norwegian Fjords (8 days)
Explore the singular beauty of the Norwegian Fjords with this charter vacation through Norway's largest and deepest fjord. From dramatic panoramas to time capsule towns, this itinerary promises to enliven and inspire guests with an unconventional yacht charter experience.
From Stavenger to Lysefjorden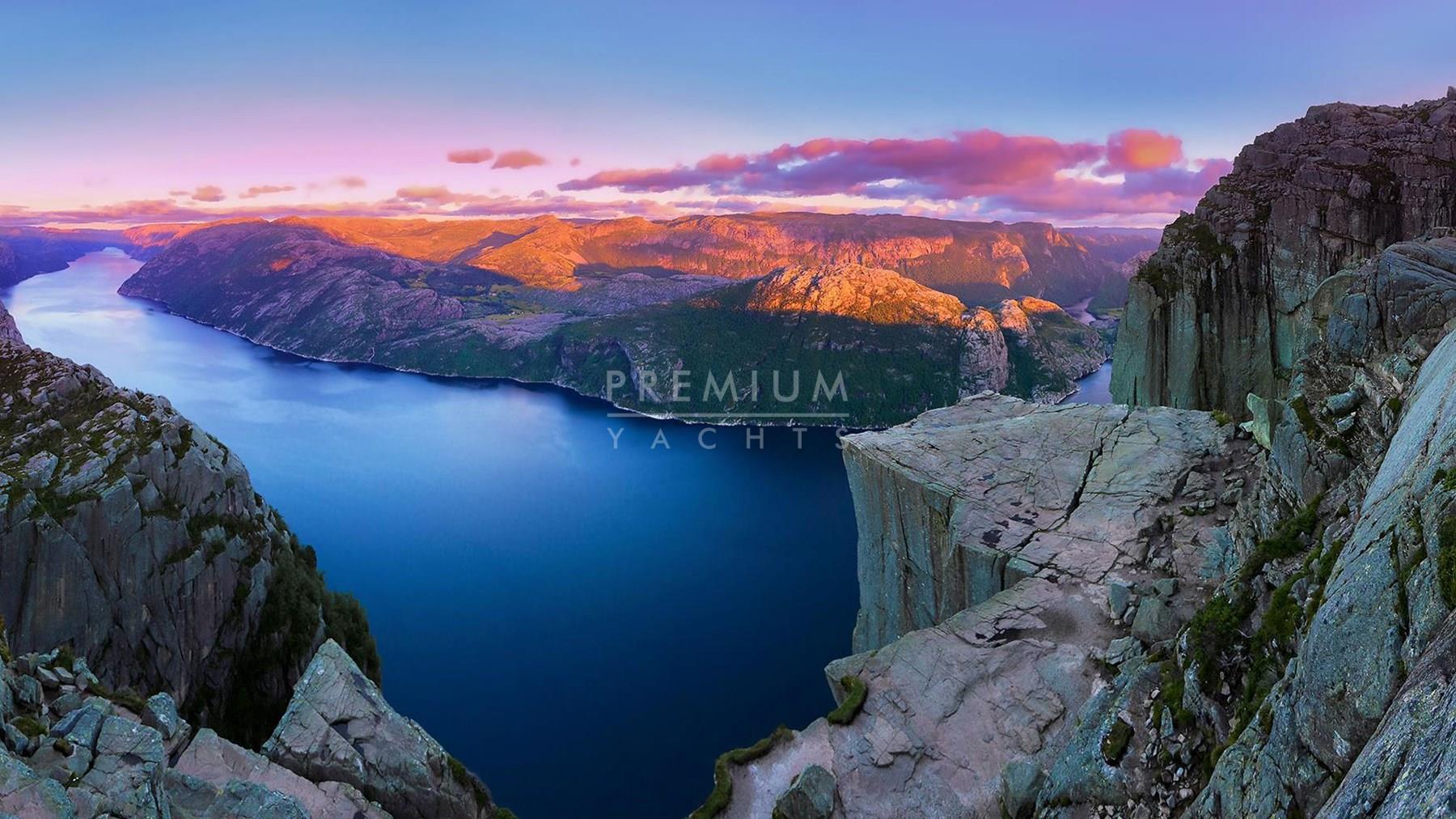 Join your yacht in the picturesque town of Stavanger, where you'll find a 12th century cathedral and cobbled lanes lined with boutiques and white painted houses. Board your yacht at midday and enjoy a delicious seafood lunch on deck as the yacht gets underway for the short trip to Lysefjorden. Before long, you'll be surrounded by thousand-meter cliffs looming above your charter yacht as it powers up the fjord, where seals slip through the deep water and wild goats graze on steep hills along the way. You can also hike or take a bus up to Pulpit Rock (Preikestolen) for a view across the fjord that you'll never forget: this cliff was voted the most breathtaking viewing platform in the world by Lonely Planet. Head back to your yacht to anchor for the night and drink in the silence and beauty of this place as the midnight sun lingers over the landscape.
From Lysefjorden to Hardangerfjord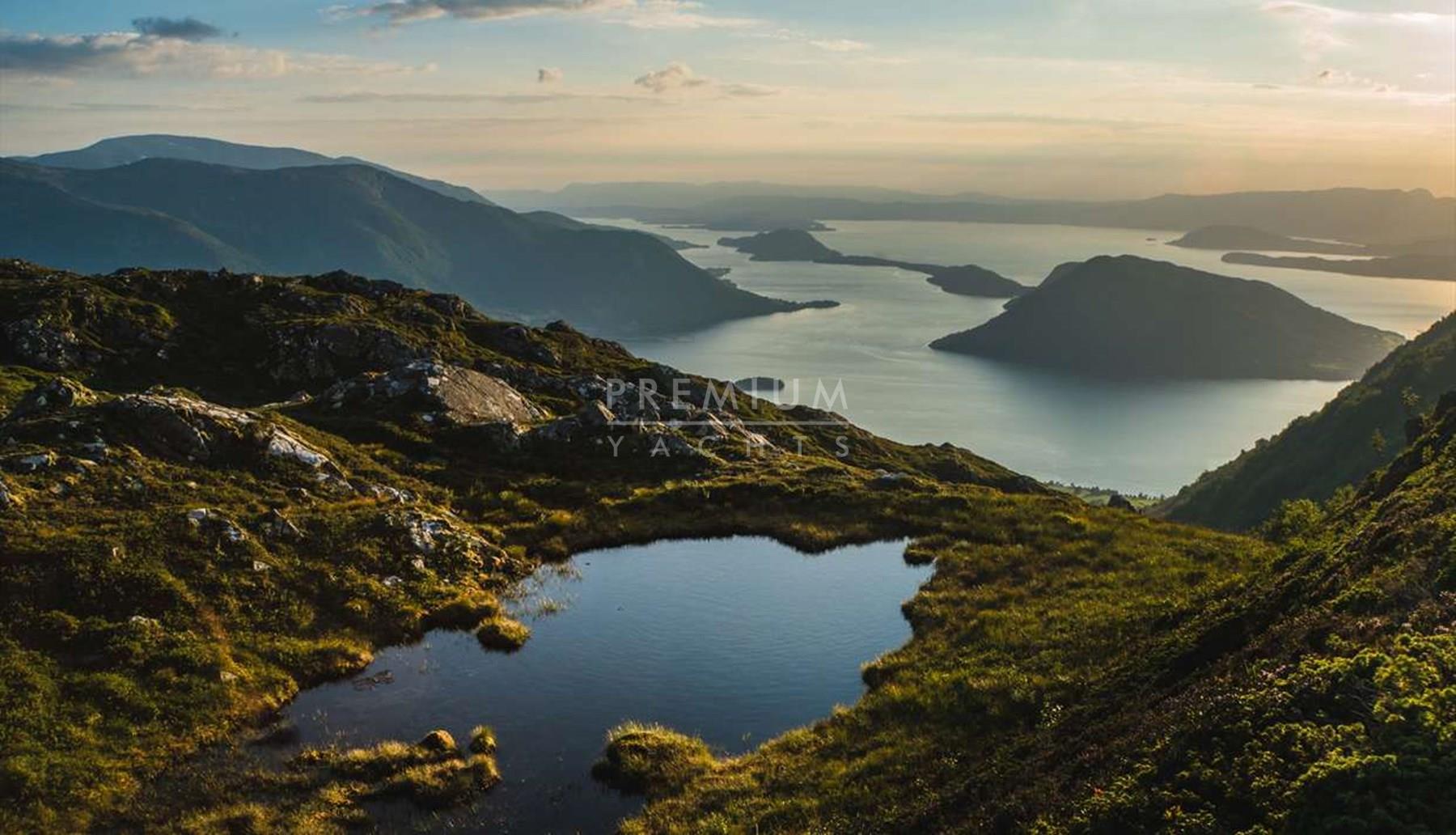 By the time you wake and head out for breakfast on deck, the yacht will be well underway for the romantic city of Rosendal on the Hardangerfjord This gorgeous town is framed by mountains and the Folgefanna Glacier, meaning that options for activities are endless. Do you want to hike or summer ski on the glacier? Take a helicopter trip above the landscape? Or kayak in a lake beneath the glacier? The area around Rosendal is a hiking and adventure paradise, while back in town you might want to explore the sumptuous gardens and buildings of the Barony, Scandinavia's smallest palace.
Deeper into the "Orchid of Norway"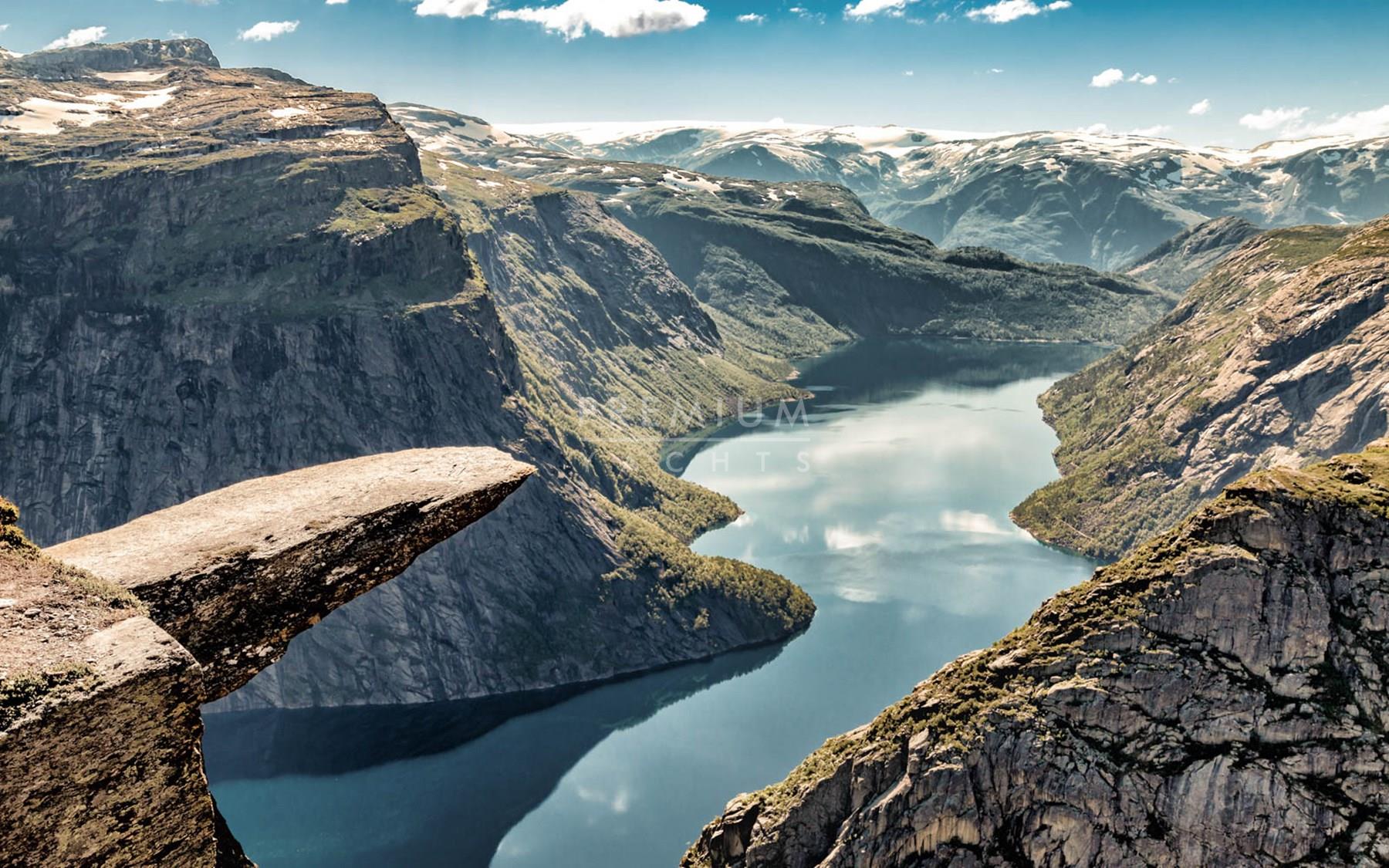 Today you'll cruise deeper into the Hardangerfjord, where brightly painted villages are surrounded by green fields, waterfalls plunge off high escarpments, and orchards of apples, pears and cherries line the banks, giving this fjord the title of "The Orchard of Norway." If time allows, the yacht will venture all the way to Eidford to see the staggering Voringsfossen waterfall, while other possible activities include white-water rafting, canyoning, cycling, and hiking. The evening will be spent in Lofthus, near the Kalrassen waterfall, where you can fill your glass up with sparkling water from the bow of the yacht. In Lofthus, visit Hotel Ullensvang, where you can dine in the wine cave or swim in the heated pools.
Heading to Bergen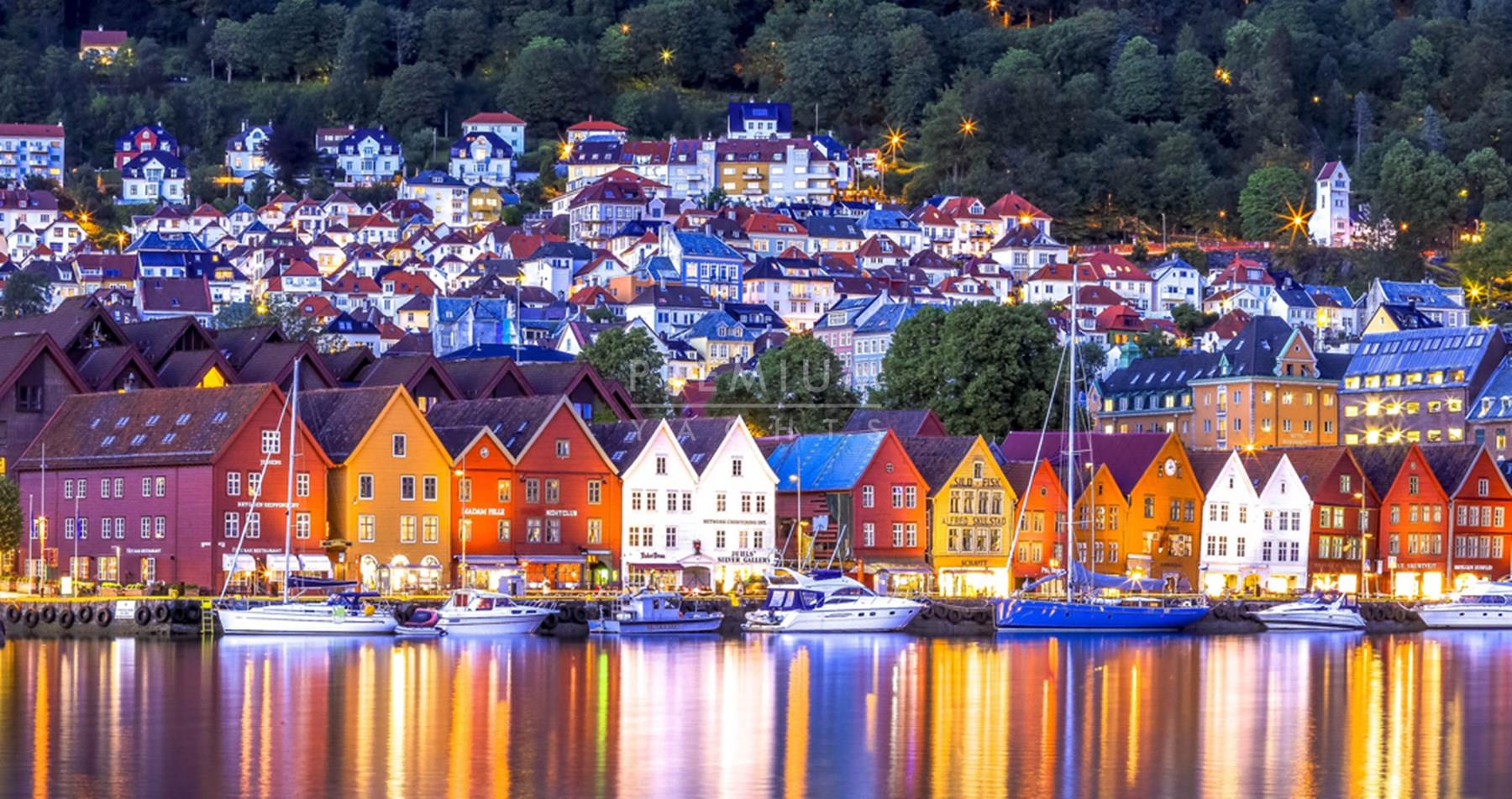 By the time you wake and head out for breakfast on deck, the yacht will be well underway for the fjord to Bergen, the ancient capital of Norway and a magnificent city of culture. This colorful UNESCO city is famous for the color and life of its wharves, where colorful facades overlook the bustling fish markets, as well as its world-class museums, art galleries, and boutiques. Lunch offshore on Holman Island, where the famous Cornelius Restaurant serves up enormous seafood platters, before spending the afternoon exploring Bergen, enjoying the great shopping and café scene, before . Alternatively, you might wish to take the 2-hour drive to board the Flam Railway, the steepest rail line in Europe with jaw-dropping views. Back in Bergen, take in an evening performance by one of the world's oldest symphony orchestras, or visit one of Bergen's great bars. When you return to the yacht, the captain will get underway for an overnight trip to Floro.
Floro and Maloy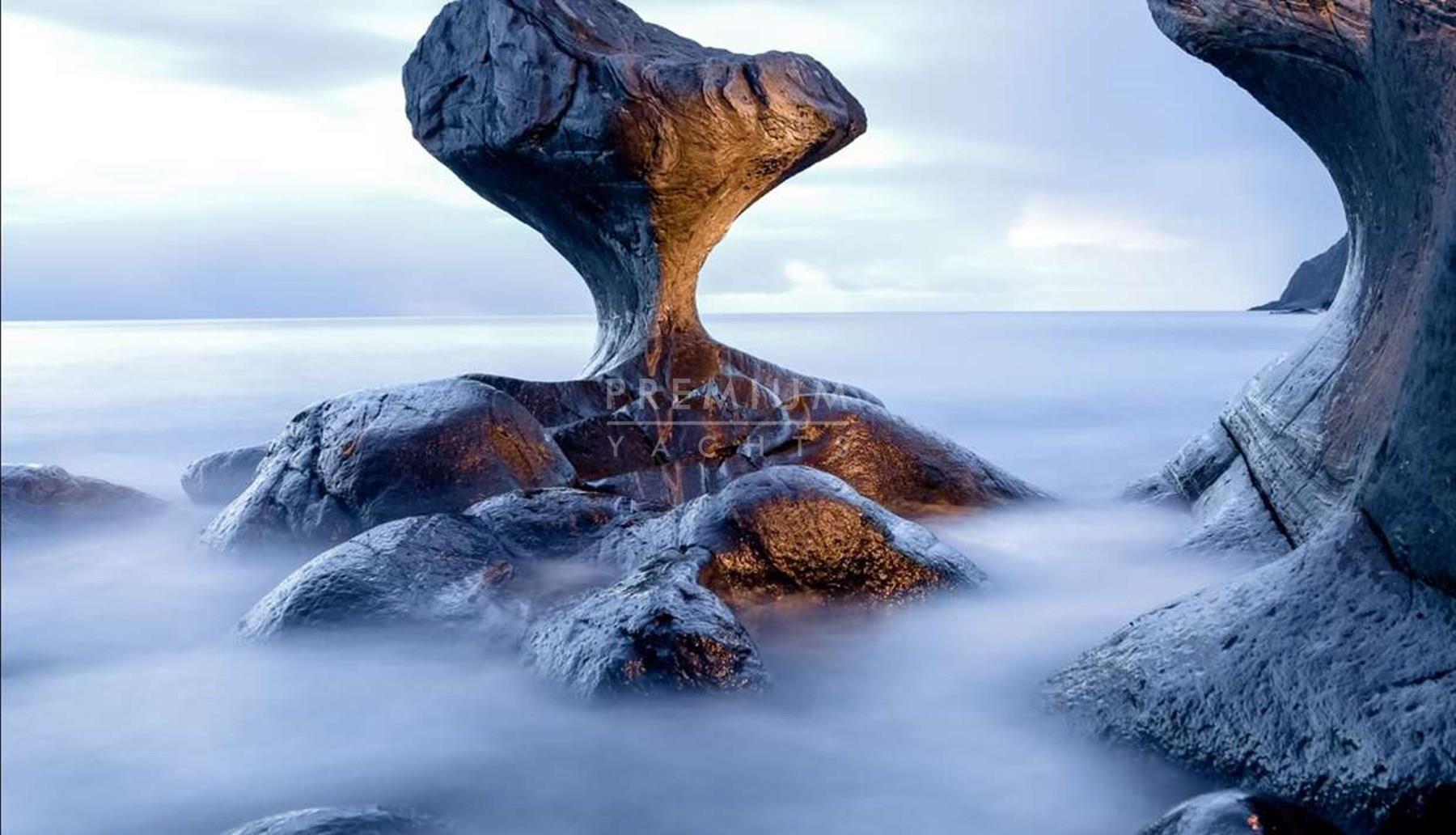 Whilst it may not feature as regularly in the guidebooks to Norway, Floro possesses a natural charm that makes it something of a hidden gem in the crown of the Fjords. Founded by royal decree back in 1860, this small town has a restorative effect and invites visitors to simply sit back and indulge in its fine surroundings. If you are interested in learning more about Norway's nautical history, be sure to pay a visit to The Coastal Museum just a few minutes south of the island. By the aftrenoon, you wil continue your journey to Maloy through a magnificent archipelago, where you will criss-cross between verdant islands. Second-largest fishing port in Norway, the town of Maloy features a silver sand beach, an unmissable national park, and even more spectacular scenery. It's also home to the world-renowned Kannesteinen Rock. Shaped by the waves for over a thousand years, this stone formation remains one of the most photographed elements of the natural world. Lined with charming lighthouses and framed by a vast mountainous skyline, Maloy truly embodies the unique beauty of Norway.
Geirangerfjord, the third largest fjord in the world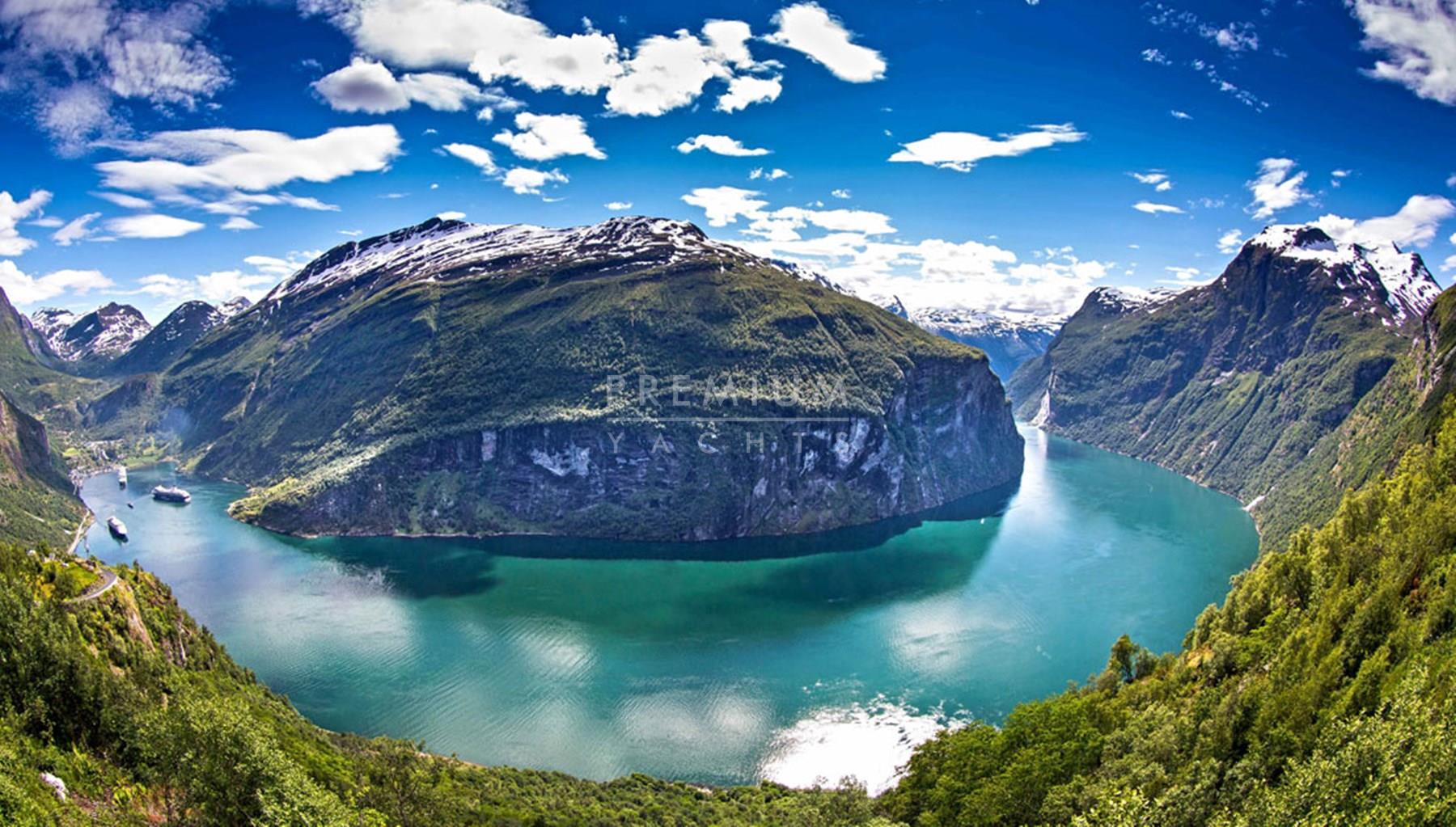 During the night, you will start to cruise to the UNESCO-listed Geirangerfjord. It is the third largest fjord in the world and cannot fail to astonish with its deep teal waters, snow-capped mountains, and sparkling waterfalls. This is often called Norway's "fairytale fjord," and it's easy to see why, as this place has an ethereal beauty about it that conjures up tales of trolls and faeries and long-dead Vikings. Cruise to the Seven Sisters waterfall, go river rafting or climbing, or hike along forest paths of heart-soaring beauty. The view from your yacht will astound you, as you look up steep cliffs to see little farms perched on grassy outcrops — so steep, in fact, that farmers used to tie their children to trees so they didn't fall off! In the afternoon, head to the local Geiranger Brewery, which is housed in a boat house, or head to Hellestylt Boutique and Bar to try some of the local produce.
Way back along the fjord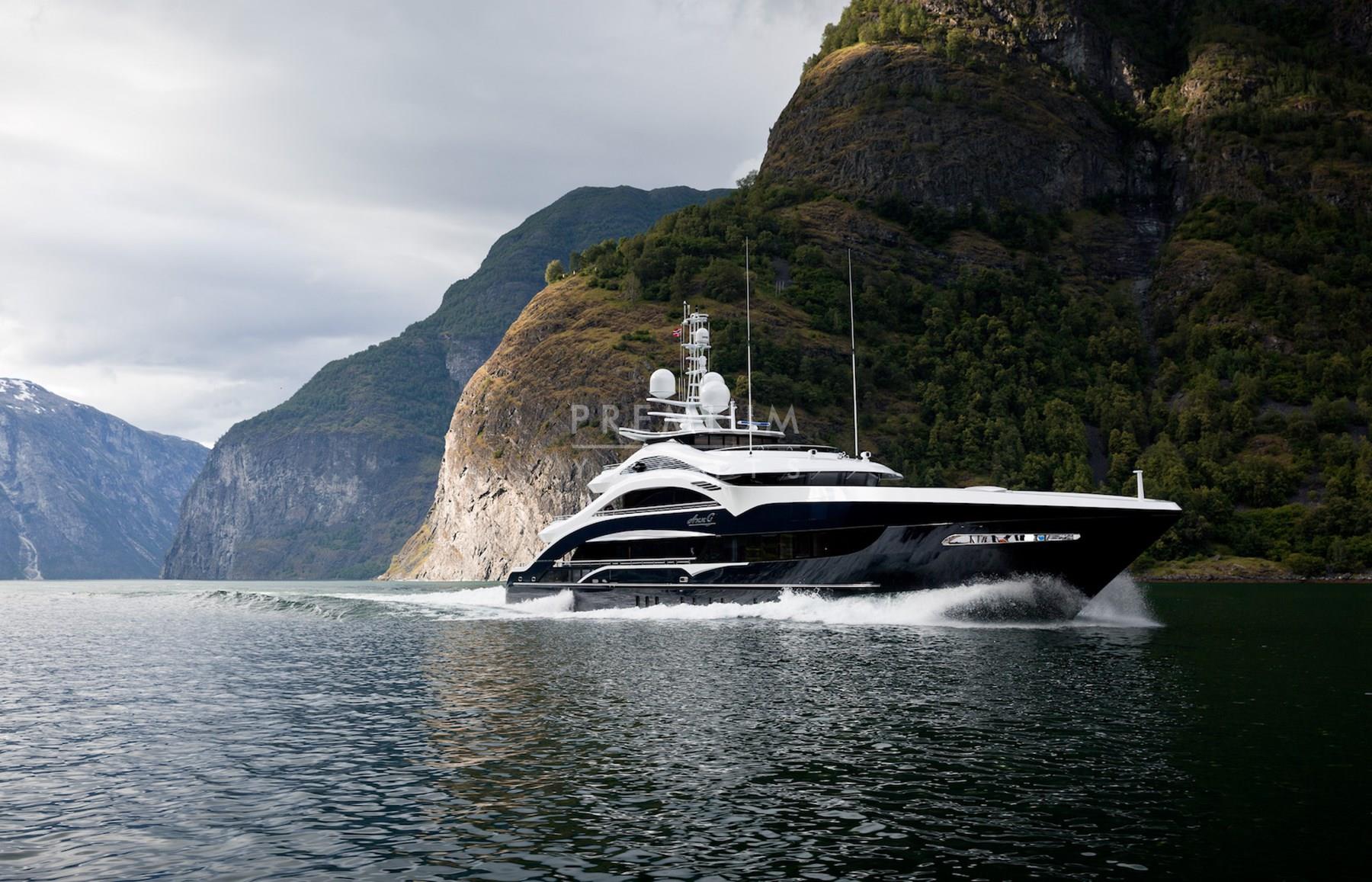 Spend the morning exploring more of Geirangerfjord by yacht or kayak. Alternatively, the captain can organize for a car to meet you for a drive up the incredible Trollstigen mountain road. Meaning "Troll's Footpath", this winding, dramatically beautiful road is world-famous for its stunning lookouts and 2,000+ foot elevation. In the afternoon, the yacht will make its way back along the fjord and stop by on the Storfjorden close to Alesund for a night at anchor. Be sure to make the most of your time and to take in the beauty of your surroundings as you make your way through Geirangerfjord. As the skies turn from yellow and orange into deep blue and purple, you may find your mind wandering back to all of the adventures you have had on your charter vacation. You may even begin looking up other parts of the country to explore the next time around.
Disembark in Alesund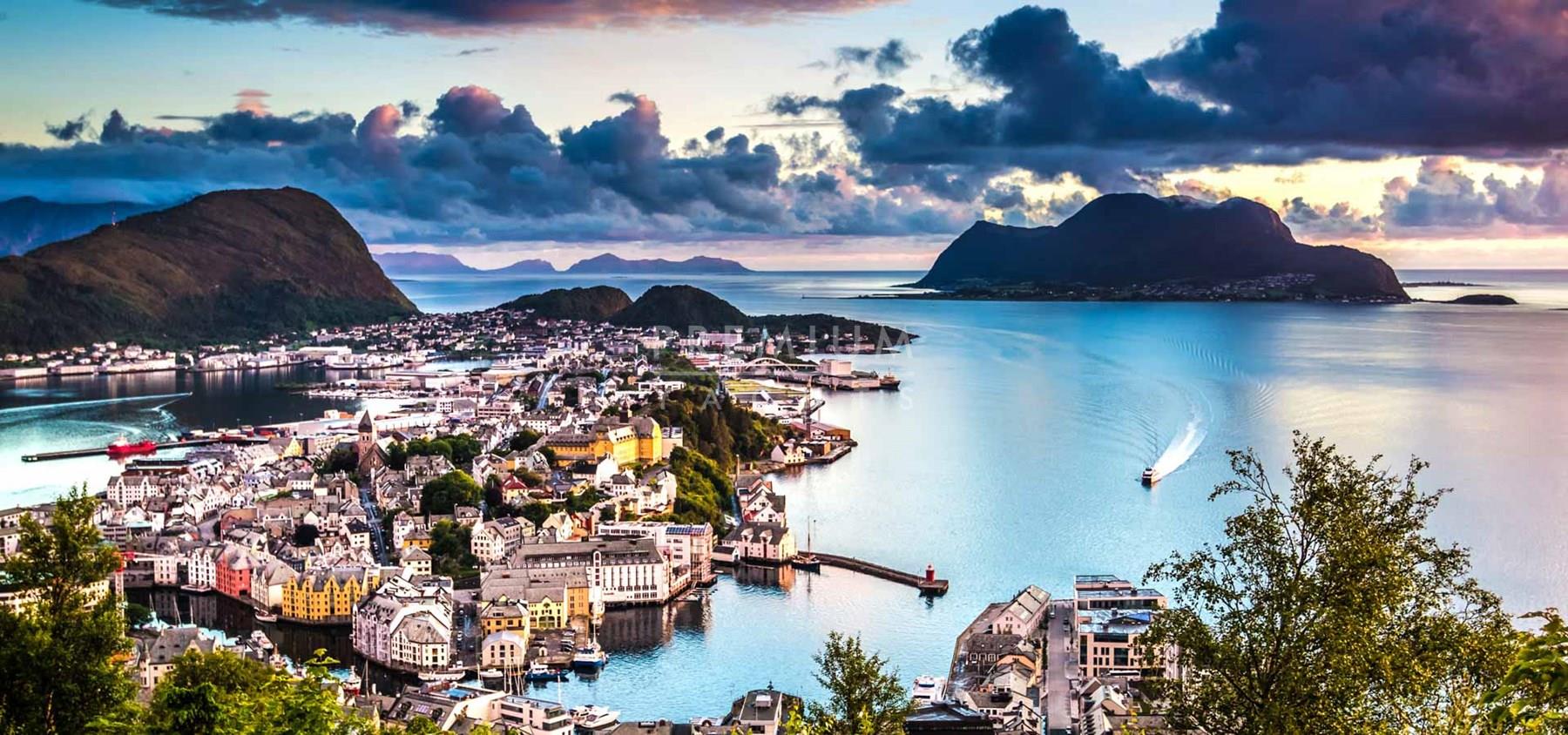 You will still have a few hours in the morning to enjoy some water sports or a last-minute exploration of Geiranger before you return to Alesund, Norway's prettiest city. Damaged by fire in 1904, it was rebuilt in colorful Art Deco style and is a delight to behold, with its spires and ornate towers. You should arrive in Alesund by mid-day. There are a variety of things to see and do in the town. Simply wandering through the fairytale streets of the port town and soaking up the lively Art Nouveau architecture is a breathtaking experience in itself. You may also want to do some last-minute souvenir shopping. Should you spend one more night ashore, you might wish to dine at Sjobua, a fine seafood restaurant and even get the chance to see the northern lights beaming overhead.