Greece
Greece and predominantly the Greek Islands continue to attract many charter visitors every year. Greece offers an abundance of charter opportunities from the ancient cities of the mainland steeped in history and natural beauty to the myriad of islands which stretch towards the Turkish coastline. Whether you're looking for a vacation saturated in the remnants of an alluring history or to island hop between the Saronic, Ionian or Cyclades islands, Greece is boundless in charter opportunities.
The Greek waters encompass a plethora of islands which can be divided into six main clusters from the Sporades Islands down to the island of Crete which marks the southernmost tip of the Aegean Sea. Each group boasts its own identity and is unique in charm and appeal.
Charter vacations tend to predominantly take place in three island groups which are the Ionian Islands, the Argo-Saronic Islands and the Cyclades. All of which lie within closer proximity of the country's capital of Athens which makes for favourable cruising time and thus lower fuel costs. Although there are many stunning islands lying outside of these popular charter groups, such as Crete and Dodecanese, they tend to lie much closer to Turkey than Greece, making for lengthy cruising times which will result in less than appealing fuel bills. The Greek Islands offer endless opportunities for spectacular cruising and although marina facilities are a rarity here, this only makes for more beautiful coastlines.
Encompassing beauty, history and crystalline waters, Greece offers a profusion of delights to be had from the bustling mainland to the secluded crescents of islands and with some of them only accessible by boat, this region makes for a seductive and enthralling cruising destination. Meander between sugar-hued houses, roam amongst olive groves and vineyards and stroll amongst the ancient ruins where the haunting allures of a legendary past are almost palpable.
Explore the Hotspots of the Cyclades (8 days)
An island-hopping adventure from Mykonos to Athens makes for the perfect summer escape. Take in all the beauty spots of the Cyclades Islands, a quintessential Greek archipelago known across the world for its unparalleled beauty and idyllic charm. Whatever is on your agenda, from exploring historic whitewashed villages and reclining on gorgeous beaches to dining on fresh seafood, taking in the party hotspots or trying your hand at watersports, this eight-day itinerary will fulfil all your wishes.
Embark in Mykonos and head to Paros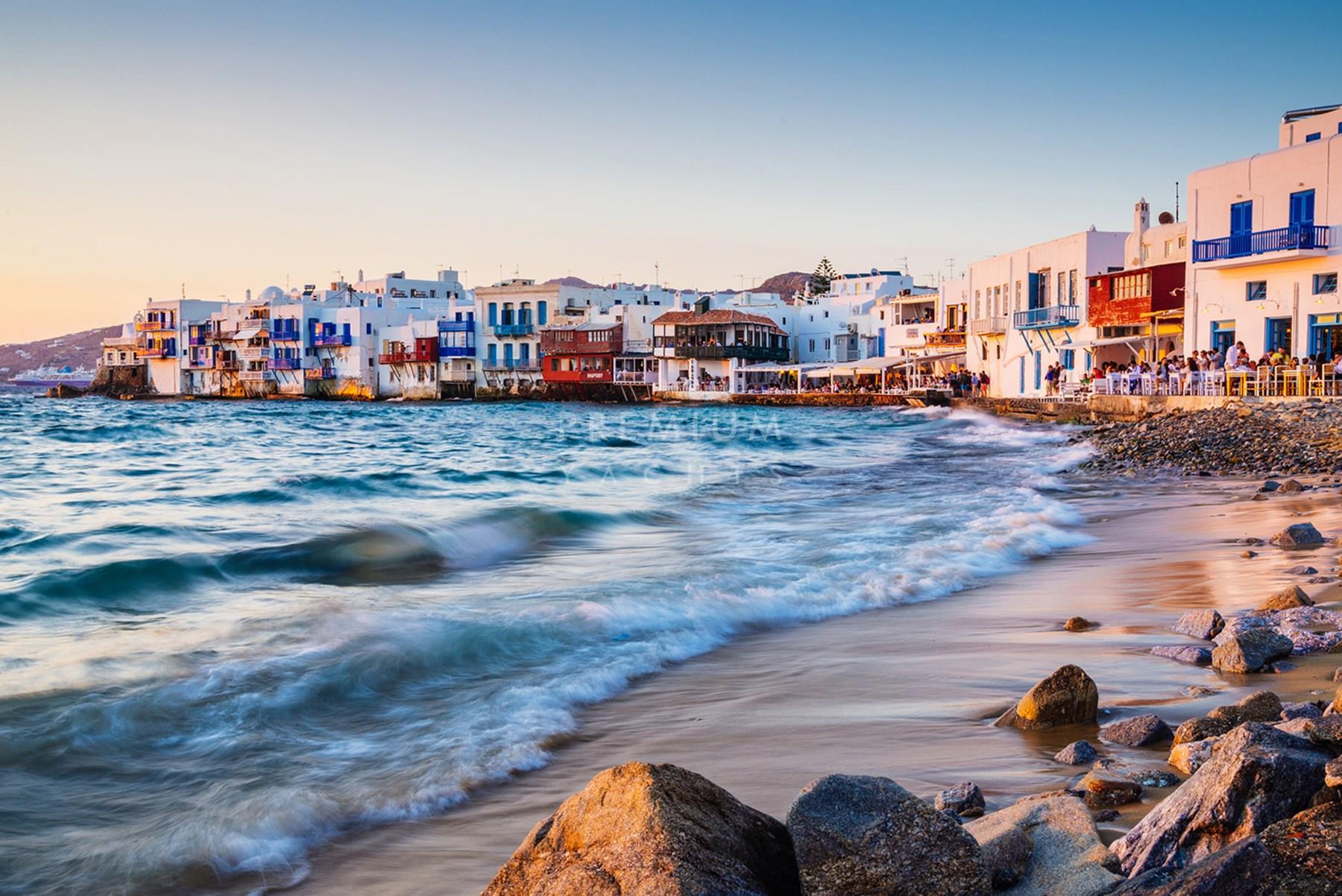 Embark on your yacht charter in Mykonos at around midday. The island is generally regarded as the prettiest of the entire Cycladic island group. Whitewashed houses and windmills overlook the town and port. Mykonos has hundreds of narrow streets where one can easily wander for hours. Before you embark on your yacht charter be sure to visit one of the islands decadent restaurants such as M-Eating or Bill & Coo Gastronomy project. Cruise in the afternoon to Paros. Several colourful events take place on this island, such as the wine and fish festival during the summer months. A visit to the monastery of Panagia Ekantontapiliana is a must. Following this, you will travel north to the lovely village of Naoussa. Its authenticity, and charm will give you a taste of what to expect in the following days.
Naousa to Ios

Ios is a tiny island and another picturesque place to visit. Coasts with cliffs, beautiful shores and beaches covered in white sand surround the island. Stroll around the narrow streets of the main town and admire the numerous churches and the gorgeous views. Manganari is one of the most picturesque beaches of Ios. Due to its remote location and the long distance from Chora (23km), the beach remains undisturbed from the noisy crowds. The secluded bay is protected from the strong winds offering calm swimming and snorkelling. Scenes from the famous movie "Le Grand Bleu" were actually shot in Manganari, revealing the extraordinary water quality and beautiful scenery. You may wish to organize an unforgettable barbecue there to end your day.
Revel in the heritage of Santorini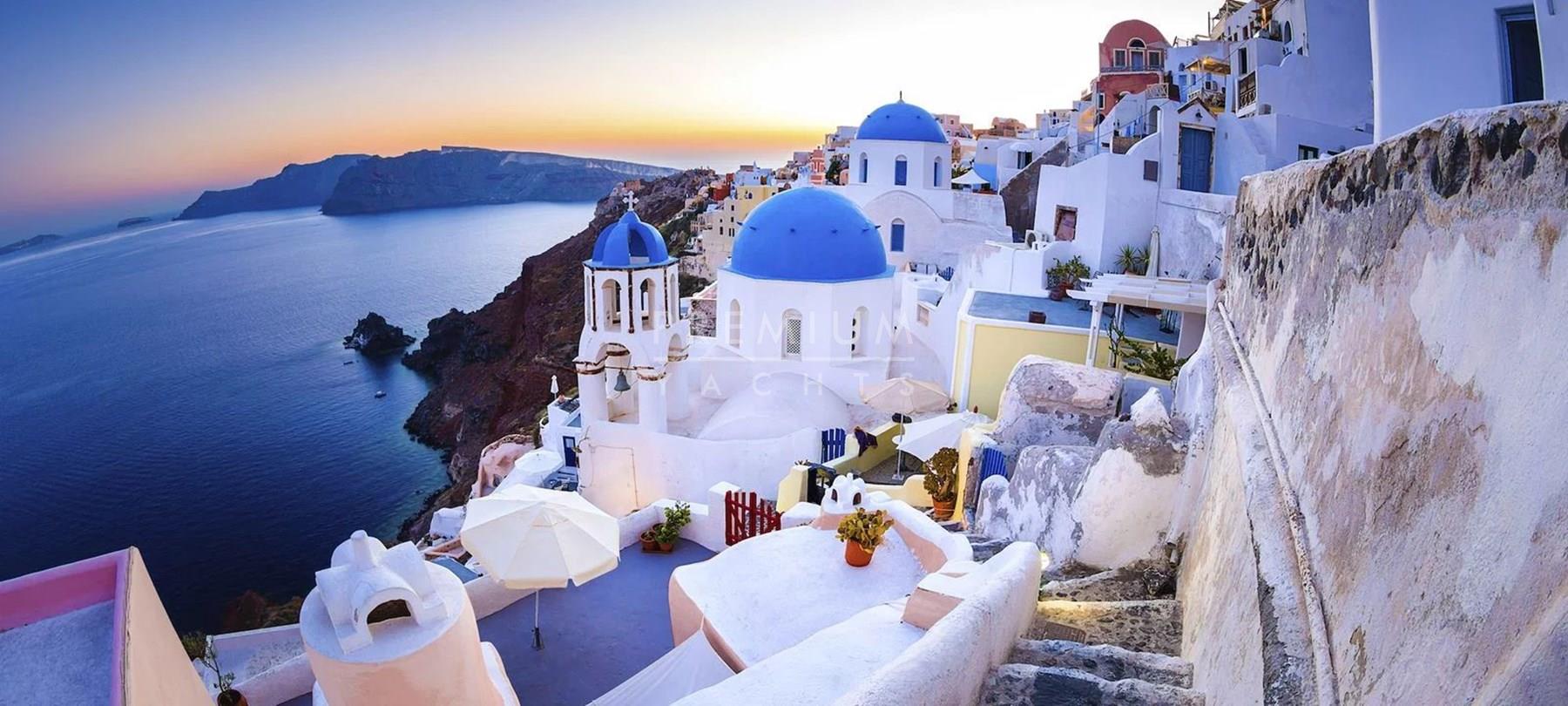 Leaving early from Maganari, you will cruise around of the famous shores of Santorini where you will discover the ancient history of Greece. Following a late breakfast,m you and your guests will arrive in Santorini and spend the day exploring its historically rich monuments. Begin your trip with a visit to the Akrotiri where you will uncover the ancient heritage of Greece's bronze age. If you are looking to unwind and spend some quality time on board your luxury charter yacht, we recommend that you pay a visit to White beach. Alternatively, you may wish to remain in the city and reserve a table at Santo Wine where you will get a delightful taste of Greek cuisine while overlooking the Mediterranean sea.
Decompress in the glistening waters of Milos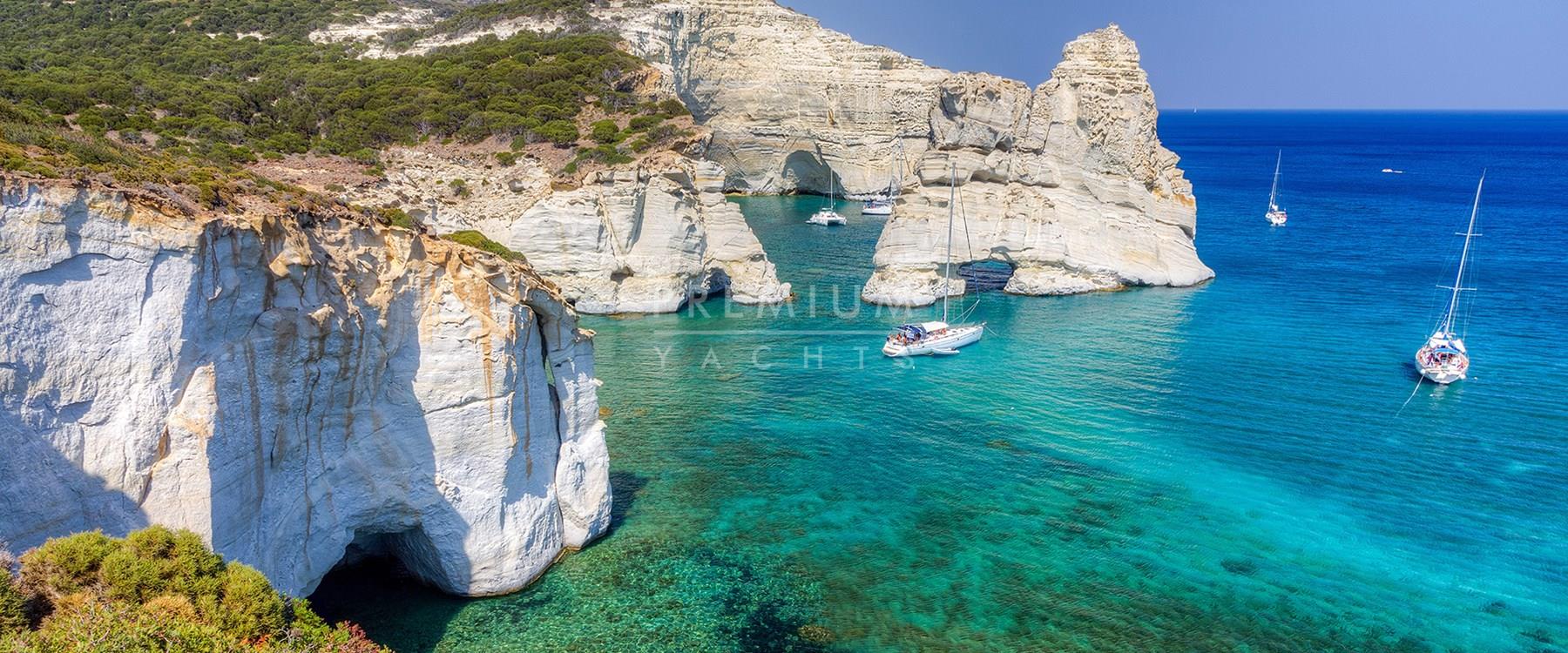 You will spend your morning at Bellonias Beach Club, where you will dine and unwind in style before you venture to Milos. Well known for its rich natural resources and the famous statue Venus de Milo, which now resides in the Louvre, Milos is unique for its astonishing lunar landscape which creates unbelievable and imposing rocky formations coloured in deep red, brown or glimmering white. Milos is a favourite charter island as it combines the blue Caribbean water and Greek hospitality, presenting a fabulous environment to spend the day. You will lounge about your superyacht and enjoy the vistas, followed by a trip to a nearby secluded cover where you and your guests can use the onboard water toys.
The island of Sifnos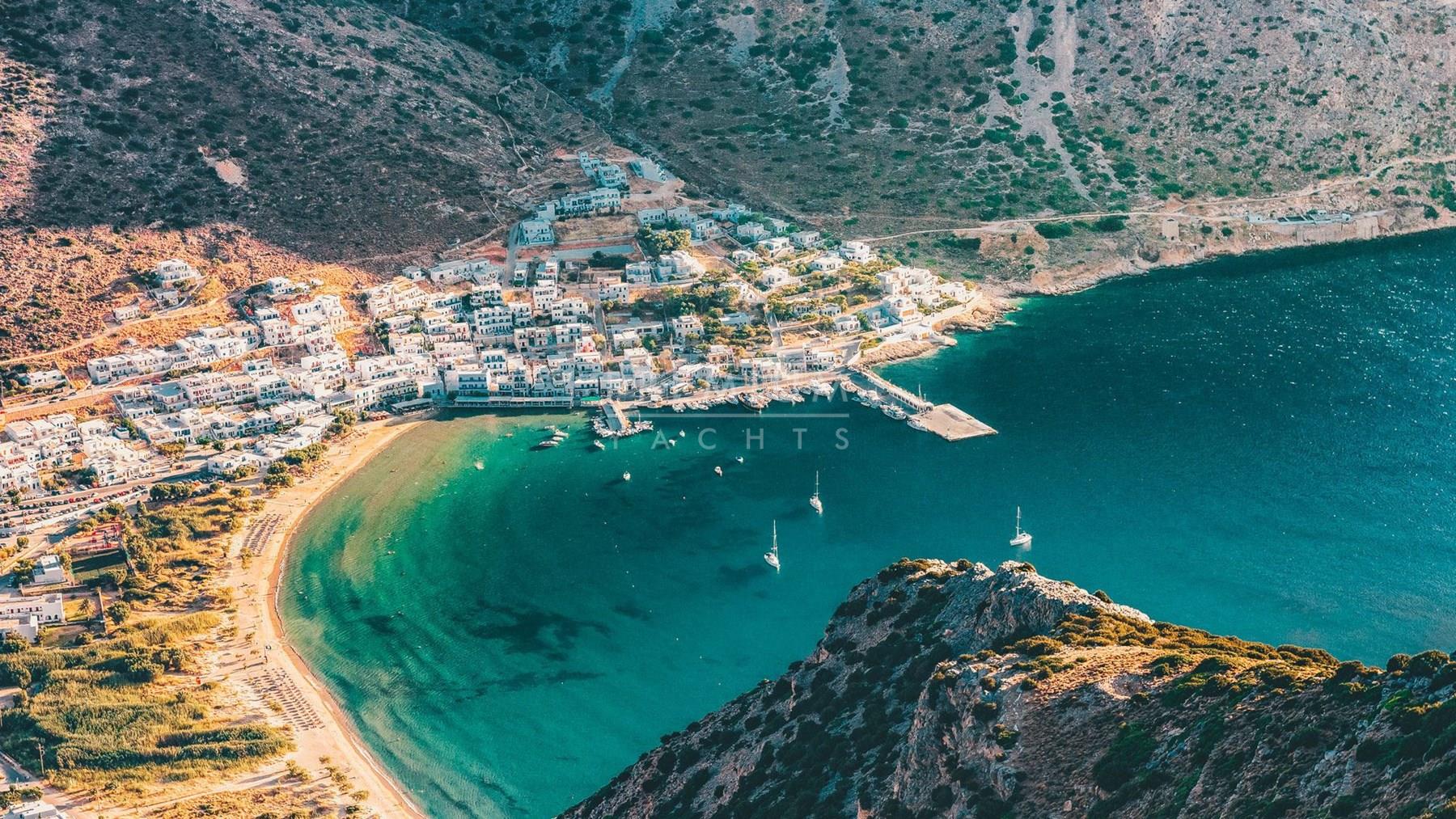 Following your water adventure from yesterday, on this day of your charter, your motor yacht will take you to Sifnos. Fringed by sandy beaches you and your guests will spend the day exploring the waters of Sifnos. There are many famed diving spots located in the southern part of the island that is sure to provide an enjoyable and memorable afternoon. The island is also famed for its pottery, which is certain to be an impressive souvenir to bring back from your travels. You will spend your evening at Kamaras, a small coastal settlement in the North-Western face of Sifnos where you will discover the charm and vibrant energy of the island. Mingle with locals and they will direct you to the best taverns where you will dine before returning to your superyacht.
Explore the landscape of Serifos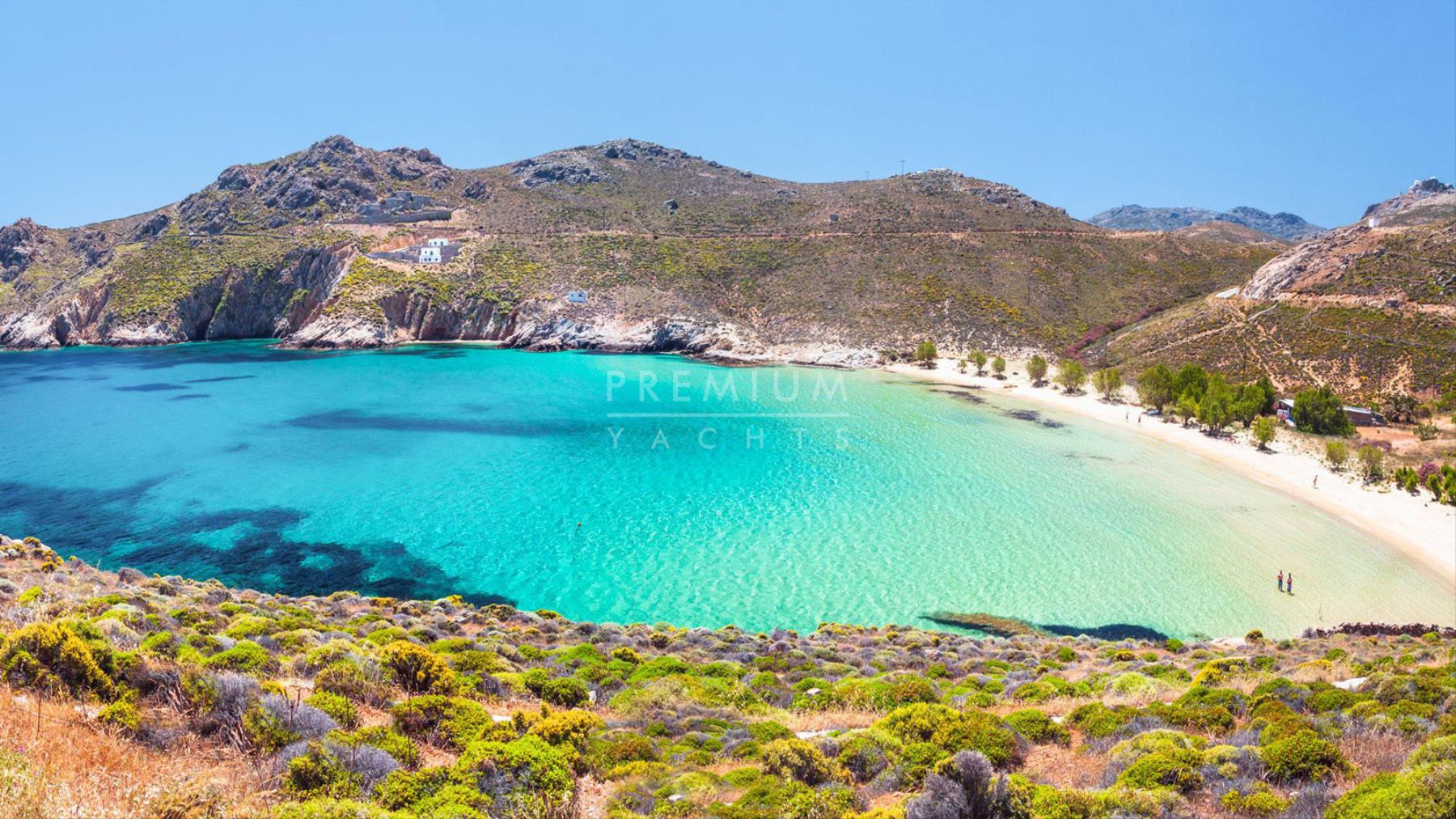 Nearby is the island of Serifos, where you will spend your day marvelling at the natural beauty of the island. Dramatically rocky and verdantly vibrant, Serifos presents a wonderful opportunity for charterers looking to actively explore Greek wildernesses. Boasting many proud mountains the island is host to many nature trails that lead up to awe-inspiring vistas. However, if you prefer you can spend your day in the harbour town of Livadi, where the bustling cobblestone streets will lead you to buzzy markets, private beach clubs, and local taverns. There are still many monuments here to discover, such as Isidoros Church and Serifos Museum.
Round off in Kythnos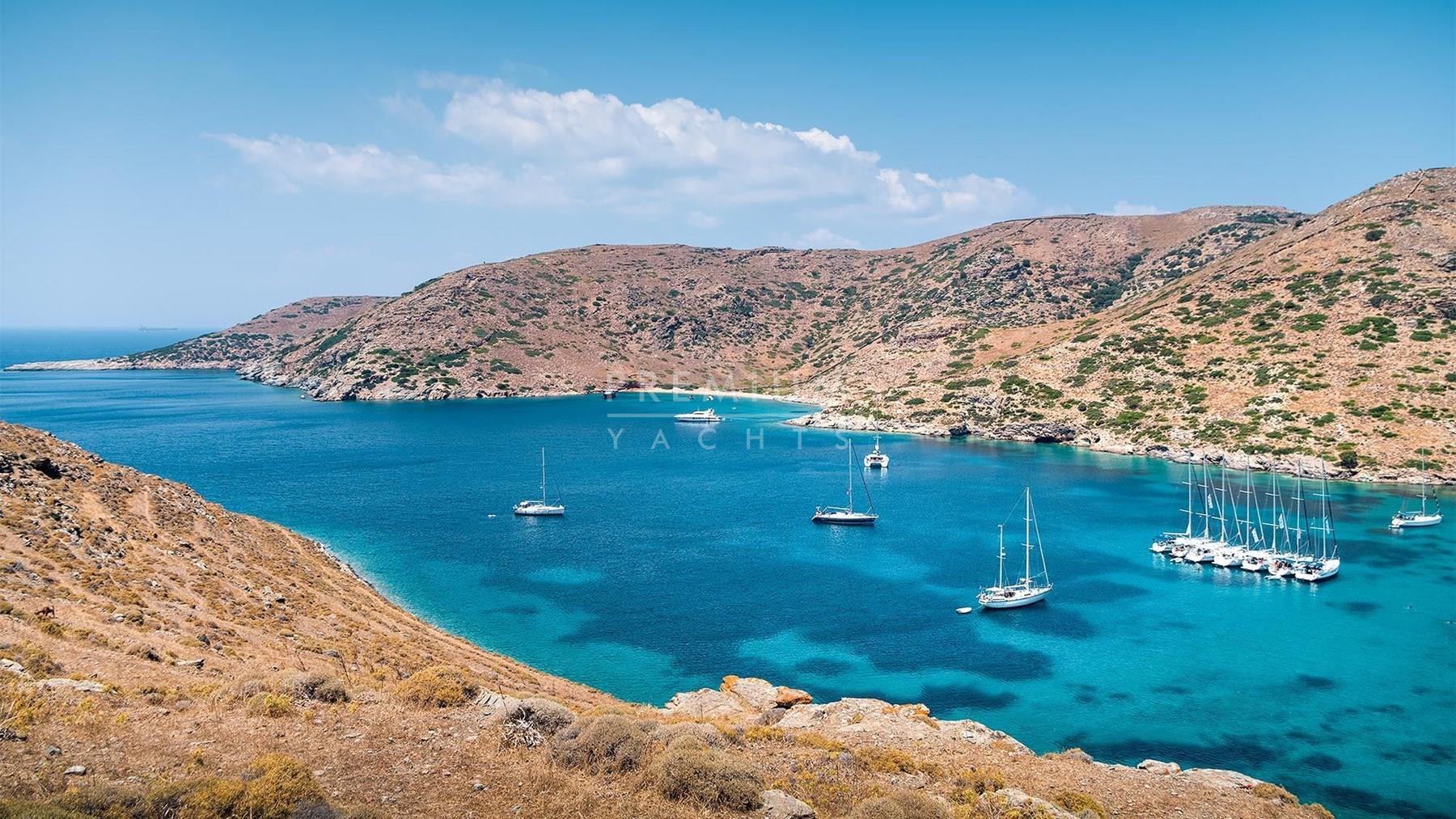 Cruise North and you will discover the island of Kythnos, where you will spend the last full day of your charter vacation. In Kythnos you will find beautiful sandy beaches, whitewashed houses, small cafes called "Kafenion " in Greek, a unique atmosphere where life seems endless. There are many gorgeous villas and settlements around the coast that offer food, clothes, and jewellery for those guests who wish to do some last-minute shopping. Here the terrain is mainly mountainous, but the harshness of the bare earth is relieved here and there by vines or fig-trees, while pretty little bays form indentations in its coastline. The capital of the island called Hora or Messaria stands on a hillside plateau, 8 km from Merihas. It is a typical Cycladic village, noted for its beautiful churches with their fine wood carving, sanctuary screens and icons.
Disembark in Athens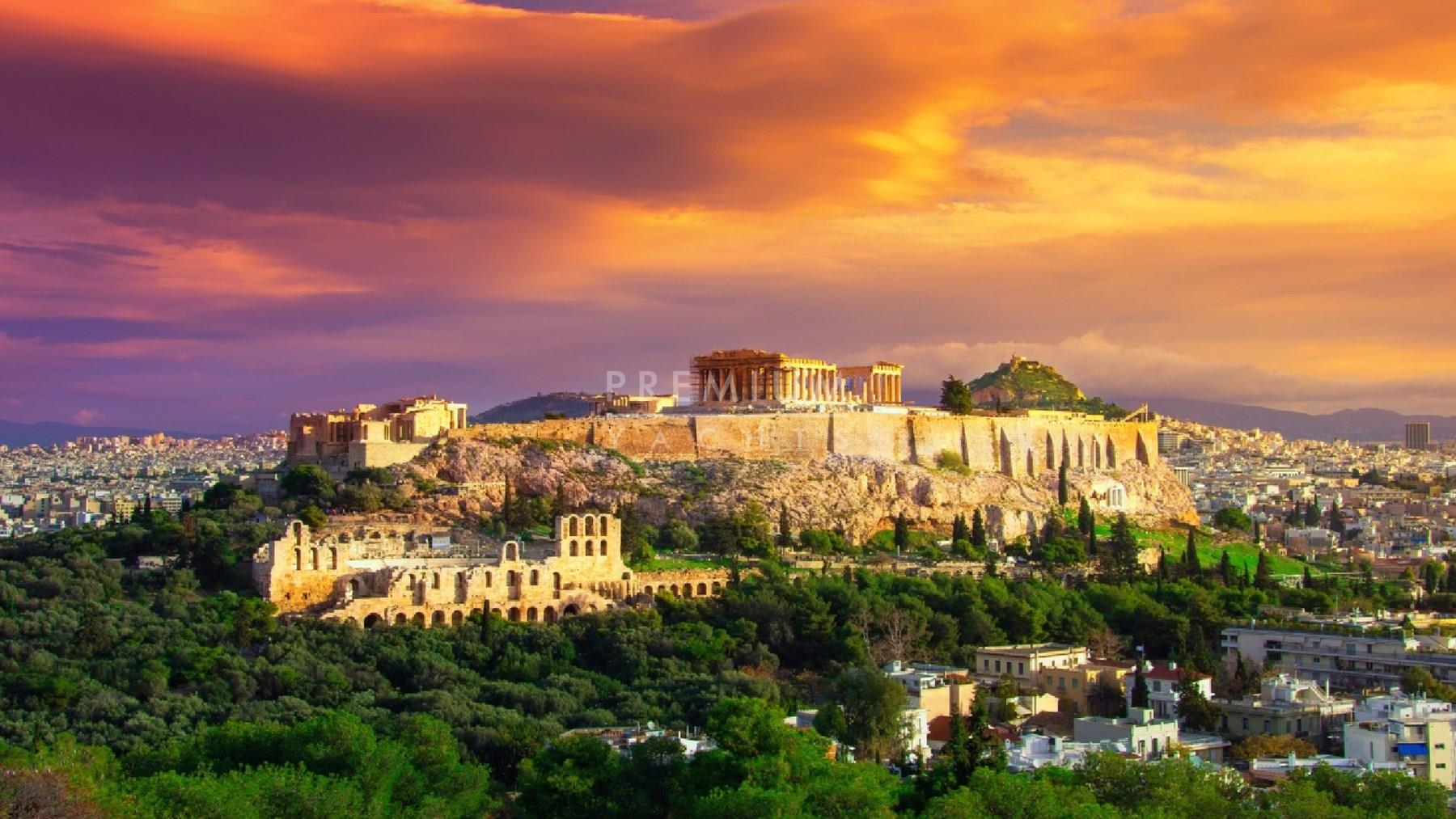 Named after the goddess of Wisdom, Athena, Athens, is one of the most magical cities in the world and is where you will end your luxury yacht charter. Relish the time you have in the morning having your final meal while cruising the tranquil waters. When you arrive be sure to explore the many landmarks of Athens, such as the Parthenon. There is so much to do and explore in this historic destination, that it may be in your best interest to spend the evening before you return home. Be sure to reflect on the experiences that you have had on your vacation through the Mediterranean, perhaps you will already be planning your next charter adventure.