Antarctica
Otherworldly and magnificent, the White Continent of Antarctica is a land where the wilderness of winter lingers and time appears to stand still, creating an outstanding spectacle of unmatched natural beauty. A yacht charter is the ultimate way to explore this enticing and majestic location and every year, charterers succumb to the haunting allure of Antarctica.
Blanketed with ice and largely unspoiled by humans, the pristine land of Antarctica offers some of the most beautiful sights in the world. Sleepy icebergs lace the cobalt glacial waters whilst the glittering alabaster shorelines teem with Antarctic wildlife which remains unabashed by the presence of visitors. Gaze in awe as colonies of penguins and herds of seals revel in their natural habitat, going about their day to day routines without acknowledging onlookers, making for a truly marvellous display of nature at its best. With opportunities for whale watching and bird watching, Antarctica is a haven for lovers of the outdoors.
Abound with some of the most beautiful seascapes in the world, cruise amongst towering icebergs and explore the moody and desolate solitude of this majestic wonderland. Admire the icebergs in their multitude of shapes as you venture towards Deception Island. Deemed as one of the most incredible islands in the world, this stunning location lies in the South Shetlands, off the Antarctic Peninsula and offers perfectly sheltered waters. This caldera of an active volcano has one of the safest natural harbours and boasts glacial scenery and awe-inspiring views which are simply unmissable.
Further south, cruise along the narrow waterway of the Lemaire Channel, an undoubted highlight of any Antarctica yacht charter. Framed by Antarctic cliffs and the rugged coastlines of Booth Island this picturesque location has been dubbed as the 'Kodak Gap' and for good reason. The protected waters in this secluded cove are often as still as a lake making for comfortable, tranquil cruising as you admire the inspiring humpback whales in one of their favoured feeding grounds.
An experienced crew and sturdy vessel are necessities for any yacht charter to Antarctica as the power of nature can make this a challenging yet immensely rewarding charter destination. As the climate and ice command the time in Antarctica, clocks and calendars have no place, meaning every explorer is at the mercy of the continent's dispositions and weather patterns. The best time to visit is between November and March, when temperatures generally remain between 20 and 35 degrees Fahrenheit and sunlight can last for 20 or more hours a day.
Antarctica promises to surpass all expectations and guarantees to offer much more than you could ever imagine. In this pristine solitude it is inconceivable to witness the species who have survived here against the harsh conditions of wind and cold in addition to fishing, mountaineering and diving opportunities.
Antarctica is nothing short of a majestic wonderland, a place which upon visited will leave its visitors forever changed.
Antartica: Naviguate to the last frontier (8 days)
Blanketed with ice and largely unspoiled, the pristine land of Antarctica offers some of the most awe-inspiring sights in the world. Discovering the region by yacht, gliding past icebergs and cruising to islands populated with penguins, is a truly unique holiday experience.
King George island : The adventure begins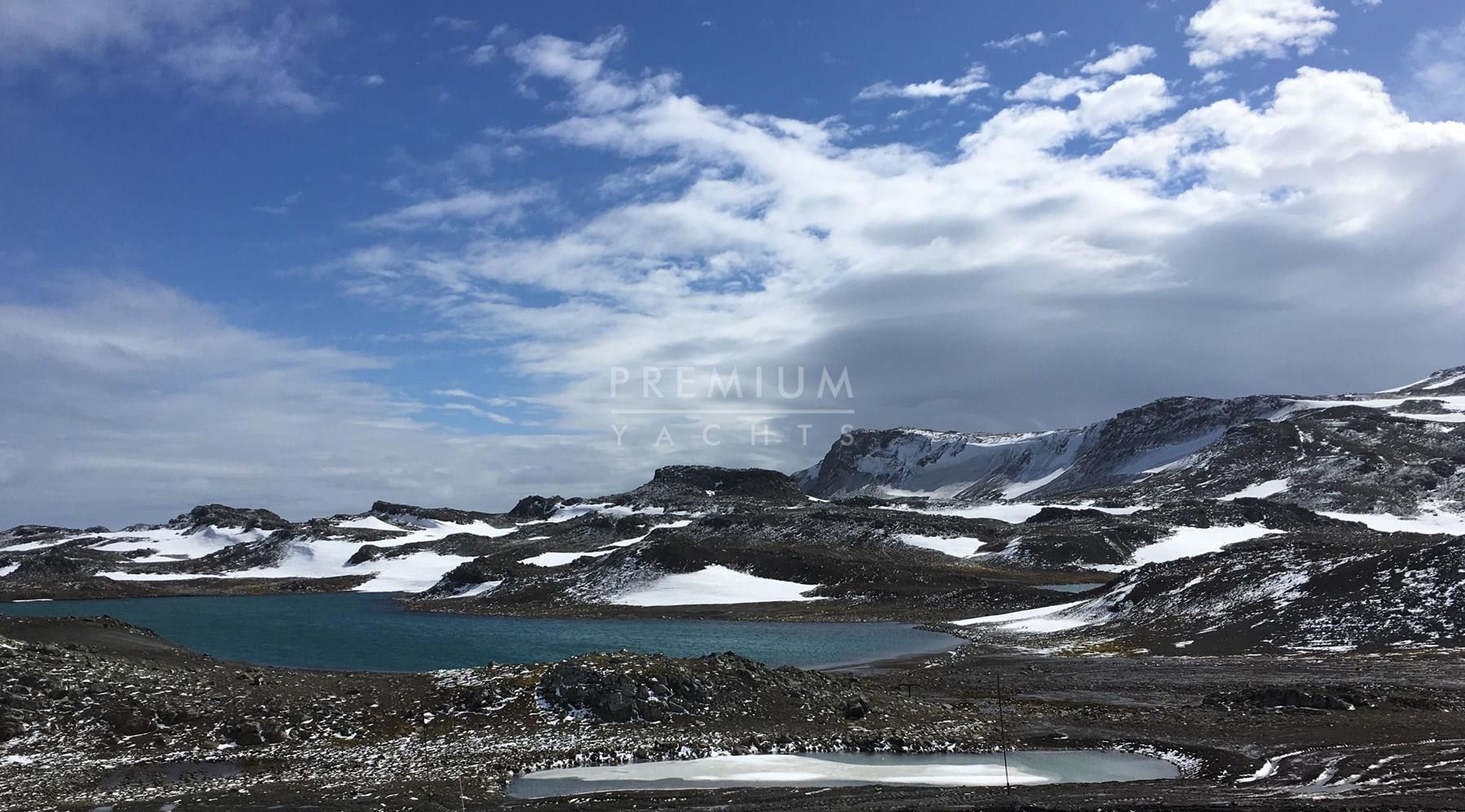 Arrive via Punta Arenas and join your yacht in King George Island, Maxwell Bay. This island is known as Antarctica's unofficial capital, with eight national winter stations. Also the largest island of the South Shetlands, King George Island also boasts the St Trinity, the first Orthodox church in Antarctica, located at Russia's Bellinghausen station in Maxwell Bay. Settle into your surroundings as the vessel prepares to depart, sailing through Bransfield Strait to the first stop.
Volcano exploration in Deception island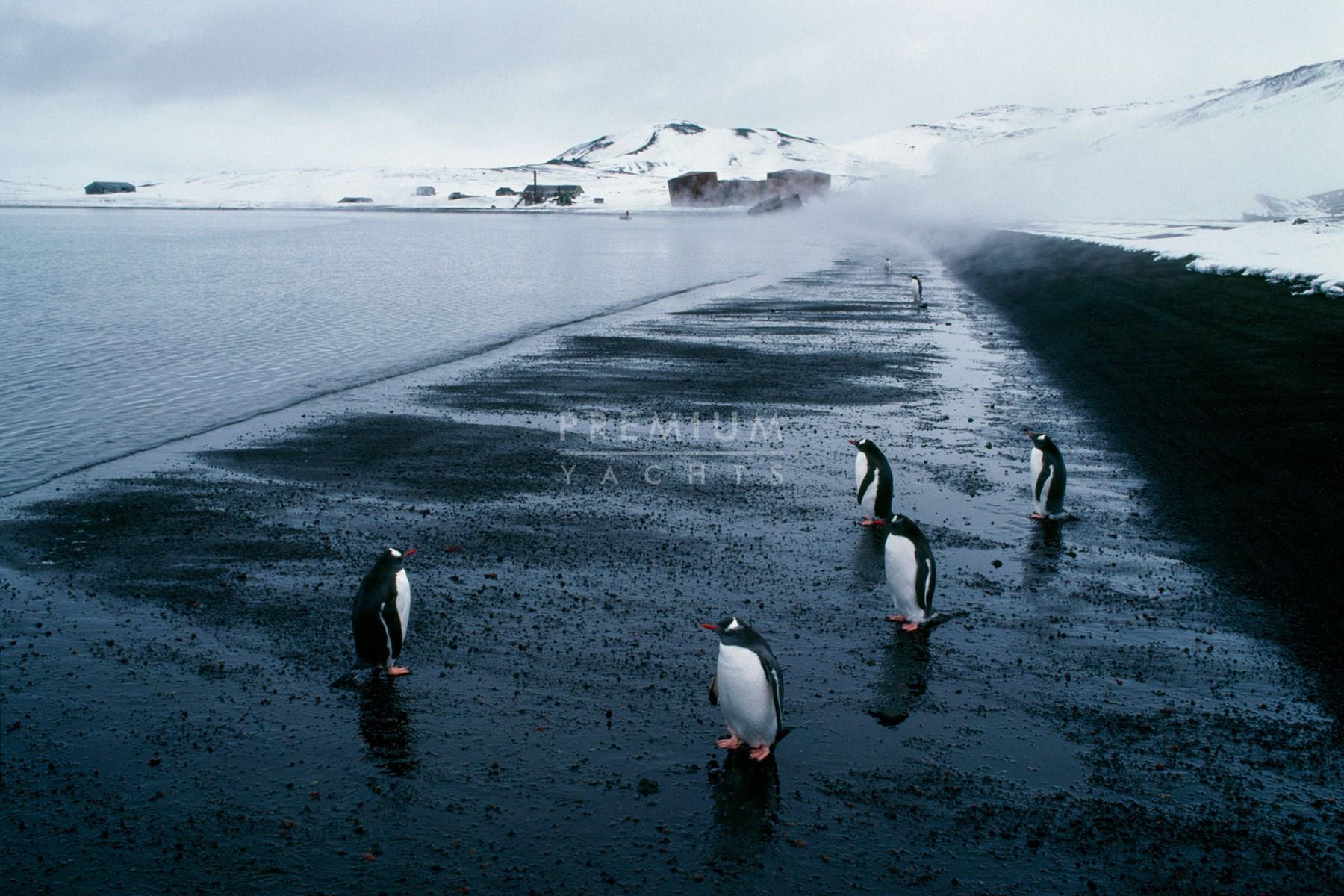 The active volcanic Deception Island is unmissable. A narrow channel in the volcano's walls, known as Neptune's Bellows, allows entry into Whalers Bay in the caldera. See the sulphurous steam rising off the beach. Dig your feet into the black sand to feel the heat from the subterranean volcanic vents. Visit the ruins of a whaling station dating from 1906. Swim in the thermally heated waters of Pendulum Cove watched by thousands of chinstrap penguins on the surrounding hills.
Penguins & post office in Port Lockroy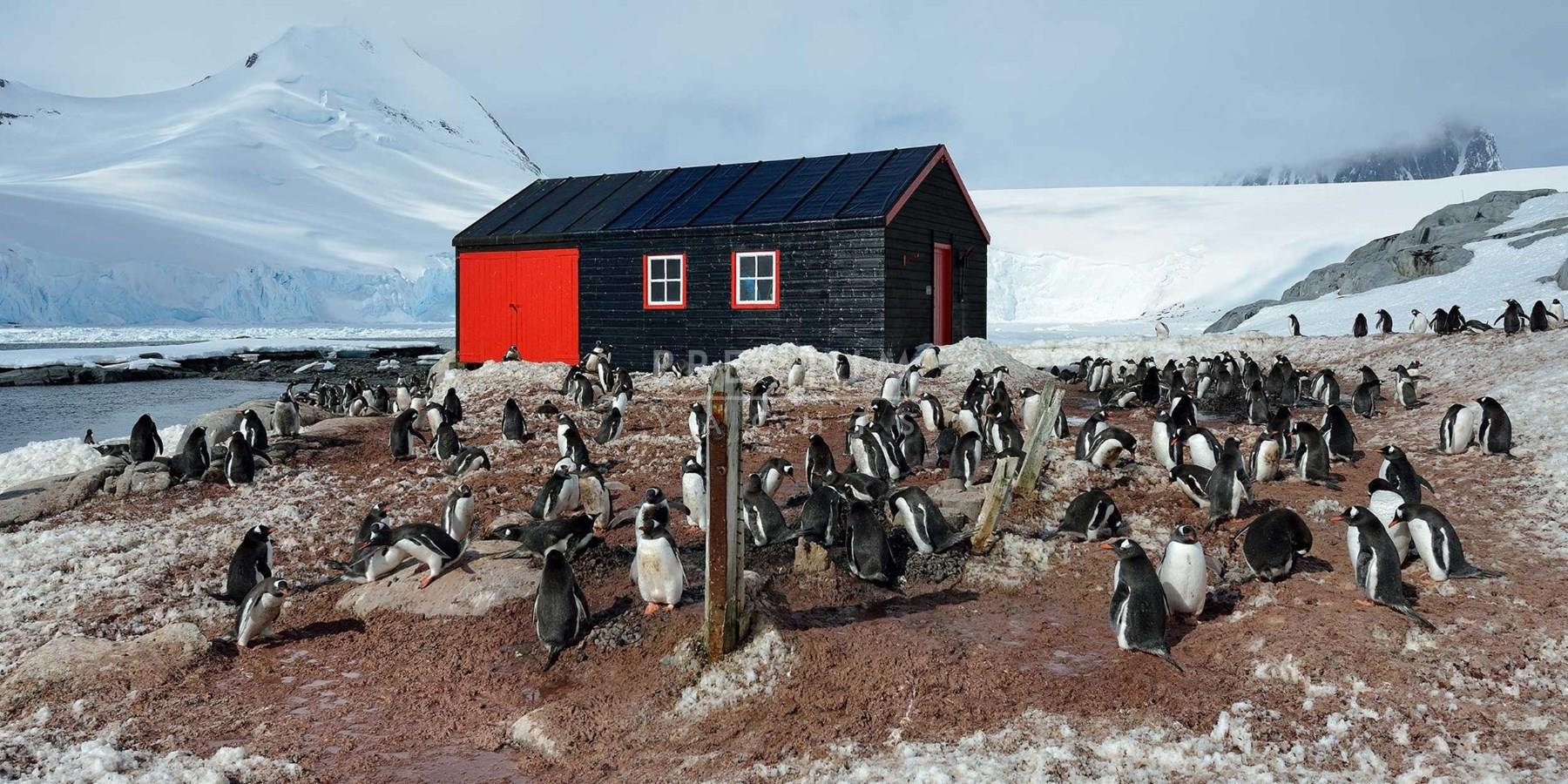 Wake up in Port Lockroy – an impressive harbour, ringed by high cliffs. Part of British Antarctica, it is a designated historic site. Visit Base A, now a museum, and the only post office on the Antarctic Peninsula.See the Gentoo penguin rookery at Jougla Point.Spot nesting blue-eyed shags and see remnants of past whaling activities - a reconstructed composite whale skeleton on the shore. Possibility of visiting Palmer Station, an American modern research post in the Antarctic.
Ultimate selfie in Paradise Bay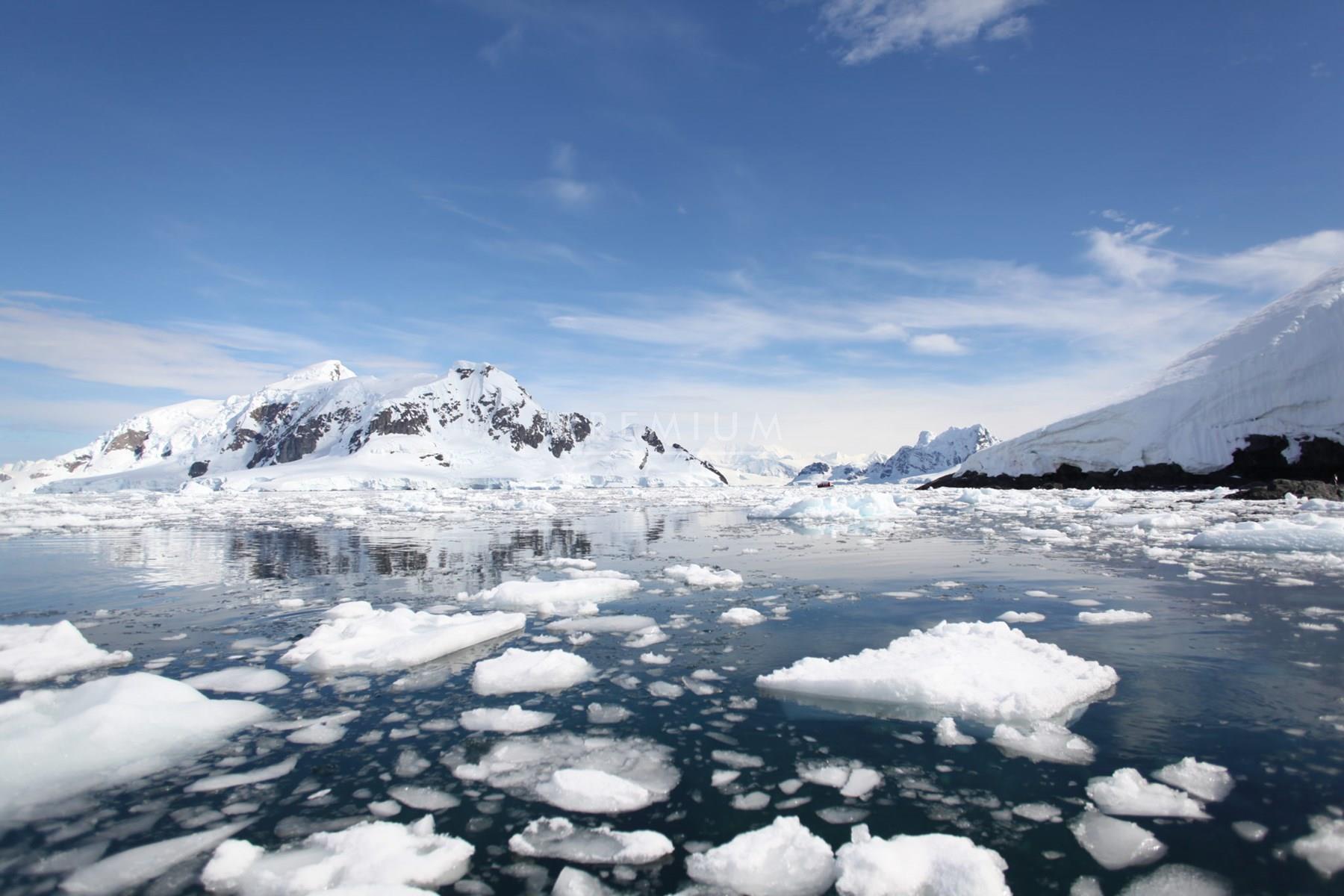 Have cameras ready as you pass through Lemaire Channel, so photogenic that its nickname is "Kodak Gap". Arrive at Paradise Harbour and pass beneath multi-coloured cliffs – the emerald green of moss, blue-green from copper deposits and the oranges and yellows of lichens. Spot blue-eyed shags nesting in those cliffs. Go ashore and wander amongst the Gentoo penguins. Look out for humpback whales and seals. Photograph the majestic icebergs of Paradise Bay and the mountains reflected in the water.
Glacier encounter in Neko Harbour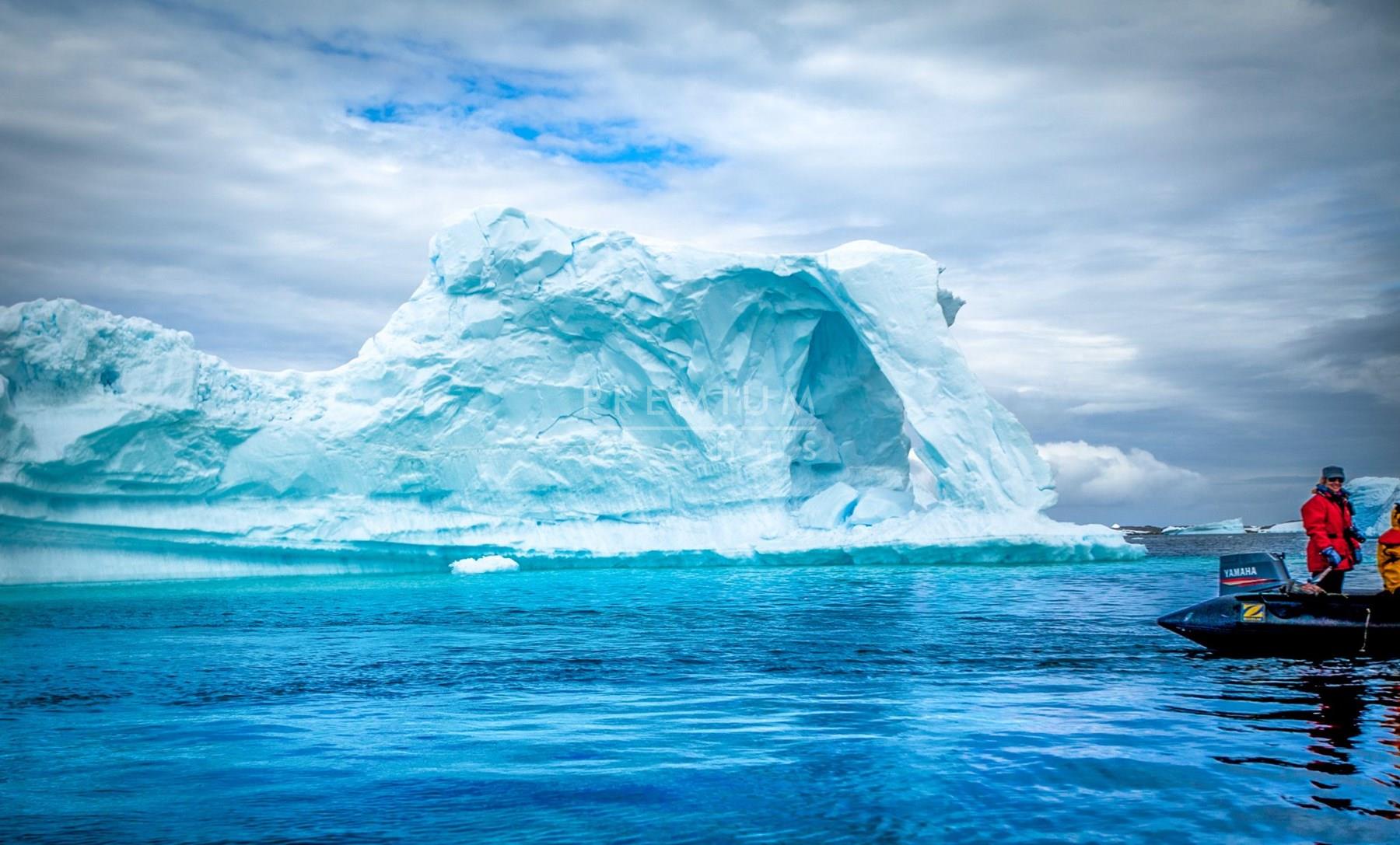 Set your first foot on the continental mainland of Antarctica at Neko Harbour. Neko was named after a Scottish whaling ship. Venture up the snow covered hills. Capture dramatic video footage of great chunks of ice breaking off the glacier – known as calving – and forming icebergs. Take the kayaks to slide between the ice. Get up close to a glacier in the tender.
Wildlife watching at Hannah Point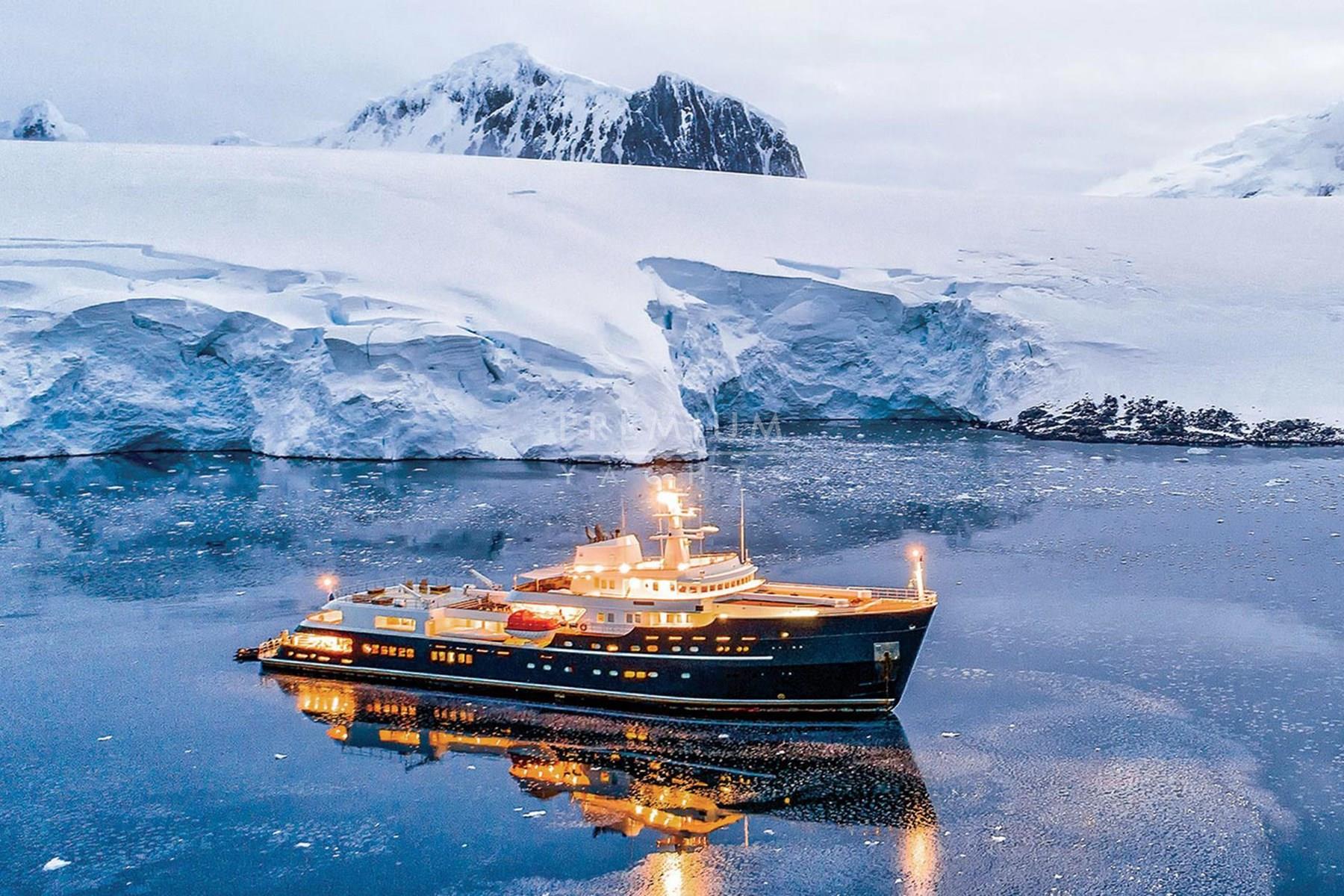 Hannah Point is on Livingston Island. Watch the wildlife spectacular flying, waddling, swimming or sitting all around you. 1500 pairs of Gentoos and 1000 pairs of chinstrap penguins call this home. See also a colony of giant petrel, kelp gulls and cormorants. Climb up the hill above Hannah point beach and look down at Elephant seals and Fur seals basking on a sheltered beach on the other side of the point.
Penguin at play in Penguin island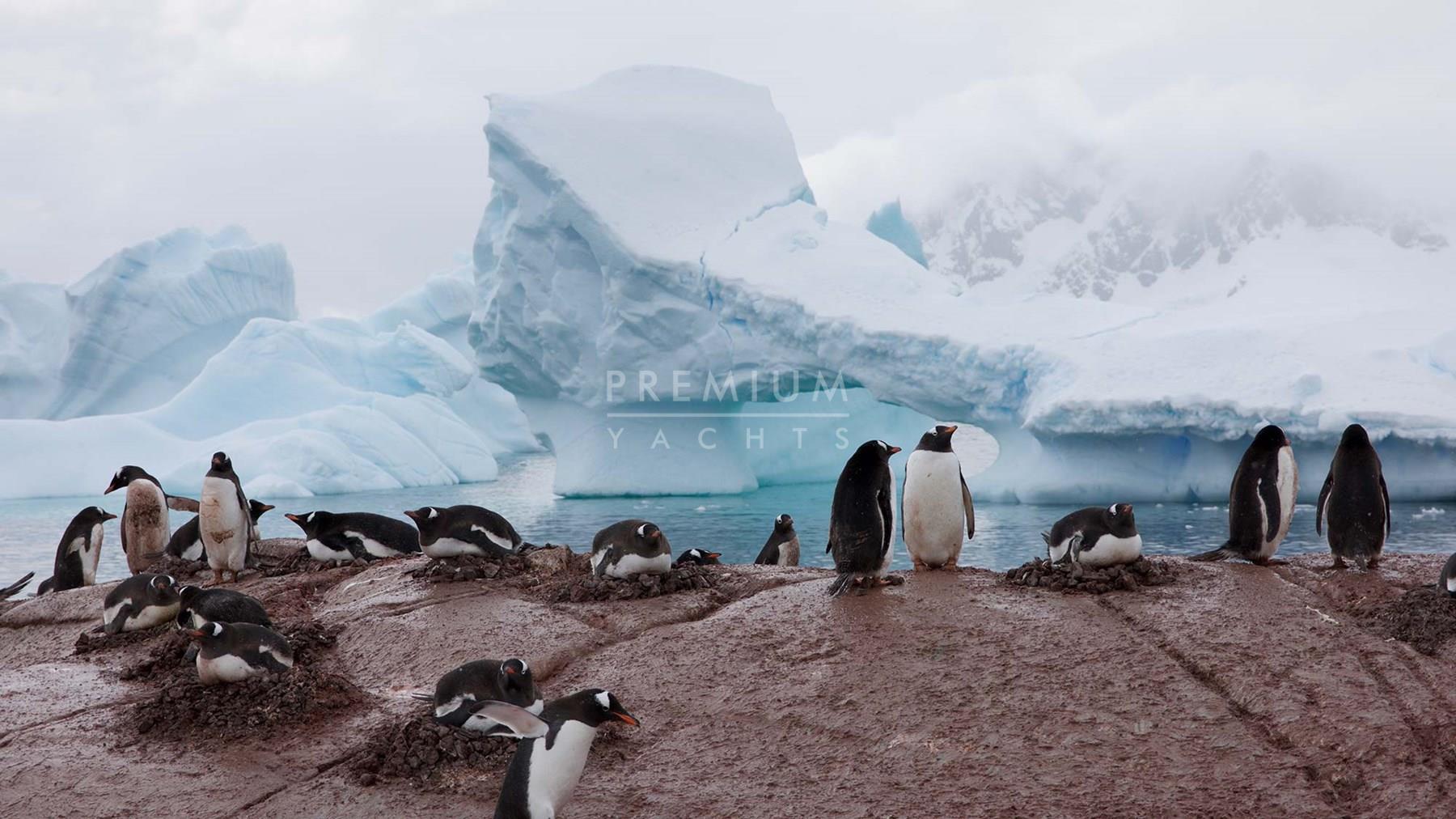 Tiny Penguin Island is just off King George Island. Observe Chinstrap and Adélie penguins here. You will also find blue-eyed shags and southern giant petrels here. Climb Penguin Island's highest point, the 170m Deacon Peak to the extensive crater at the summit with a meltwater lake in a former volcanic crater. Turret point is a group of prominent high rock stacks above the beach, a nesting area for Antarctic terns.
Disembarkation in King George island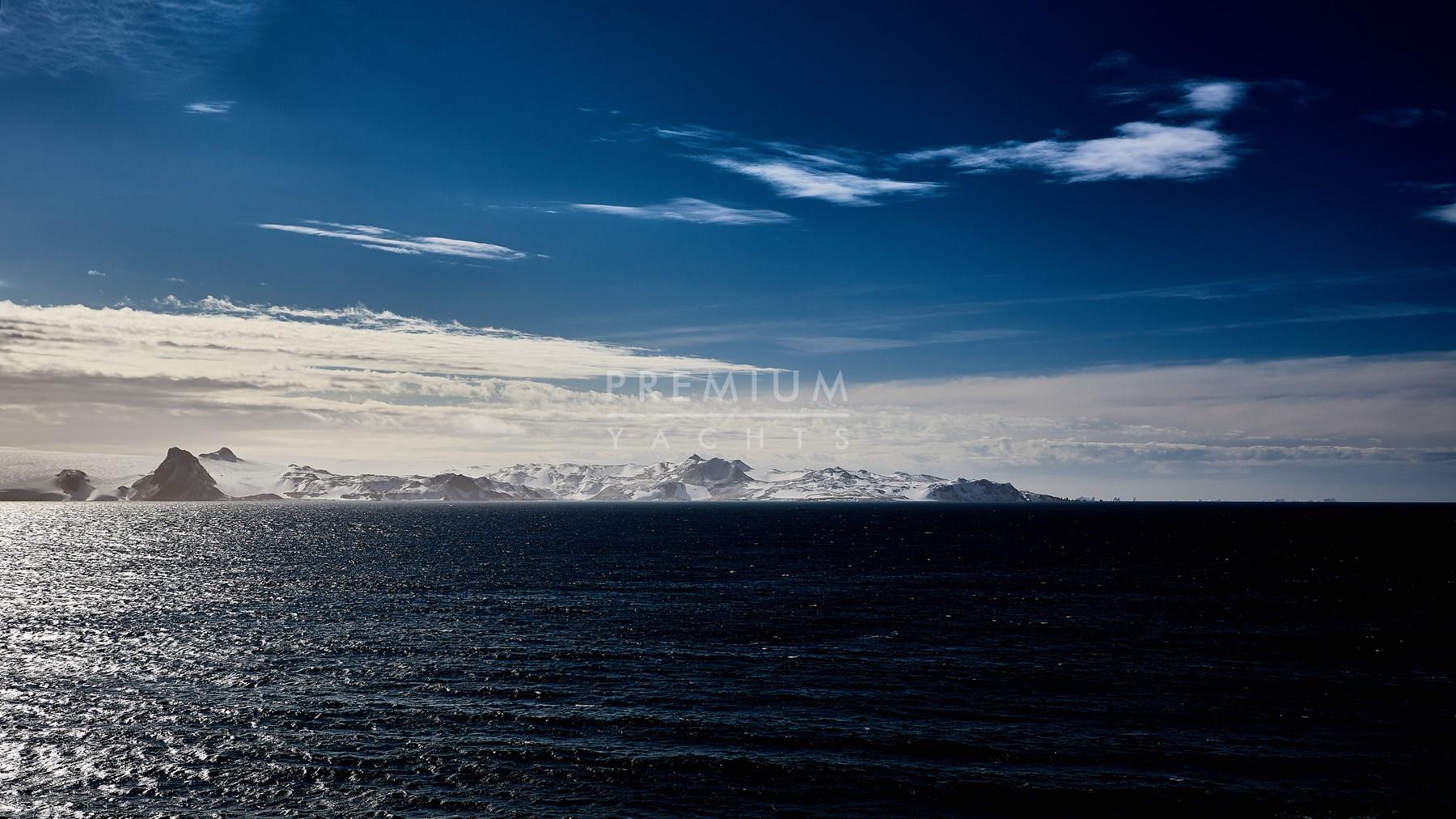 Arrive back in Maxwell Bay, King George Island, for a final farewell to Antarctica before joining your transportation to Punta Arenas and beyond.