French Riviera
One of the most high profile locations for yacht charter, the French Riviera is the ultimate destination to see and be seen. With spectacular coastlines, stunning beaches and exquisite cuisine, the French Riviera exudes sophistication, offering a variety of indulgent attractions which lures visitors back time and again.
The French Riviera reaches from the east of Marseille and extends eastwards to the Italian border. Although ever increasing as a glamorous charter vacation, particularly during the summer months, the French Riviera offers many charms making for a magical and opulent location for superyacht charter. From mouth-watering cuisine, gorgeous climates and beautiful scenic views, it is no wonder this destination is so appealing.
This renowned stretch of spectacular French coastline runs from Monaco down to the Iles d'Hyéres. The French Riviera encompasses famed locations such as Monaco, Nice, Cannes, Antibes and St Tropez. Although these celebrated destinations each have a unique charm, they all have beauty, glamour and sophistication in common. With steep hills surrounding beautiful coastlines and sun-kissed beaches, meander among the vineyards and pine woods against a backdrop of dramatic mountain views. Take a leisurely cruise around the magnificent fjords and enjoy alfresco dining from your superyacht as you admire the glittering allure of seaside villages. With opportunities for snorkeling, boutique shopping or people watching with a coffee, the French Riviera is laced with an unparalleled taste of the high life. Whether you're looking to see and be seen or enjoy some privacy in one of the tranquil anchorages, there is something for everyone in this picture perfect destination.
Once a quaint fishing village, tucked in the secluded coastline, St Tropez is now a must visit on any yacht charter to the French Riviera. This charming and atmospheric location is fabulous for star spotting, roaming around designer boutiques and sampling coffee and pastries from the wealth of patisseries along decadent cobbled streets. Boasting world class restaurants and a plethora of bistros, St Tropez offers a sensual taste of exclusivity and is often a popular destination film stars and royalty. Despite being a mecca for the rich and famous, the village has maintained its superb charm with timeless streets and gorgeous scenery. Enjoy a sunset drink outside one of the many cafés and soak up the glitz and glamour of this sumptuous destination.
Summer in Style: The Chic Charms of the French Riviera (8 days)
Meet the glittering French Riviera, one of the most glamorous destinations in the world, on this seven-day charter itinerary. This curving strip of shoreline is a heady mixture of pristine beaches and majestic mountains, lush countryside and chic seaside towns, and every square meter is soaked in the liquid gold of the Mediterranean sun.
Embark in Antibes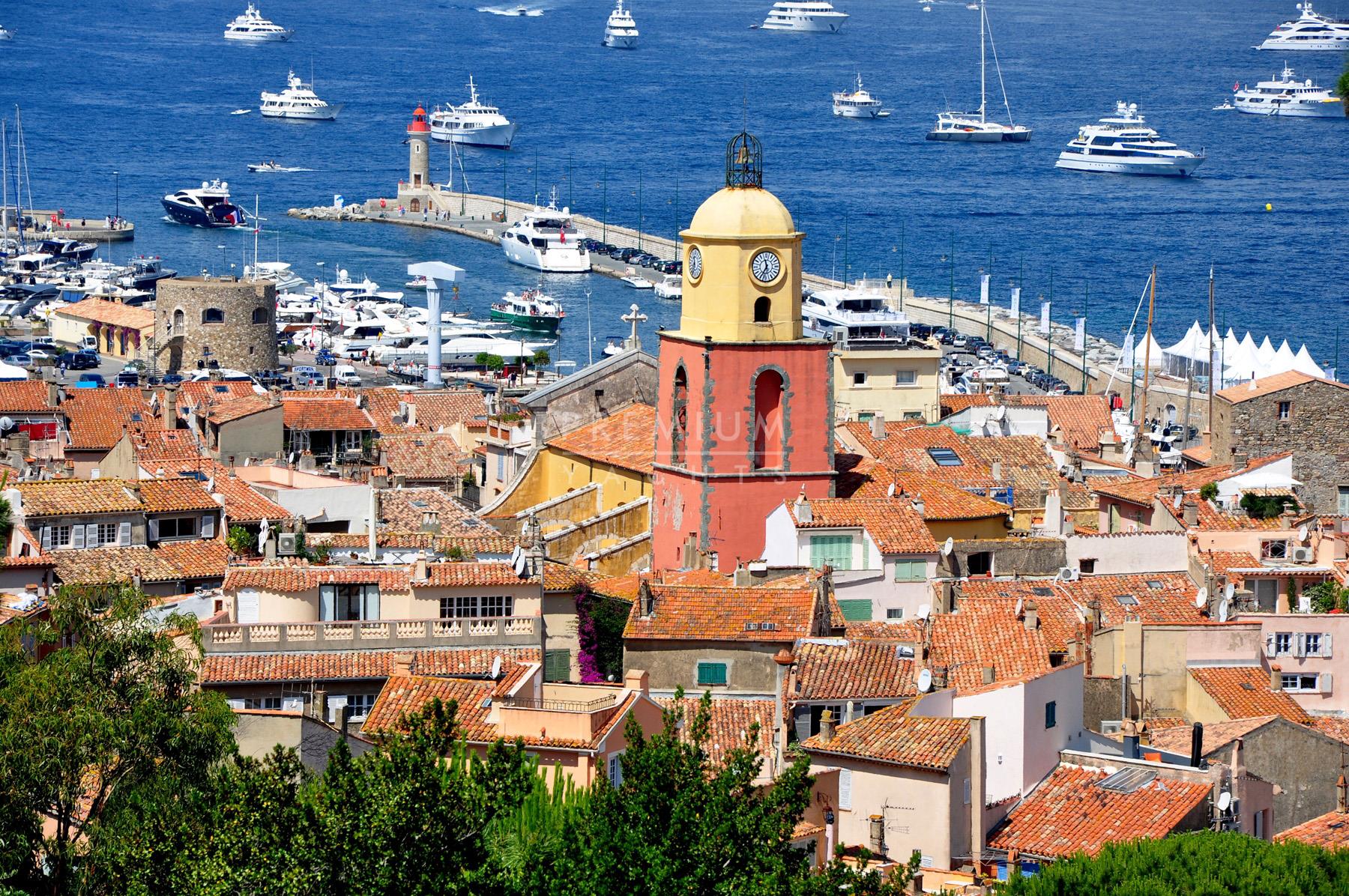 Begin your French Riviera yacht charter in the old town of Antibes. This history-steeped city plays host to a large marina with plenty of berths to cater to superyachts, as well as an international airport in nearby Nice. Your yacht will meet you in Antibes - but before you set course for your first destination, it's well worth spending the morning meandering through the cobbled streets of the city. Carved out by 16th-century architecture, Antibes offers an authentic taste of French life. If you haven't got long, then be sure to stop by the Picasso museum for an insightful look at the artist's most famous works. The museum sits close to Port Vauban, so you can be can easily take a quick look around before stepping on board your yacht and meeting the captain and crew. Have lunch underway as you cruise to your first destination; St Tropez. This iconic little port was first made famous by Hollywood sweetheart Bridgitte Bardot in the 1950s, and it hangs on to its rustic charm despite its upscale ambience. Spend the night in the central marina if you want to make a statement entrance - everyone stops to watch the yachts coming into port - and then enjoy an Aperol Spritz at L'Italien. For an incredible evening meal, make a beeline for L'Opera - this elaborate venue fuses fine dining with Ibiza-style entertainment and has an incredible club scene to boot.
Discover Pampelonne Beach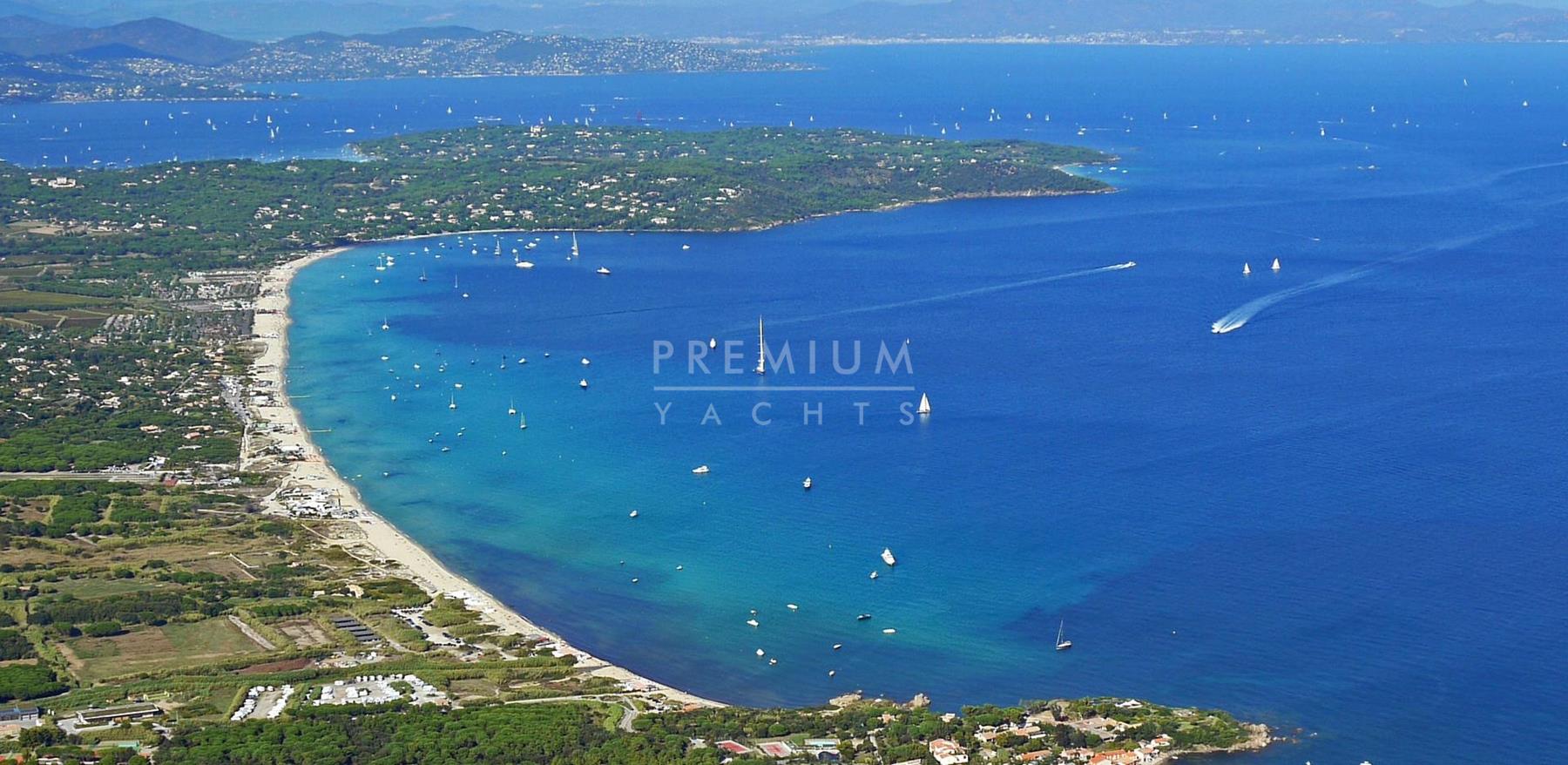 Lined with some of the best beach clubs in the world, Pampelonne Beach is the place to see and be seen in St Tropez. Enjoy breakfast with a view as you cruise around the bay towards Pampelonne Beach. While its invariably popular for its fine-as-flour-sand and calm blue sea, this stretch of coast is also renowned for its unbeatable party scene. There are plenty of beach clubs to choose from; you can read our insider's guide to the new 2020 beach clubs in St Tropez to find the one that best suits you and your charter party. Enjoy a morning of splashing in the sea and playing with the water toys. Then, take a tender straight up to the shore and enjoy a VIP entrance to Club 55. With a private jetty, exclusive souvenir shop and dining venue that's usually wall-to-wall with celebrities, this beach club is one of the original and best. Alternatively, opt for a truly chic experience at Loulou. This bohemian beach club celebrates the old-school Riviera culture with its flavour-forward menu and sophisticated scene. For something with more of a party vibe, head to Verde Beach for no-holds-barred fun and dancing on the tables. If you still have the energy, round off the first full day of your yacht charter at Les Caves du Roy, the hippest nightlife venue in St Tropez.
Soak up the serenity of Porquerolles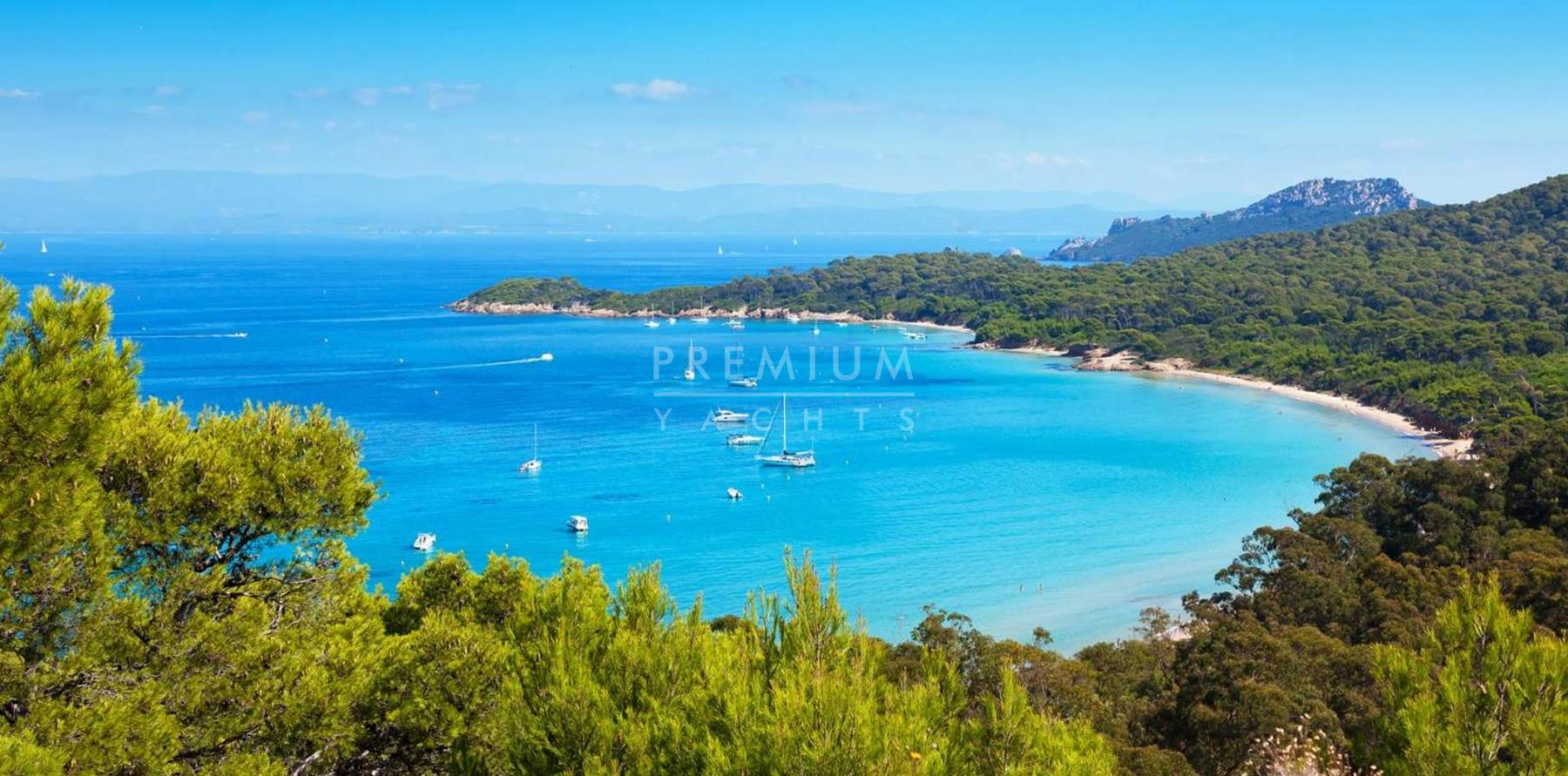 Enjoy an overnight cruise from St Tropez and wake up in the paradise of Porquerolles. The clear waters and protected nature of the Porquerolles islands are a pleasant change from the liveliness of the coast. This protected sand-covered sanctuary has been described as the last frontier of the French Riviera, offering charterers a secluded and exclusive location to completely unwind. The north coast boasts over 20 sugar-white shores backed by pine and eucalyptus trees, and here you'll also find countless bijou beaches and hidden coves. Find your favourite anchorage and enjoy lunch in this stunning setting. For dinner, head for Le Mas du Langoustier - this elegant hotel offers a decadent Michelin-starred restaurant called L'Olivier. Enjoy classic Provencal flavours with a fine-dining edge, in a remote and secluded location.
Experience the sparkle of Cannes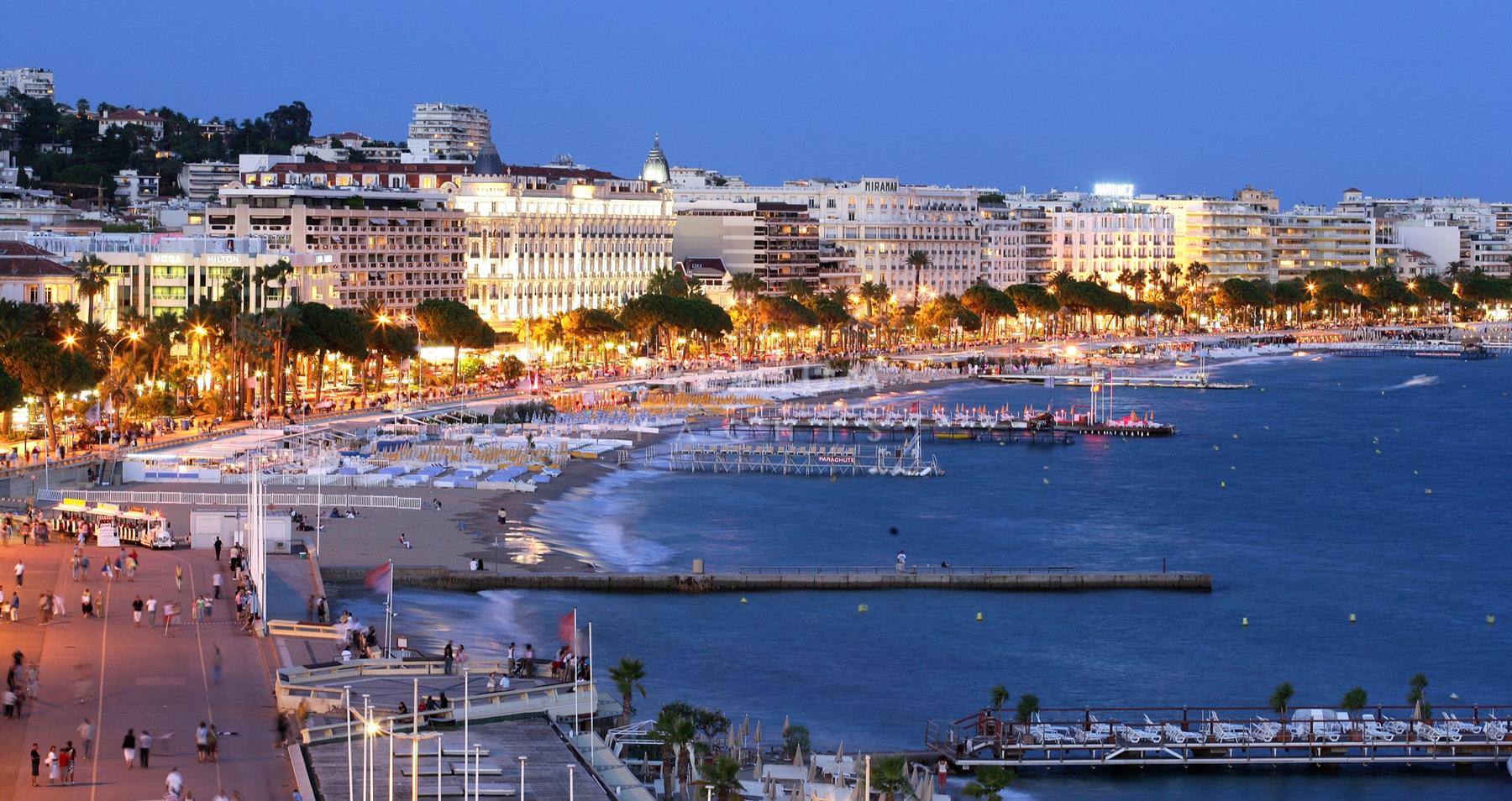 Leave Porquerolles and head towards Cannes, the film festival capital of the world. Cannes exudes opulence and is famed for its popularity amongst the A-list elite; but before you step onshore, stop off at the Lerins Islands just off the coast. Here, you'll discover La Guerite, a celebrity-approved beach club where you can enjoy slick beats, cool drinks, and a laid-back ambience. Once anchored in Vieux Port or Port Pierre Canto, walk the promenade and discover the excellent shopping opportunities along La Croisette, which includes the likes of Gucci, Chanel, and Hermes. Alongside these elaborate shopfronts, you'll also find boutique souvenir shops and local art shops. The nightlife of Cannes provides excitement and mystique, with venues like Medusa offering nightly cabaret shows alongside decadent dining. Meanwhile, Baoli has a hip and happening scene with live DJ sets and sparkler-topped magnums of Dom Perignon sailing through the crowds.
Cannes to Cap d'Antibes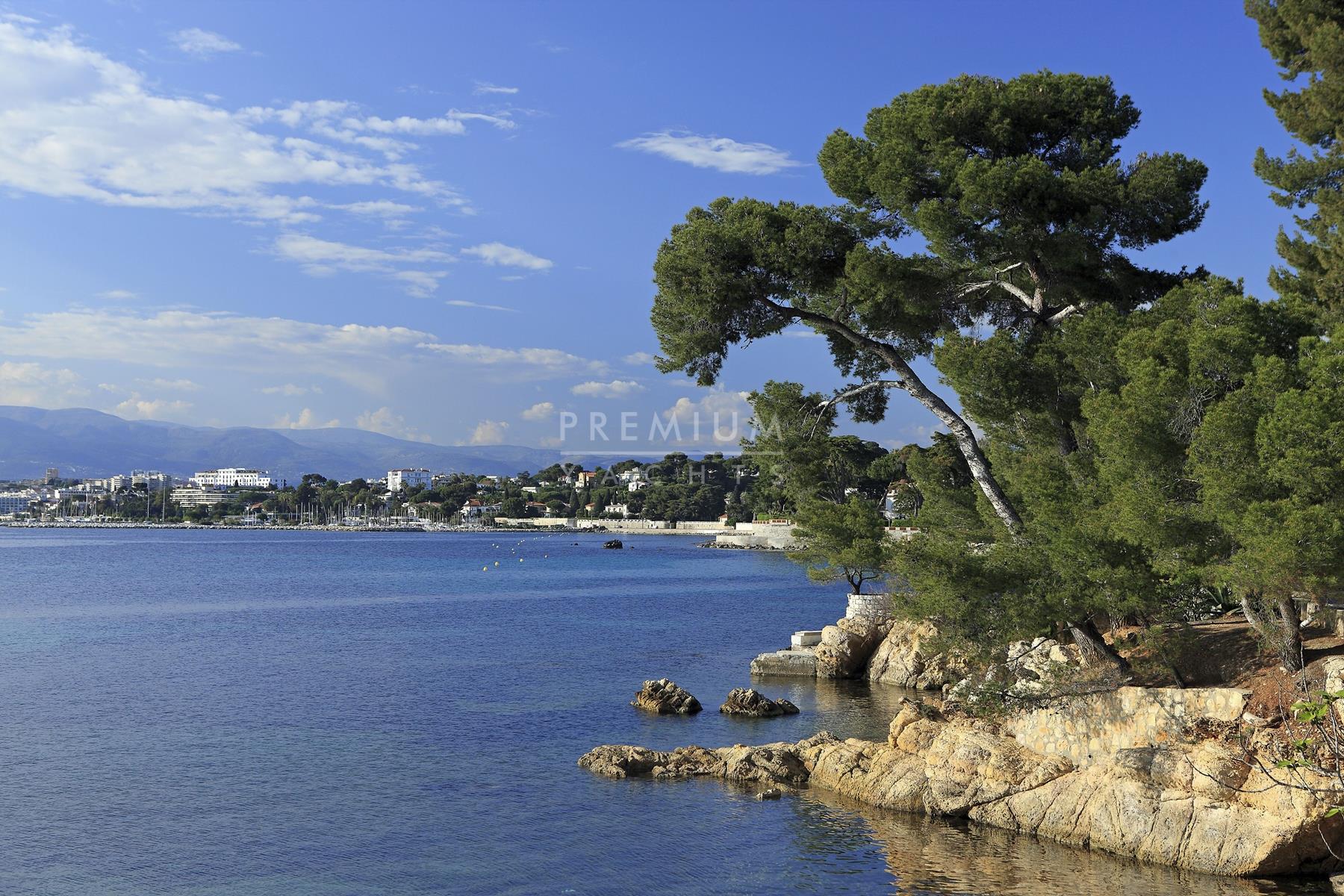 Leave Cannes and head towards Cap d'Antibes and Juan-les-Pins. Back to the first location of your charter, you can expect to visit another side of Antibes, which includes the postcard-perfect district of Juan-Les-Pins. Famous for its July Jazz Festival, Juan-Les-Pins is a lively summer spot just along from Antibes and is bound to be a hit stop on your charter vacation. You'll find a narrow stretch of beach with a variety of restaurants, a promenade with boutiques and hotels, and a park shaded by perfumed pine trees. One of the most popular stoop-offs along this stretch of coast is Hotel du Cap-Eden-Roc, an iconic venue overlooking the water that plays host to a world-class restaurant and a range of facilities which you can enjoy as part of a yacht charter. After a day of relaxing at the hotel's spa, head over to Le Figuier de Saint-Esprit for gourmet fine dining and an elegant and intimate setting.
Explore the medieval town of Villefranche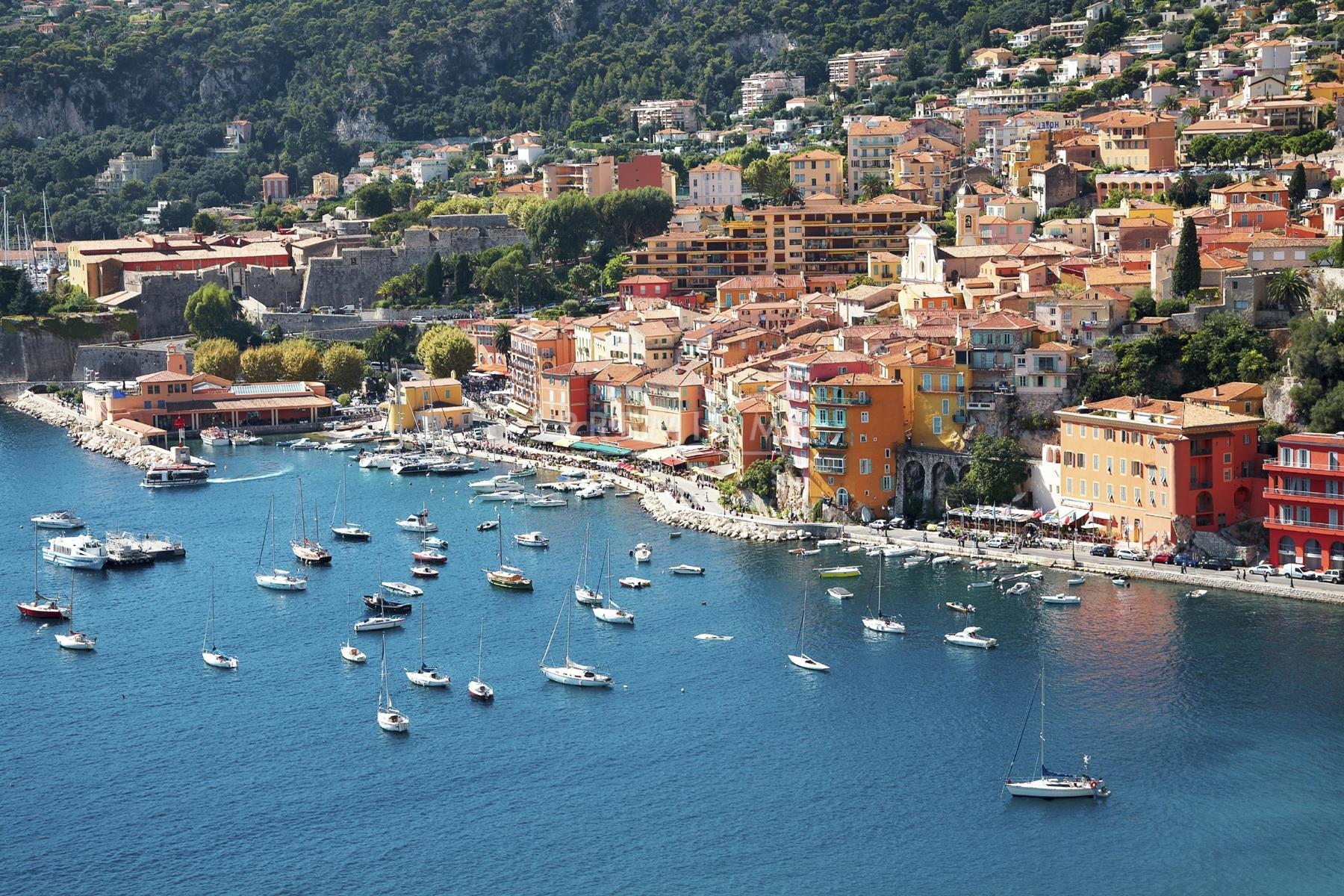 Following your return to Antibes, you will then embark to the charming city of Villefranche. The location feels as though it's trapped in a postcard-perfect time and untouched by the amenities and technologies of today. With stone cobbled streets, pastel-hued houses stacked against tall hills, and fishermen still bringing in their catch every morning, it is no surprise why this charming city is so popular with visitors. Although the streets are lined with market stalls, you will still find plenty of little boutiques selling top tier clothing and accessories. Wandering the narrow cobbled streets, you'll find yourself completely enthralled by the simplicity of the lifestyle and atmosphere here. That is until evening rolls over, and the town becomes full of life and overflows with lively restaurants and bars.
Head to Saint-Jean-Cap-Ferrat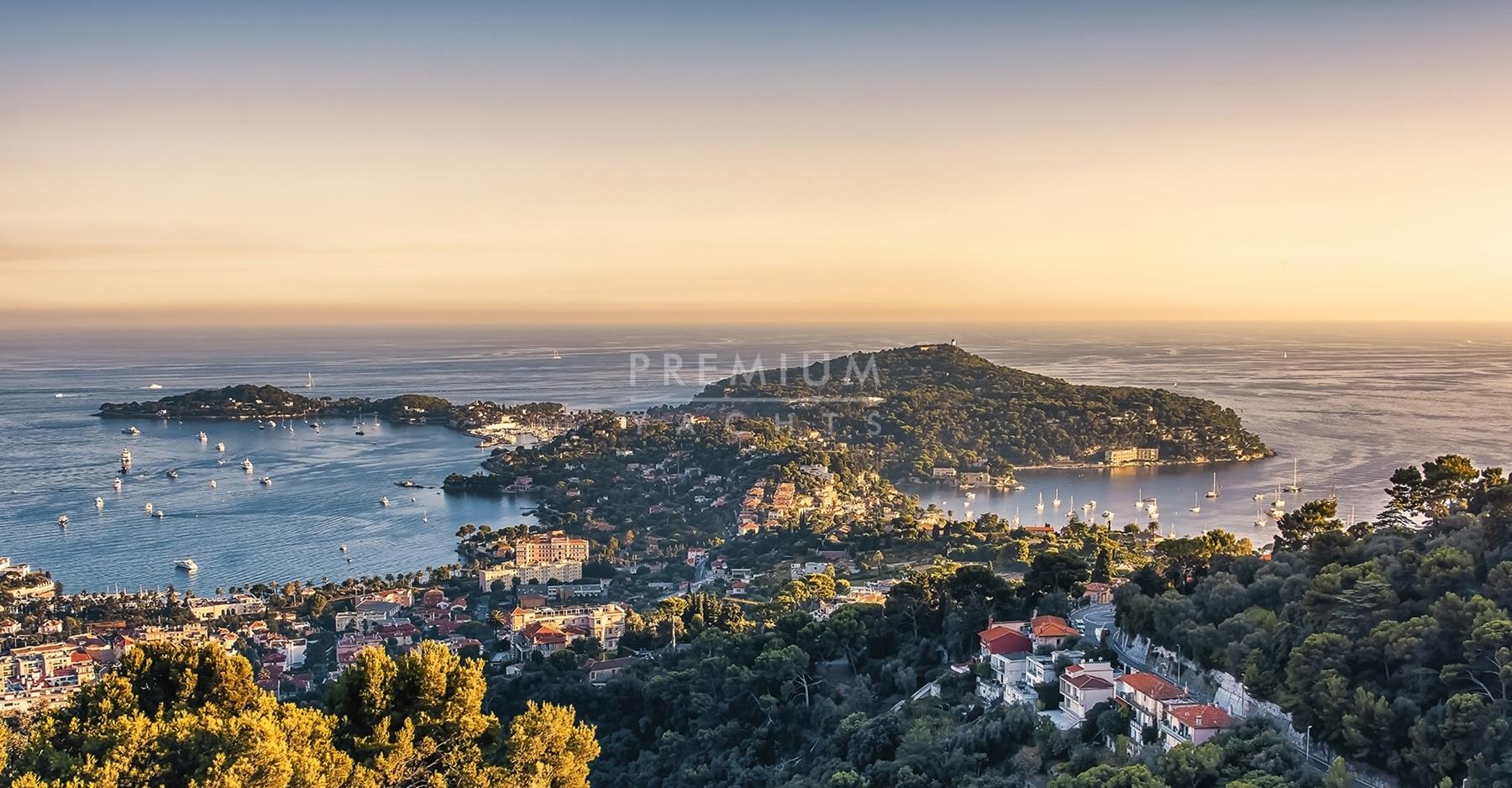 In the morning, enjoy breakfast at anchor before heading onwards to discover the dazzling blue seas and apricot-coloured villas of Saint Jean Cap Ferrat. St-Jean-Cap-Ferrat is a beautiful stretch of land, which reaches out over the sea, covered with impressive villas and offering a taste of the 'dolce vita' with its little cafés, quaint port, and chic beach restaurants serving freshly caught fish and chilled rosé. The location is a forested settlement in between Nice and Monaco that is charming, yet exudes luxury and sophistication. Remaining remarkably unspoiled by tourism, you can expect to feel as though you are part of a select few that get the opportunity to experience this portside vista. You will be roughly 25 minutes away from Nice by taxi and have all of the attractions of the major city to explore. However, there are so many hidden gems in St. Jean, such as Villa Ephrussi de Rothschild, which offer beautiful gardens and scenic walks to reflect and unwind on the final full day of your charter vacation. Choose to enjoy your evening meal on the yacht, or head over to nearby Nice for dining over the water at Le Plongeoir.
Disembark in Monaco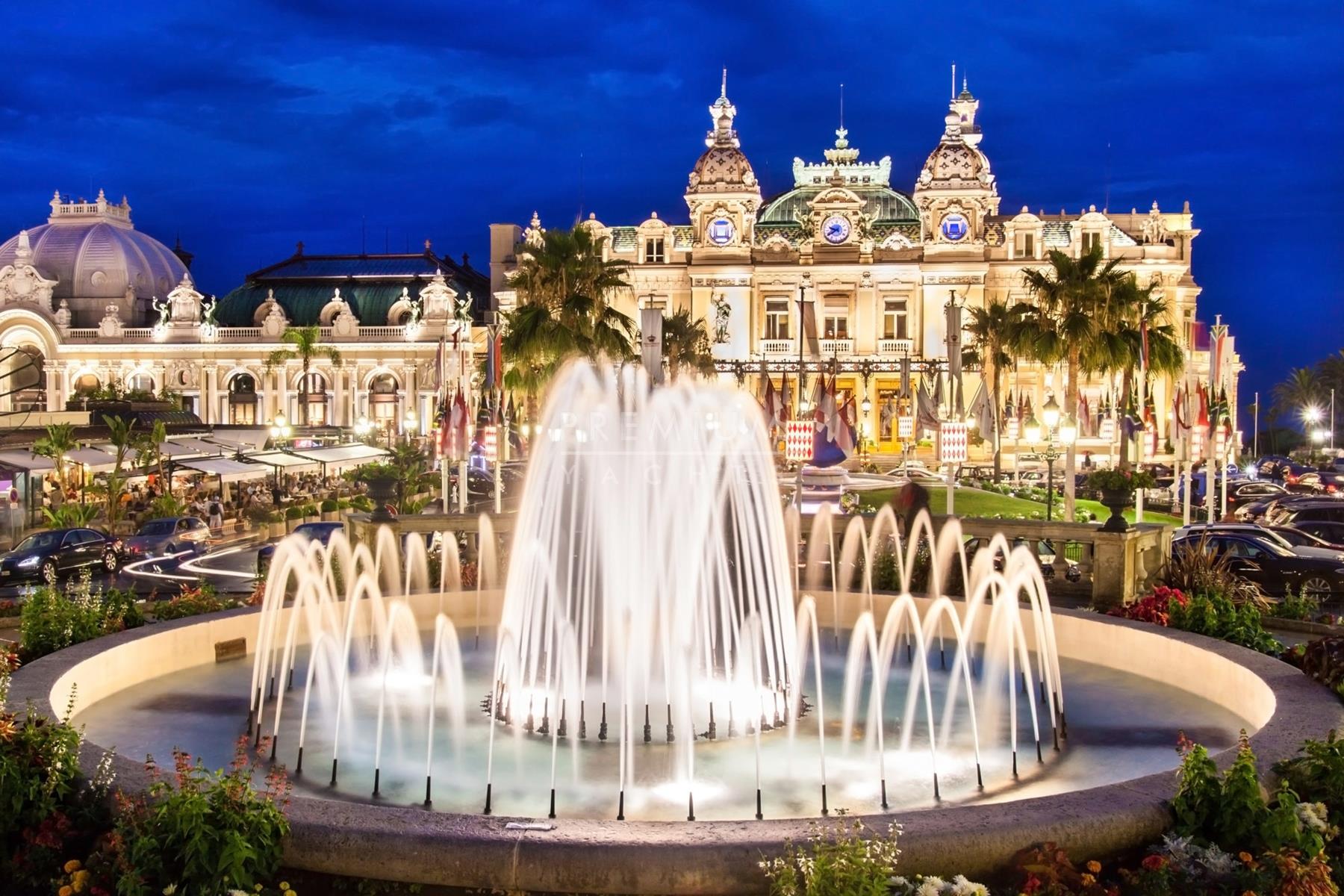 The principality of Monaco is invariably one of the most popular yacht charter destinations for those with a love of luxury living. With its immaculate streets, elegant architecture and wall-to-wall designer shops, Monaco is the perfect place to end a yacht charter vacation in style. Dock in Port Hercules, and you'll be right in the centre of the action; admire the pretty frontage of Sainte Devote Chapel, then meander up the winding streets of Monte Carlo to the famous casino. A table at Cafe des Paris guarantees you the best vantage for people-watching and watching the prestige cars roll past, and you can treat yourself to a sorbet and espresso while you soak up the scenery. In terms of evening entertainment, Monaco is one of the most happening hotspots on the Riviera. Expect buzzy bars and sleek nightclubs where you're guaranteed the party experience of a lifetime. Start with an aperitif at Buddha-Bar, then head to Coya for Latin-American fusion overlooking the water. For the ultimate dinner-and-a-show experience, make Twiga your first choice. Enjoy Japanese dining in the restaurant, then watch as the venue transforms into an upscale nightclub with dazzling light shows, live DJ sets, and blast-from-the-past beats. The ultimate way to end your yacht charter with a bang!